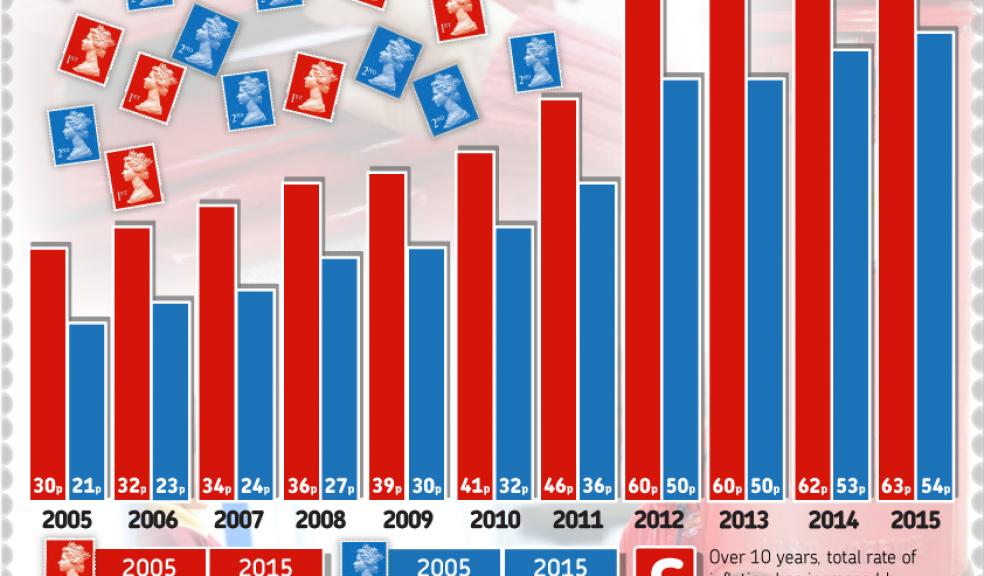 Stamp price rises at end of month
The Royal Mail is reminding people that, from the 30th March, the price of first and second class postage stamps will increase by 1p each. This means first class postage stamps will be 63p and second class postage stamps will be 54p.
As part of these changes, there is also an implication to the cost of sending a large letter first class from previous levels meaning these too will increase from 93p to 95p and from 73p to 74p if sent second class.
So is the increase now set to be an annual one, or will the state of the economy drive the change in pricing moving forwards? Looking back, the most recent change in the cost of stamps was last year when the price of a first class stamp rose only very slightly. This was the first rise since 2012 as in 2013 there was no increase in the amount charged from the previous year.
In contrast, during 2012 the price of first class stamps rose by 30%, its biggest price rise for 37 years. In addition the price of second class stamps rose by 39% in the same year.
Whilst the prospect of postage stamps significantly rising in price was forecast by some commentators following Royal Mail privatisation in October 2013, such concerns have proved to be unfounded.
However, over the past ten years as a whole since 2005, the price of first class postage stamps has increased from 30p to 63p which has been an overall increase of 110%. Second class postage stamps have increased from 21p to 54p which is an increase of 157 % over the same ten year period. These increases since 2005 can be largely attributed to the step-change in pricing which occurred in 2012 which Royal Mail attributed to commercial pressures and a fall in mail volumes.
In context the cost of living has increased by 33.95% over the last ten years. If the price of stamps had risen in line with inflation between 2005 and 2015, the price of a first class stamp should be 40p today instead of 63p. And a second class stamp would be 28p today instead of 54p.
Whilst the price of postage stamps are more pronounced than the average price of a pint of milk or a pint of draught lager, we can take comfort in the fact that this is only in line with the rise in cost of a loaf of bread for example.
And the latest minimal price rise in postage stamps is consistent with the low UK inflation rate which is currently below 1%. Indeed forecasts have been made that annual real earnings will rise above inflation this year for the first time since 2007.
Is the £1 stamp coming? It appears the answer is no, not any time soon unless competing mail operators challenge Royal Mail's VAT-free status under European law as has been speculated could be the case. The price of first class stamps if 20% VAT was added would take the current price to 76p for a first class stamp, with a price of 65p for second class stamps.
Certainly the negligible rise in postage stamp prices this year is unlikely to lead to significant hoarding in stamps which was the case in 2012 which led to Royal Mail rationing supplies in advance of the increase.
Further good news for householders and businesses alike announced by Royal Mail is that prices for Second Class Small Parcels weighing up to 2kg will remain unchanged at £2.80 following on from the price reduction introduced in the lead up to Christmas.
What's more, postage stamps remain comparatively good value compared to the average price in Europe* where first class stamps cost 72p each whilst second class stamps cost 62p each.
*France, Germany, Italy and Spain.