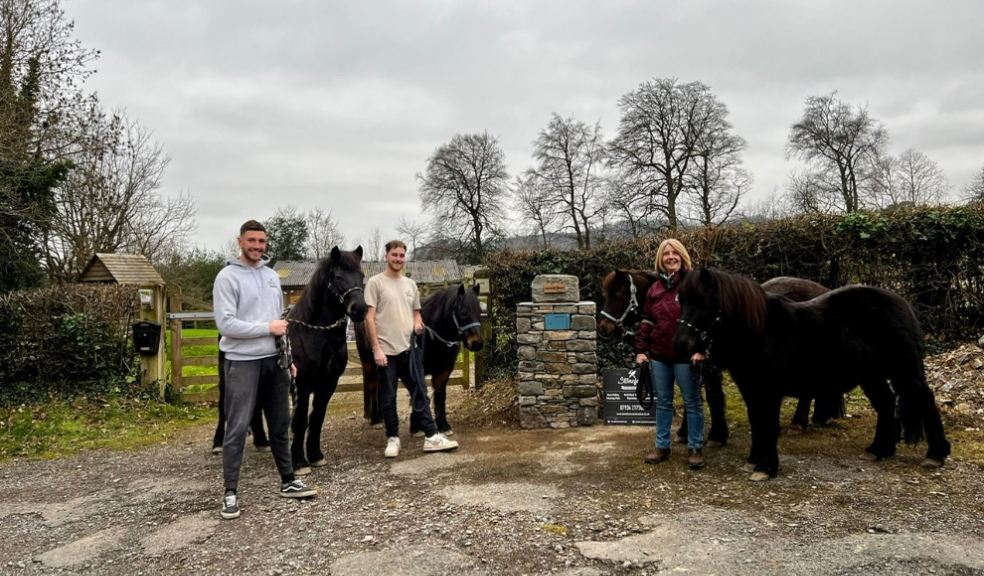 New cairn for charity thanks to kind hearted builders
The Dartmoor Pony Heritage Trust at Parke near Bovey Tracy has a brand new car park donation cairn, thanks to the huge generosity of local builders, suppliers and the continuing loyal support of the charity's many friends.
Earlier this year, the cairn was destroyed and the car park donations, which are used to purchase hay for the charity's ponies, stolen. 
But kind hearted businesses stepped forward to supply materials and their time to rebuild the cairn. Kenmart, Olympus Building Supplies and Stone Face Construction all proved the heroes of the hour with the former providing the stone sets, sand and cement while Max McGregor and Tom Smith of Stone Faced Construction at Highweek rebuilt the cairn.
The charity's CEO Dru Butterfield said:"We cannot thank Kenmart, Olympus Building Supplies and Stone Faced construction enough for building us a brand new car park donation cairn in time of the start of our busy season when we will be opening at February half term. 
"Max and Tom of Stone Face Construction have been incredibly generous with their support and their time and we're so grateful.
"Its an important lesson in life that when you're facing a difficult time to ask for help. Our loyal friends and supporters have all been fantastic, but also new friends came to our aid, not only raising funds but providing such wonderful moral support. Out of a negative situation we now have a beautiful new cairn and we are very much looking forward to opening our visitor centre this half term when we have planned lots of exciting activities for all the family to enjoy."
There are a wealth of activities to take part in this spring at Parke including Signs of Spring Story Walk,Nature Treasure Hunts and Explore the Rainforest and free guided walks at Bellever.
To find out more about the DPHT visit www.dpht.co.uk.