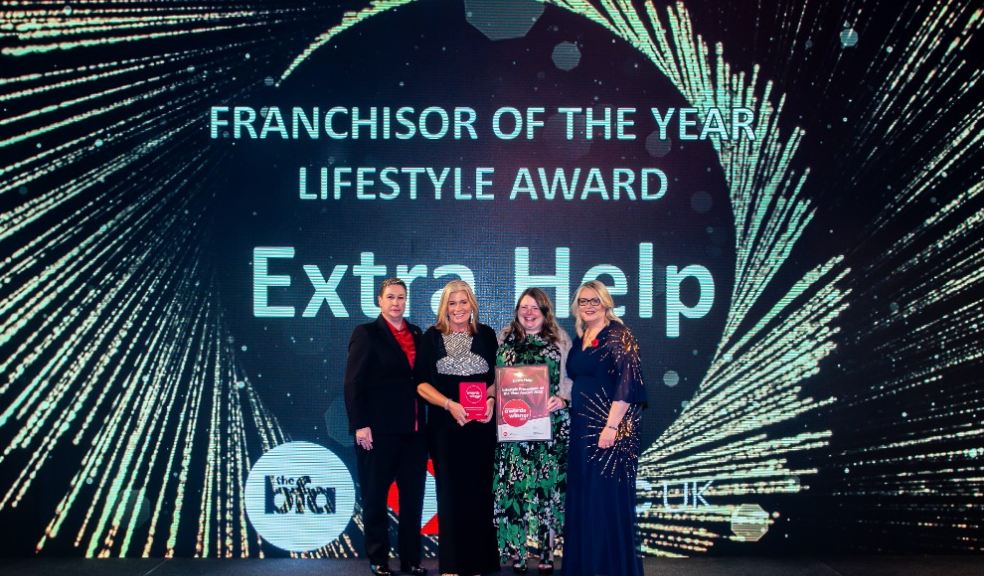 Plymouth business scoops top awards at the 2023 BFA HSBC British Franchise Awards
A Plymouth-based business has won a top award at the 2023 BFA HSBC British Franchise Awards.
The awards often referred to as the 'Oscars of franchising' were held at the Vox Conference Centre in Birmingham on 9th November 2023.
Plymouth-based home help company Extra Help took home the 'Lifestyle Franchisor of the Year'.
Founded in 1977 and with a strapline of 'Discover Your Tomorrow' the BFA (British Franchise Association), is the hub of franchising in the UK. The association strives to brighten people's futures by showcasing the opportunities for businesses and individuals to transform their lives through franchising, whilst also providing an educational space and accreditations, governed by their high standards and a code of ethics.
Claire Robinson QFP, founded home help business Extra Help in 2010, franchising it in 2012. Extra Help provide a range of services from domestic cleaning to meal preparation, ironing, gardening, shopping, and companionship.
She now has 30 franchisees covering 32 territories across the UK.
Claire said: "I'm absolutely delighted to have won the 'Lifestyle Franchisor of the Year' award. My BFA journey has been a very special one. Winning a BFA award is the ultimate award in franchising, and I feel very privileged to have been a finalist and am amazed to be the winner!"
Pip Wilkins, Chief Executive of the BFA said: "Our huge congratulations to Extra Help on this tremendous win. We had some fantastic entries this year but theirs really stood out from the crowd. We would like to thank them for being such great ambassadors for the BFA and for representing the very best in UK franchising."
UK Head of Franchise, Commercial Banking at sponsors HSBC Bank Gillian Morris said: "The diversity of franchising on display at tonight's awards ceremony – across so many brands and sectors – demonstrates the strength and reach of the industry.  Choosing a winner is never easy and I'd like to join Pip in thanking everyone who entered and send our warm congratulations to Extra Help on this very well-deserved award."