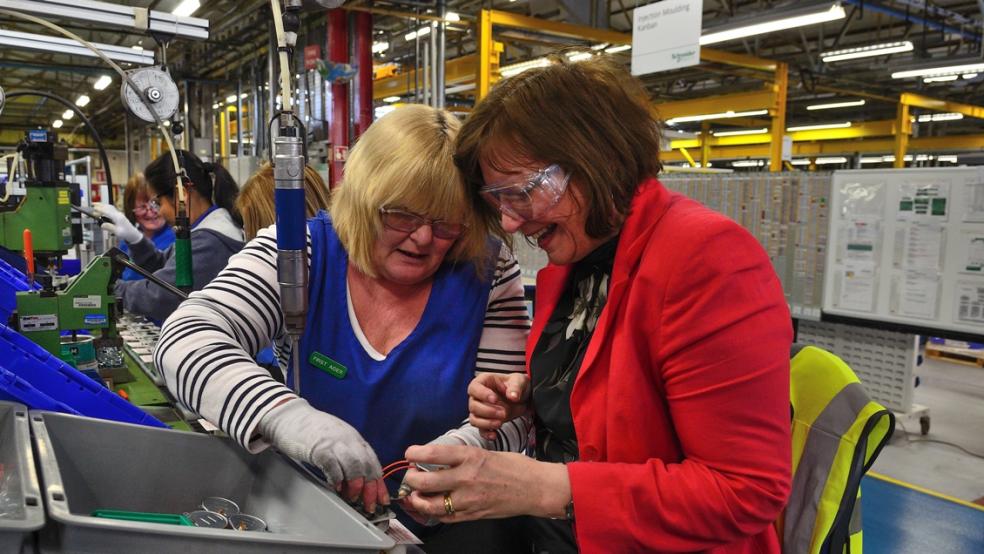 MP visits Drayton to learn about energy efficiency
Local heating controls specialist Drayton recently welcomed Alison Seabeck, Labour Member of Parliament for Plymouth, Moor View, to its factory to discuss the work the company is doing to help reduce energy costs for households by using energy more efficiently.
Alison met staff working on Drayton's range of heating controls and learned more about how the company is developing technology to help homeowners reduce household bills by taking greater control of their energy consumption.
The company currently employs 128 local people and has been established in the area since 1961.
Given the important contribution Alison makes to the local economy, Drayton discussed what more the Government could do to help and support companies like itself working in the UK electrical industry, including setting clear standards for energy efficient products.
During her visit, Alison was keen to understand the products offered by Drayton and how they can help reduce costs - especially for those in fuel poverty. She had a tour of the plant and spoke to a number of the operators, and even tried her hand at production on the motorised valve assembly line.
Alison said: "That was fun, I should have been better at that considering I used to take motorcycle engines apart"
Catherine Connolly, Managing Director of Drayton, said: "We were very pleased to be able to show Alison what we do. The new technology that we are developing here has great potential to help households make significant savings on their energy bills.
"We pride ourselves on our great British heritage, and homeowners should know that choosing Drayton heating controls for their home means selecting a system that is manufactured in the UK."
Drayton has been supported by BEAMA, its national trade body that has been campaigning for greater recognition from government for UK companies working in the electrical industry.  This includes developing a sector strategy to encourage more investment and improve skills.
To find out more about products from Drayton, call 0845 130 5522, visit www.draytoncontrols.co.uk