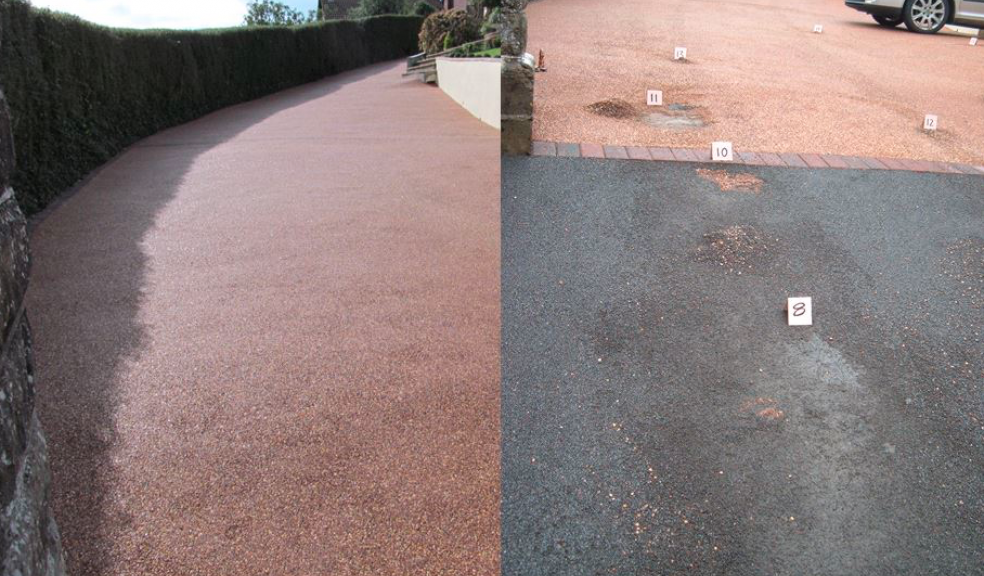 Rogue traders plead guilty to fraud
Two rogue traders have pleaded guilty to fraud at Newton Abbot Magistrates Court following an investigation by Devon and Somerset Trading Standards.
Bryan Ferren, aged 38 and Kevin Hogg aged 41, both of Clifton Court, Clifton Road, Paignton, admitted to conning over £70,000 out of 17 elderly Devon residents over a 13 month period.
The court heard how, between November 2012 and December 2013, the pair cold called properties across the county pressuring their vulnerable victims in to driveway repair and resurfacing work.
Trading as Unique Drives & Coatings, they charged high prices for poor quality work, offered fraudulent and meaningless guarantees and failed to provide customers with the required paperwork, specifically in relation to their statutory rights as to cancellation of the contracts.
When the work was completed, either to a poor standard or left unfinished, they would leave the site and become impossible to contact, seldom returning despite repeated requests from their disappointed and distressed customers.
The two bogus businessmen were not ignorant to their crimes or their legal obligations in relation to consumer protection, and had in fact been reminded by Trading Standards three times by 2013 following concerns raised by the public.
Councillor Roger Croad, Devon County Council's Cabinet Member with responsibility for Trading Standards, said: "This was no light-hearted loveable rogue case. These men are criminals who preyed on the elderly and vulnerable in order to make money. For several of their victims, the money they defrauded from them was part of their life-savings set aside for their old age.
"I am pleased that our trading standards team have stopped them ripping off any more of our residents.
"The work they do to protect the people of Devon and Somerset is invaluable and I encourage anyone who suspects they have been conned to come forward."
Councillor David Hall, Somerset County Council's Deputy Leader and Cabinet Member responsible for Trading Standards, said:
"Rogue Traders are criminals who take advantage of householders by using high pressure sales techniques. Their work is often sub-standard or not required at all.
"We will not tolerate such dishonest trading activity in Devon and Somerset, and
will continue to do all we can to protect our residents, particularly the most vulnerable, and safeguard the economic interests legitimate local businesses from such damaging unfair trading practices by taking necessary enforcement action."
"I would encourage everyone to familiarise themselves with their consumer rights before agreeing a contract, and if you are looking for good reputable traders in Devon and Somerset use our Buy With Confidence scheme to find someone we have approved and vetted so you can trust them."
The Magistrate considered their sentencing powers insufficient for the seriousness and scale of the offences so summoned Mr Ferren and Mr Hogg to return to Exeter Crown Court for sentencing on 17 June 2016 at 10am.
Devon and Somerset Trading Standards approved businesses, including, plumbers, builders and electricians can be found on the 'Buy With Confidence' scheme website.
The scheme promotes the highest standards of trading across the two counties, for the benefit of both consumers and businesses. Businesses who become members of the scheme undertake to operate their company in a legal, honest and fair way. They will also offer a customer-friendly service and respond to complaints in a constructive manner.
Anyone with concerns, or who would like advice about their rights, should telephone The Citizens Advice Consumer Service on 0345 0404 506 or visit their website.
Need to report illegal trading activity? Call Citizens Advice Consumer Service on 0845 4040 506. You can also get advice on a range of consumer issues by visiting their website or logging on to the Devon and Somerset Trading Standards Service website.
Businesses can also find advice from Devon and Somerset Trading Standards website or call 01392 381381.