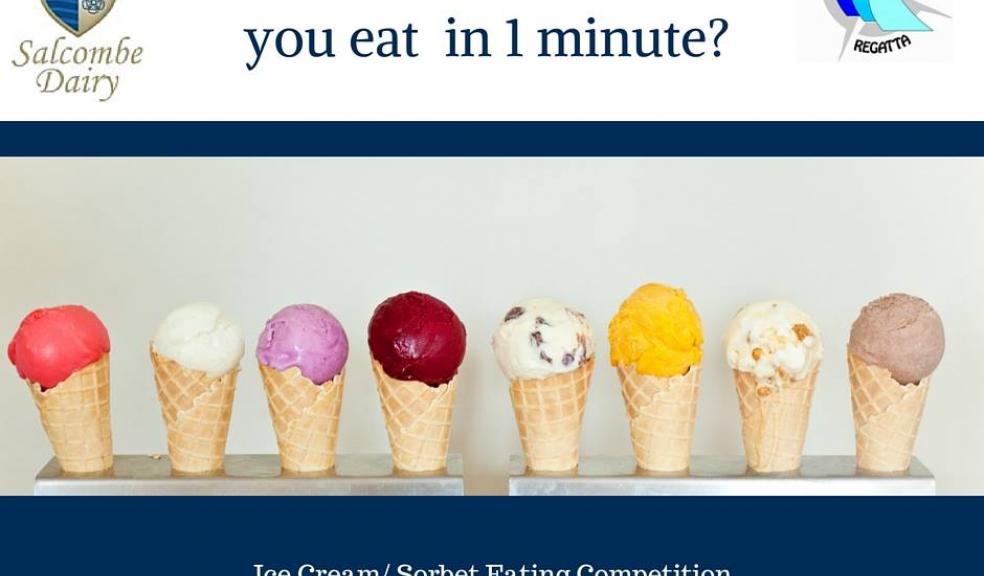 Ice Cream Competition at Salcombe Regatta
In just one minute, how much ice cream can you eat? After a Salcombe Dairy record-breaking result at last weekend's Kingsbridge Fair, they are taking their all you can eat competition to the Salcombe Regatta on Sunday 31st July.
With the record set at a whopping 480g by this year's overall winner, Adrian Masters, beating Salcombe Regatta's previous 350g record, will next weekend see someone top that?
Split into four age categories, under 7's, 8 -13 year olds, 14 – 17 year olds and adults, the ice cream eating competition will be held at Salcombe Dairy, Island Street at 3.00pm, costing only £3 per child and £5 per adult to enter. The winner from each category will win a Salcombe Dairy t-shirt and a voucher for more ice cream!
All the proceeds will be donated straight to the Salcombe Regatta organisation, which in turn is donated to support local community groups including the local preschool, over 60's centre, young people's centre, poppy appeal and the Salcombe swimming pool. To enter please visit Salcombe Dairy's ice cream shop on Island Street, Salcombe or visit the Salcombe Information Centre. For those who can't make this weekend's competition, they will also be holding another competition at the Dartmouth Regatta on 25th August.
The 2016 Salcombe Town Regatta is being held from Saturday 30th July to Saturday 6th August. The biggest annual event in the Salcombe calendar, the week is full of fun events on and off the water, including sailing races, sandcastle competitions, greasy pole, crabbers race and the firework display. For further information, please pick up a programme from local shops, including Salcombe Tourist Information Centre, Cranch's Sweetshop, Bonningtons newsagents and Spar.
Salcombe Dairy, established in 1981, uses only the finest ingredients and sources local products where possible. Making ice cream, sorbets and frozen yoghurt, all of their products are free from gluten, egg, artificial colours and flavourings; they also have a vegan suitable sorbet range, including a decadent chocolate sorbet. Their entire range can be enjoyed throughout the summer at their new parlour in Dartmouth, and parlours in Kingsbridge, Salcombe, Dawlish and their pop up shop at Stokeleigh Farm Shop.
For further information on Salcombe Dairy please visit www.salcombedairy.co.uk, email info@salcombedairy.co.uk or call 01548 843228. Follow Salcombe Dairy on Twitter @salcombedairy and 'Like' on Facebook, Salcombe Dairy Ice Cream.