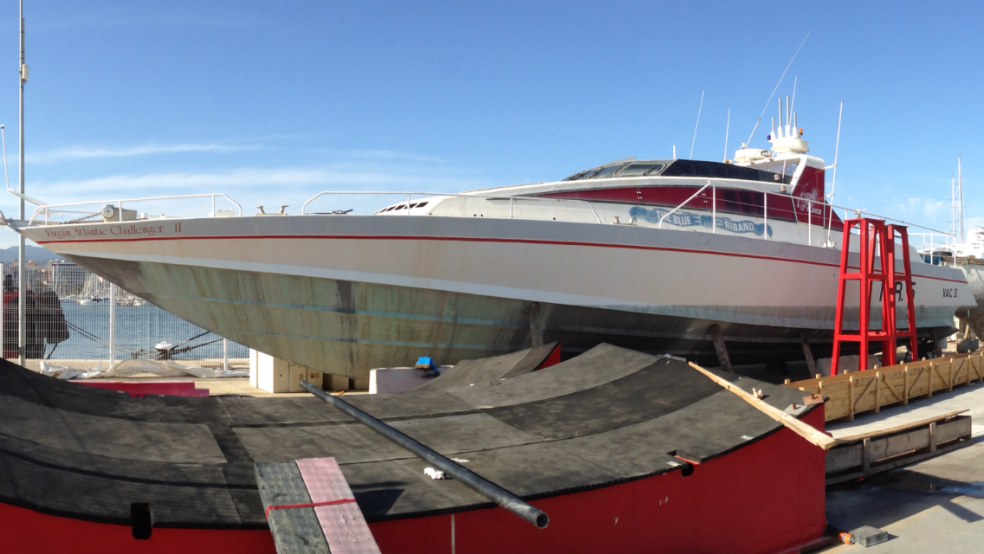 Virgin Atlantic Challenger II found and to return home
Sir Richard Branson's famous record-breaking Virgin Atlantic Challenger II will be sailing back to the UK after a 20-year absence.
Dan Stevens, a merchant navy officer and master, discovered the vessel in a boatyard in Palma de Mallorca, where it has sat for more than seven years. He is flying out a crew within days to carry out a basic refit to make it seaworthy, and then intends to skipper it the 1493 nautical miles back to Britain.
Dan, who owns Seahawk Workboats in Plymouth, said: "I'm bonkers about boats. Most people probably thought it had been scrapped but it's here and I've been in it and it's fantastic. It is like stepping back in time. Everything is original. There are old papers, the 'nav' gear, Virgin Airways cabin livery and upholstery and even original charts. I couldn't let it get chopped up. Somebody had to take this on and try and get it back home. It's a piece of British maritime history."
Commissioned by Sir Richard Branson for the historic Blue Riband Transatlantic Challenge, Virgin Atlantic Challenger 2 took the record for the fastest crossing, in 3 days, 8 hours and 31 minutes, averaging 36.79 knots, on June 29, 1986. The crew were never awarded the Blue Riband, because they stopped to refuel and the powerboat was deemed not to have a commercial maritime purpose.
Sir Richard's first attempt in 1985 ended in failure, with the boat sinking off Land's End.
Dan believes the boat was sold by Virgin Media in the late eighties to a sultan whose coat of arms - MR5 - still adorns the 72-ft long craft. It spent time harboured in Monaco and St Tropez on the French Riviera, before eventually being bought by the Spanish boatyard seven years ago. Despite its fame, the boat has only chalked up 810 hours of travel time.
Most of the original fittings, along with documents and charts, remain intact. The two main engines have been started up by Dan, who has carried out ultrasonic testing on the hull and plans to fit new fuel tanks ahead of returning along the coast of Spain and France to Plymouth in late May.
Dan discovered the vessel with the help of Brian Thornton of Performance Marine in Ireland. It has stood for seven years in Palma where she landed on a voyage from Monaco. The boatyard would not release Challenger II until storage fees that had been accumulated by a previous owner had been paid. It was recently listed on theyachtmarket.com for £249,000.
But Dan now plans to carry out all the work to make her sea-worthy with the help of his crew. Further work will then be completed out at Seahawk Workboats boatyard, on Shaw Way close to where the River Plym enters Plymouth Sound.
Speaking ahead of the 25th anniversary celebrations in 2011, navigator Dag Pike commented: "It would be very sad if she went for scrap – surely there's someone out there who'd want to own a piece of history."
Dan added: "Restoring boats is what we do at Seahawks. This is the iconic powerboat of the eighties. Sir Richard's crossing of the Atlantic, heading out past the Statue of Liberty, speeding past the finish line at the Isles of Scilly captured my imagination. To think we now have the chance to bring Challenger home and restore her is great. It's going to be an eventful journey but an exciting one, which is probably fitting for a boat with her history. I don't want to say yet what we've got planned for her. The first step is bringing her home."
Fact file
Designed by Sony Levi and built by Lowestoft Boatyard in Suffolk, the 4000hp vessel has a top speed of 52 knots and is equipped with Automatic Flotation System, Automatic Fire Extinguishing System and Dual Helm Positions with Twin Radar System.
• 72' LOA (length overall).
• 26' Beam.
• 52 tonne weight.
• 2x MTU 396 2000HP.
• 52 knots.