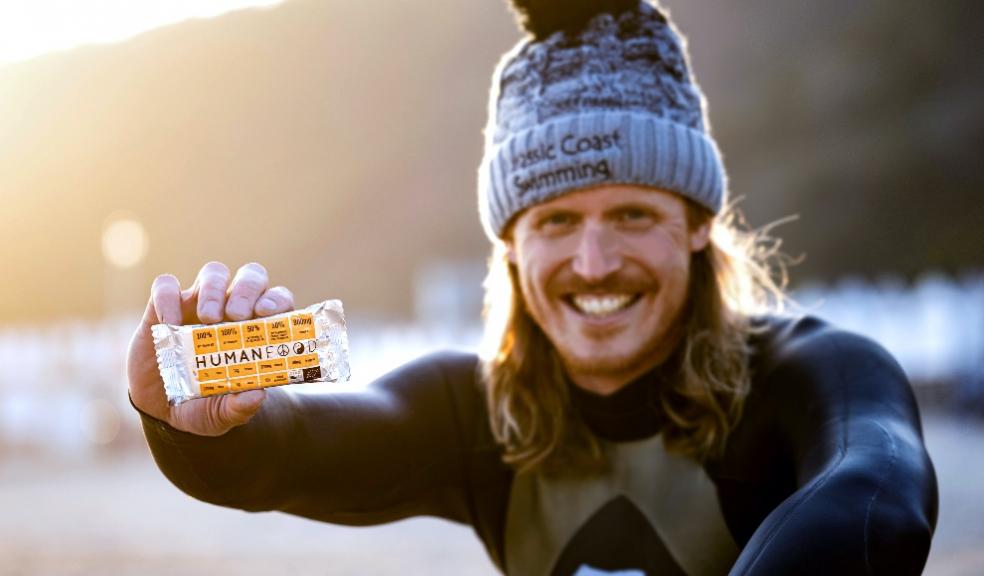 Jurassic Coast swim inspires beach clean-up campaign
A Devon-based eco-warrior's epic swim of the Jurassic coast, which stretches from stretches from Exmouth in East Devon to Studland Bay in Dorset, has inspired plant-based nutrition bar producer Human Food to offer bars for free to beach clean-up events across the UK.
Oly Rush, operations director of environmental community interest company Oceans to Earth, undertook his sponsored swim of the Jurassic Coast last year to raise awareness of beach pollution, raising nearly £10,000 in the process. Human Food provided him with free nutrition bars to fuel his swim.
After learning more about Oly's beach clean-up efforts, Human Food offered to help out with those too. The company now provides Oly with bars to help him power through his beach cleaning and is buying him some new kit to help him further.
The natural next step was to offer free bars as part of a wider beach clean-up campaign. Now Human Food is offering free bars for any beach clean event in the UK. All they ask in return is that the organisers display their 'fuelled by Human Food' logo online with a link to the Human Food website. Human Food will then send enough free bars to feed the volunteers. 
Human Food make wholefood nutrition without compromise. Their delicious 100% organic bars provide a broad spectrum of micro and macro nutrients, all from natural, wholefood sources - shown to be more bioavailable and more effective than the synthetic nutrients used in most supplements and fortified foods. Through its collaborative research programme, the company brings clinical-level rigour to the world of health food by funding independent efficacy studies at UK universities. 
Launched in 2020, Human Food was the highest ever funded vegan Kickstarter campaign, and is the only product in the world containing a plant-based source of natural Vitamin B12 – a vitamin vegans can struggle to obtain from their usual diets. The bars are used as an ultra-marathon food and a vegan nutritional supplement, and are recommended by doctors, nutritionists and dietitians as nutritional therapy. They're also enjoyed by anyone who wants a healthy, nutritious and sustainable food to eat on the go.
Oly Rush said: "I'm delighted to be sponsored by Human Food and it's great that they're going to be giving free bars to other beach clean-up events too. As the world's most nutritionally dense organic food, Human Food bars really do offer something unique for vegans. They also come in compostable, plastic-free wrappers and are made with ethically sourced organic ingredients - all of which is excellent news for anyone concerned about our planet. I'd encourage anyone else wanting to make a difference by cleaning up their beaches to get in touch with Human Food so they can fuel your efforts."
Human Food founder Ky Wright added: "Oly has a plant-based diet, and avoids plastic where possible, so after seeing some endurance athletes talk about how Human Food is the best food for lengthy, physically enduring challenges, wanted to use our bars to help him swim the Jurassic Coast. He got in touch, and we got to learn all about his effort to keep his local beaches clean and spread the word generally about sea pollution. We are happy to be helping Oly stay healthy and fuelled for his beach cleans, and we hope to work together on some exciting projects in the future to incentivise more people to do what they can do reduce sea pollution.
"The first of these is our UK-wide beach clean-up campaign. Beach pollution is an issue that matters deeply to us and to our subscribers, and we're pleased to be able to help fuel more people like Oly in their beach cleaning efforts."
Anyone interested in joining the campaign can email: tom@humanfood.bio