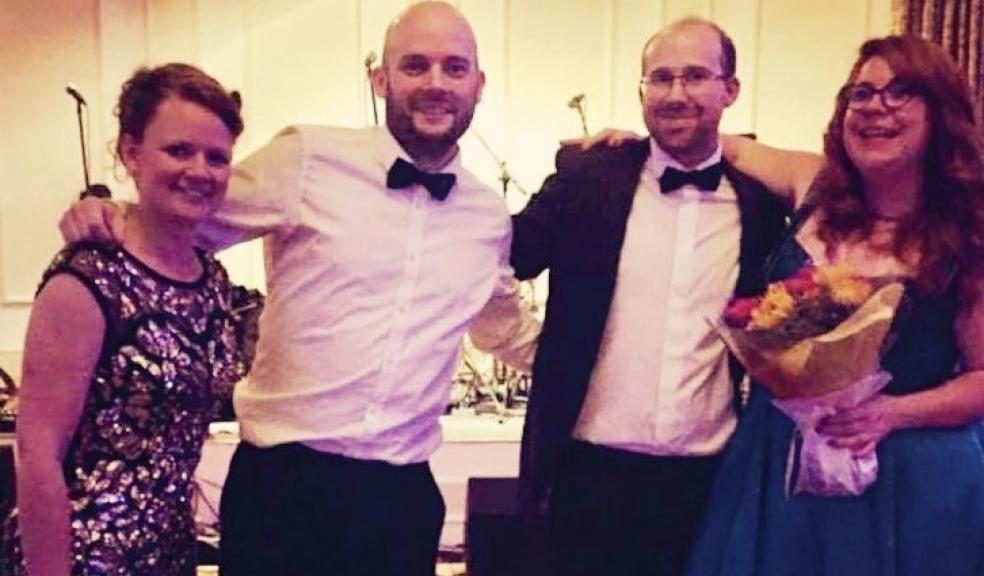 Fall Ball raises thousands for Plymouth charity
A seasonal ball organised by solicitors from four local legal firms was a huge success, raising £5,000 for the Plymouth Parent Advocacy Project.
The solicitors, Carrie Laws from The Family Law Company, Laura Geach from Wolferstans, Andrew Wonnacott from GA Solicitors and Peter Ash from Nash & Co put together the event at the New Continental Hotel as part of an ongoing commitment to provide ongoing support for the project.
Around 150 guests from the legal and professional community enjoyed the evening, including barristers, solicitors and those involved working with vulnerable adults and within child protection.
Live music was provided by popular acoustic singer songwriter Christian Sleep, with burlesque entertainment from Raspberry Cardinale. The finale came from Harry Peanut Show, an eight-piece band featuring ball organiser Peter Ash on bass and The Family Law Company's Mark Langsworthy on saxophone.
Carrie Laws said: "The amount raised from the ball through ticket sales, a raffle and charity auction far exceeded our expectations.
"Everyone on the committee would like to thank everyone who dug deep on the night."
Together, funds raised from the ball, participation in the Classic Quarter – a 44-mile coastal run from the Lizard to Land's – and Carrie's London Marathon run brings the total raised this year for the project to around £6,600.
Plymouth Parent Advocacy Project, run by Plymouth Highbury Trust provides invaluable support for parents being assessed in relation to their capacity to instruct solicitors and conduct proceedings relating to their children.
Kate Cowling, manager of the project, said: "We wouldn't be so successful without the amazing relationships we have developed with the family law practices in Plymouth. They really understand and appreciate the need for advocacy for our parents and we are so grateful to Laura, Carrie, Andrew and Peter for their enthusiastic support.
"The money raised will not only encourage funders to invest in our future but may also give us the opportunity to bring forward our plan to bring another advocate into the project."
Future fundraising events include a fundraising quiz and participation in the annual New Year's Day Brown Willy run.