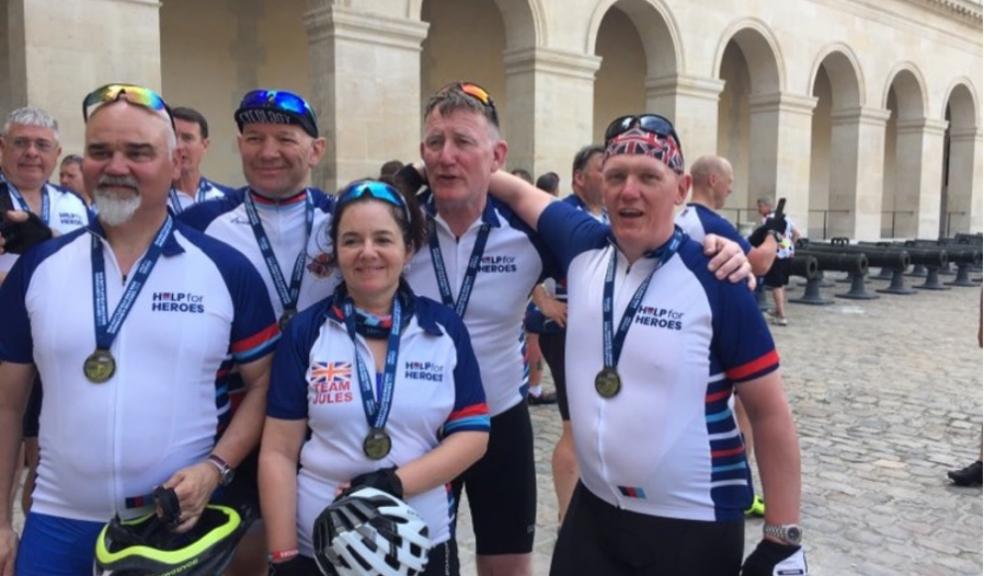 John O Groats to Lands End Bike Relay Challenge in aid of Help for Heroes
It has been a year like no other.  The effects of COVID 19 have been devastating and life changing for so many and for the charity sector, lockdown has also prevented volunteers from organising fundraising events, to help support the most vulnerable in the community. 
The virus has compounded feelings of loneliness, desperation and fear.  However, for a small group of Help for Heroes volunteers, this made them more determined to think creatively about what they could do to help the charity's beneficiaries during this challenging time.
For a charity like Help for Heroes which relies on 98% of its income from donations, the pandemic has forced it to make some difficult decisions.  This has unfortunately resulted in them no longer operating out of the four recovery centres in Catterick, Tidworth, Colchester and Plymouth. 
The charity's flagship fundraising event, the Big Battlefield Bike Ride, was cancelled for the second year in a row in 2021.  During lockdown in 2020, Help for Heroes Ambassador and Band of Brother, Steve Craddock, decided to cycle from his home in Kent to the National Memorial Arboretum in Staffordshire to help raise money.  He found that at various points along the route he was joined by fellow riders and friends all keen to encourage him in this personal challenge.   This sparked the inspiration for JOGLE, a relay ride from John O Groats to Lands End with all proceeds raised donated to Help for Heroes.
Five charity volunteers became the event organisers and they opted to make a 'slight' adjustment to the traditional route.  They would increase the total miles covered from 890 to 1228.  This would enable those taking part to visit points of interest along the way, including the National Memorial Arboretum, the Desert Rats Memorial, the Cenotaph in London, and Brookwood cemetery - the largest Commonwealth war cemetery in the UK.  The riders will also be VIP guests at Sanders Draper School in Hornchurch, Essex, named in honour of World War II spitfire pilot, Flying Officer Raimund Sanders Draper.  Draper heroically steered his aircraft away from the school when his engine failed during a flight in March 1943.  He crash landed in a nearby field and was killed instantly.  During the group's visit, a wreath will be laid at his grave as a mark of respect.
The relay event has even received support online from celebrities such as Nick Knowles and Peta Cavendish - former model and wife of world champion road cyclist, Mark Cavendish. 
The organisers are still looking for any riders interested in registering for the event which will take place from the 28th August to 18th September 2021.  Participants can cycle all or any part of the route which has been designed for all abilities, including those on recumbent or tandem bikes. 
Those who sign up and register and help fundraise will receive a cycling jersey designed specifically for the ride as a memento of this unique experience. 
'This is a completely inclusive ride', said Help for Heroes volunteer and former Army chef, John Burns.  'You don't have to be current or former military personnel to take part.  Everyone is welcome.  The camaraderie on the ride will get you through any tough climbs and listening to the stories of the beneficiaries is always very humbling.  It's a great atmosphere and an experience you won't forget'.
For more information on how you can take part in the ride, visit the JOGLE Facebook page and join the group https://www.facebook.com/groups/303157751122422   Alternatively, if you would like to make a donation, you can visit the group's GoFundMe page at http://bit.ly/HeroJOGLEGoFundMe