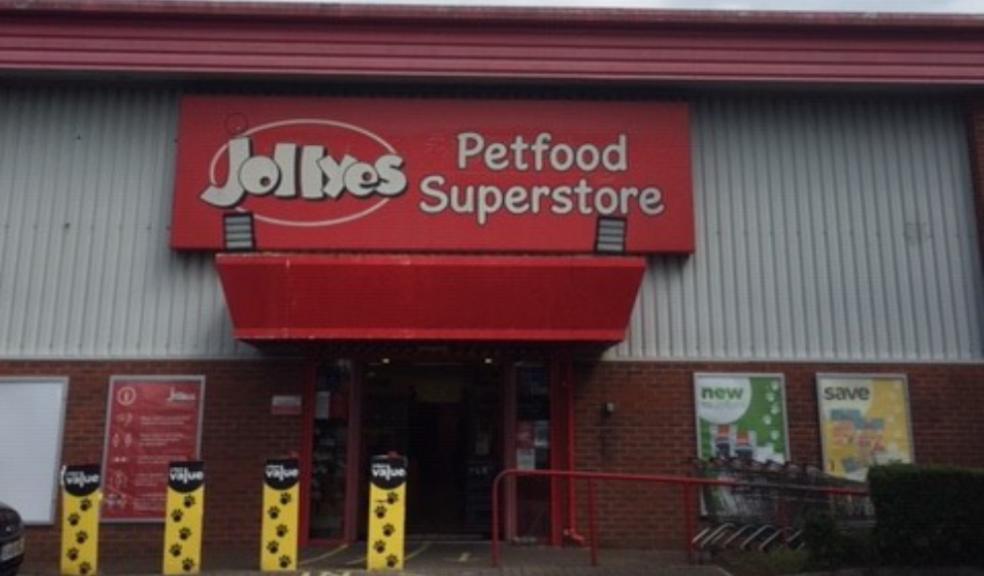 Jollyes celebrates makeover at Plymouth store - to delight of local dogs 
Manager Richard Weeks oversees revamp at store where he started as weekend help 
Jollyes is celebrating a makeover at its Plymouth store which has created five new jobs and made the shopping experience for pet owners – and visiting dogs - even smoother than before. 
The store at Coypool Retail Park, Marsh Mills, is already the third most successful in Jollyes' network of nearly 70 UK stores and number one for sales of dog food and wild bird food. 
The redesign, including a new layout, follows consultation with customers and is the biggest change at the store since it opened in 2007. 
Four of the colleagues have been at the store since it opened and of the eight others, five are new recruits. 
Among those who were there 14 years ago is Richard Weeks who was appointed store manager three months ago and has helped to oversee the revamp. 
Richard, 32, joined as a part-time weekend worker while he was studying and has since made his career at Jollyes. After being recruited to the full-time staff, he was promoted to supervisor and then assistant manager at Plymouth. He also had the additional responsibility of being assistant manager, and then manager, at the sister store at the Blue Diamond Endsleigh Garden Centre in Ivybridge, Devon. 
The Plymouth store does a roaring trade in pet food and accessories and also has a weekly vet clinic, though it does not sell live animals. 
Its location on the edge of the city and close to the moors has made it the go-to store for dog owners, both for family pets and working dogs. 
As a dog-friendly store, it is a regular starting and finishing point for dog walkers using the nearby popular Plym Valley Trail which heads out towards Dartmoor. 
Richard said: "It makes me laugh the number of times a dog will run into the shop with its owner in hot pursuit because they know this is where their food and treats come from. They range from chihuahuas to Bernese mountain dogs and everything in between. 
"We've got some customers who've been with us from day one. We encourage owners to bring their dogs in and you'll get a nudge on the leg or hand and it's Molly or Poppy or one of the other regular dogs that's come in and found you in the store and wants a treat." 
Richard met his fiancé, Jordan, while they were working at the Endsleigh store and the couple have two children, Matilda, age four and Jesse, seven months.  
He went to Ridgeway School and City College Plymouth and while at Jollyes has trained as suitably qualified person (SQP) to prescribe and supply certain veterinary medicines. 
Colleagues at the Plymouth store are busy planning a weekend of celebrations in August and will announce details soon. 
Jollyes area manager Matt Godwin said: "We think customers will love the changes we've made at the Plymouth store. For instance, we've put the tills close to the entrance so colleagues are able to greet customers on their way and the new layout makes it easier for customers to find what they're looking for. 
"Richard and his team have worked tirelessly and we're all looking forward to saying a big thank you to our customers at our weekend of celebrations."