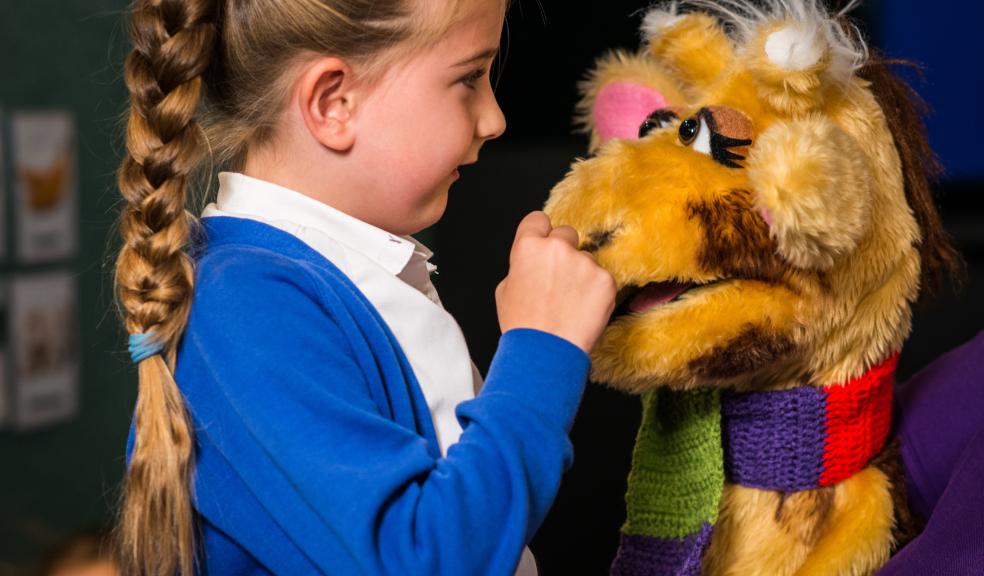 Charity mascot Harold the Giraffe posts daily diary following school closures to help keep Devon's children healthy and happy
The animal mascot of South West children's charity Life Education Wessex has launched a daily blog to give health and wellbeing advice to children in Devon aged 3 to 11, who can't go to school because of the Coronavirus shutdown.
Harold the Giraffe is the well-known mascot of the national charity, Coram Life Education. A Harold puppet usually accompanies LEW's specialist educators when they go into Devon's primary schools to teach children how to make healthy choices, avoid risky behaviours and stay safe. As Harold had to put his regular school visits on hold towards the end of March, he is posting a daily diary at coramlifeeducation.org.uk/harolds-daily-diary
Programmes run by Life Education Wessex in Devon's schools provide thousands of children every year with vital knowledge and skills to safeguard their health and wellbeing. From Reception to Year 6, educator-led workshops are delivered in a mobile classroom or Lifespace. Classroom-based modules for Years 7 and 8 focus on the risks of alcohol, tobacco and drugs misuse. The charity also delivers an online, year-round programme called SCARF (Safety, Caring, Achievement, Resilience, Friendship), encompassing the entire PSHE and RSE curriculum from Reception to Year 6.
Although this will be a very challenging year for Life Education Wessex due to the COVID-19 crisis, the charity says there is positive news to celebrate: 2019/2020 is still likely to be a very good year in terms of the number of children reached through its mobile classrooms and Lifespace, the number of children benefiting from its stand-alone SCARF programme, and the income generated from schools and by fundraising activities. 
On a national level, Coram Life Education is working hard to make resources available to schools and parents, along with remote support and training for teachers so that, even if they are not in school, they can still make preparations for the new Relationships and Health Education requirements from September 2020. SCARF will remain active online at all times to support teachers and schools.