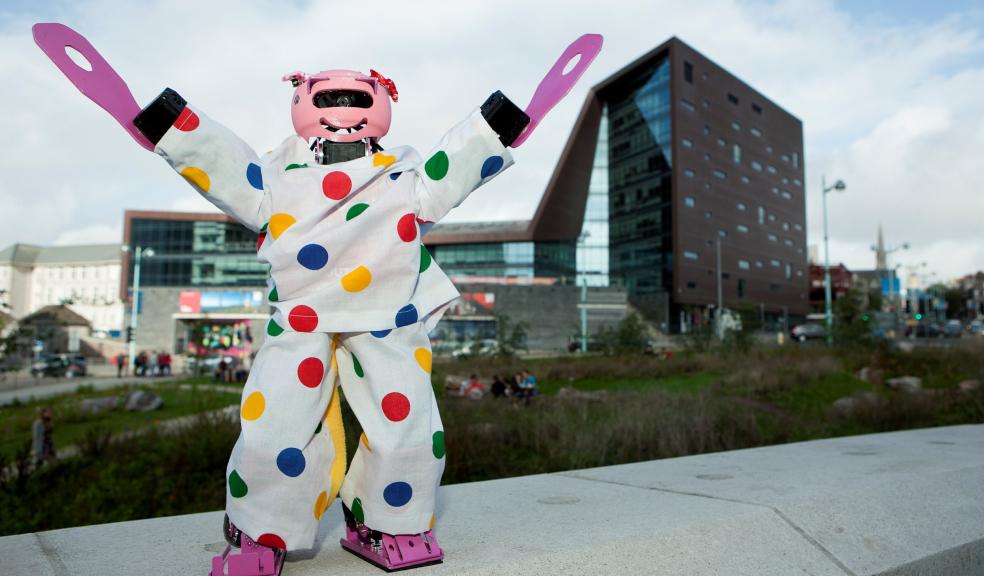 Plymouth University's robot footballer clicks between the sticks for Children in Need
The England football squad's record in penalty shoot-outs has left a lot to be desired in recent years. But the next generation of star players are being given the chance to banish the memories of past failings thanks to the robot football team at Plymouth University.
Ahead of this year's annual Children in Need appeal, the team's latest high profile signing will be getting between the sticks and trying to save the penalties of budding Rooneys, Yankeys – or even Tynans.
Eva, the University's first female robot footballer, will be aiming to emulate the great 'keepers of the past at two events in the city centre next week, the first in Waterstones, Drake Circus, and then at the University itself.
Dr Phil Culverhouse, from the School of Computing & Mathematics at Plymouth University, said: "Our humanoid robots are fantastic ambassadors for the University and bring technology to life for people of all ages. They have travelled the world in recent years and wherever they go, they have the power to excite youngsters and show engineering can be fun. It is good to be able to use them to inspire people, and to raise money for a great cause like Children in Need in the process."
The robotics team has recently returned from South Korea, where Eva won the sprint event of the international FIRA Invitational Cup and finished fifth in the marathon.
It was the latest global success for a team, which has won medals in tournaments from Malaysia to Mexico, and San Francisco to Switzerland since it was formed in 1997.
Dr Culverhouse added: "A result like this is a fantastic reward for all the hard work it takes to get the robots into international competition. With constant advances in technology, our engineering students are always striving to stay ahead of the game. But we are constantly setting our sights high, and are now aiming for RoboCup Brazil in July 2014 and the next FIRA event in the USA in August."
If you want to test your penalty prowess against Eva, she will be in Waterstones, Drake Circus, from 11am-3pm on Saturday 9 November and then in the University's Roland Levinsky Building from 12-2pm on Monday 11 November.