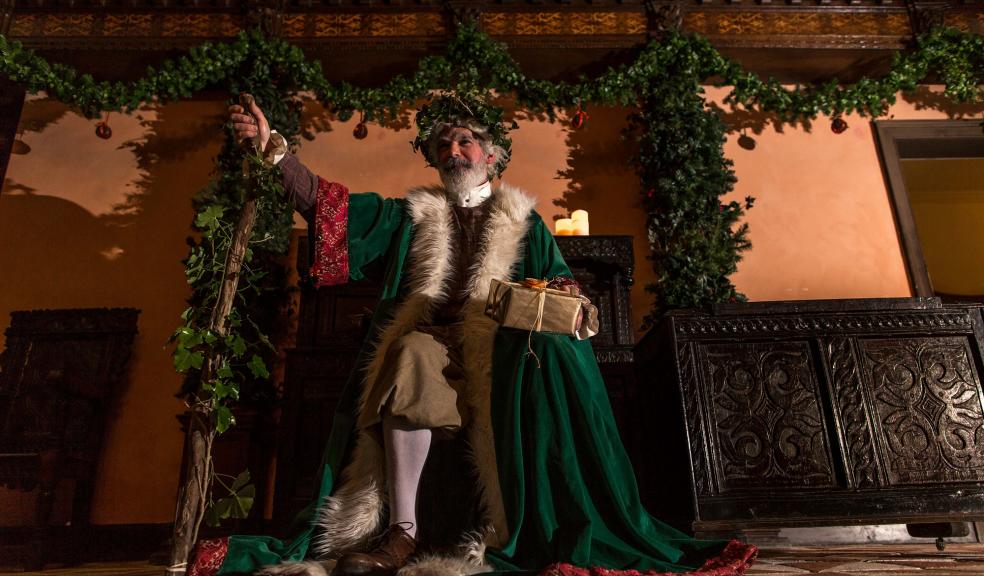 Tudor Christmas comes to Buckland Abbey
Step back in time and experience an Elizabethan style Christmas at Buckland Abbey between Friday 1 December and Tuesday 2 January. With cooking in the kitchen, festive dancing in the great hall and the traditional Lord of Misrule causing mischief throughout – it's a festive experience not to be missed.
Under a canopy of stars created by school children from St Andrew's Primary at Buckland Monachorum, local Scout groups and volunteers, the doors to the Great Barn will swing open to reveal a unique interpretation of an Elizabethan masque based on 'Feast and Festivity'. Using natural materials, and lots of creativity, local groups from the National Association of Flower Arranging Societies (NAFAS), have been busy creating impressive floral displays that will fill the space with plenty of colour and lots of festive cheer.
The magnificent centrepiece features Olde Father Christmas who is surrounded by popular tales told in Tudor times, such as Saint George and the Dragon and Sir Gawain and the Green Knight. Other floral arrangements tell the story of Father Christmas' children – Wassail, Minced Pie and Carol.
Once visitors have admired the Great Barn, they won't want to miss out on the Abbey where the decorations continue throughout the ground floor. From kissing boughs to marchpane galleons, the stage is set for a perfect Tudor Christmas. Whether they want to sample the seasonal sights and smells of a busy kitchen or take a moments peace in the chapel, visitors will certainly leave full of festive cheer.
James Breslin, House and Estate Visitor Experience Manager, explains: 'The Christmas celebrations are part of a series of events are taking place to tell the story of Buckland Abbey in a creative and magical fashion. Ever wondered how to make a Fart of Portingale? Our costumed Tudor cooks are on hand to show you how to make these sweet and spicy Portuguese pastry tarts. If you visit on a Tuesday or Thursday between 5 and 21 December, you'll be treated to a demonstration in the kitchen as the scent of herbs and spices fill the air.
'You can also the Christmas magic by coming along on the weekends of 9/10 and 16/17 December to take part in Tudor dancing with Renaissance Historical Dance Society. Immerse yourself in the magic of the season and step back in time and learn some of the dances that would have been displayed in the court of Queen Elizabeth I.'
A very special guest is also coming to visit Buckland from 18 to 22 December. Children and grownups alike will be captivated by Olde Father Christmas' magical storytelling sessions in the Great Hall. Dressed all in green, he is an awe-inspiring sight and one that the whole family will never forget. Booking is essential via the Buckland Abbey website.
There are lots of opportunities for family craft making at Buckland this Christmas, with the return of Naturemake, mosaic and felt making and rag rugging workshops throughout the run up to Christmas; and finishing with Glitter day on 23 December. Visitors can escape the hustle and bustle of shopping and, instead, join in making their very own glittery, Andrew Logan-inspired, Christmas decorations. Details of all craft events are available on the website.
And finally, no New Year festivity is complete without a traditional Wassail. On Sunday 7 January, from 4-5pm, families are invited to watch a mummers play and then join in with Dartmoor Border Morris as they lead the celebrations and hopes for a good harvest next year. Everyone is encouraged to bring  pots and pans to make lots of noise.