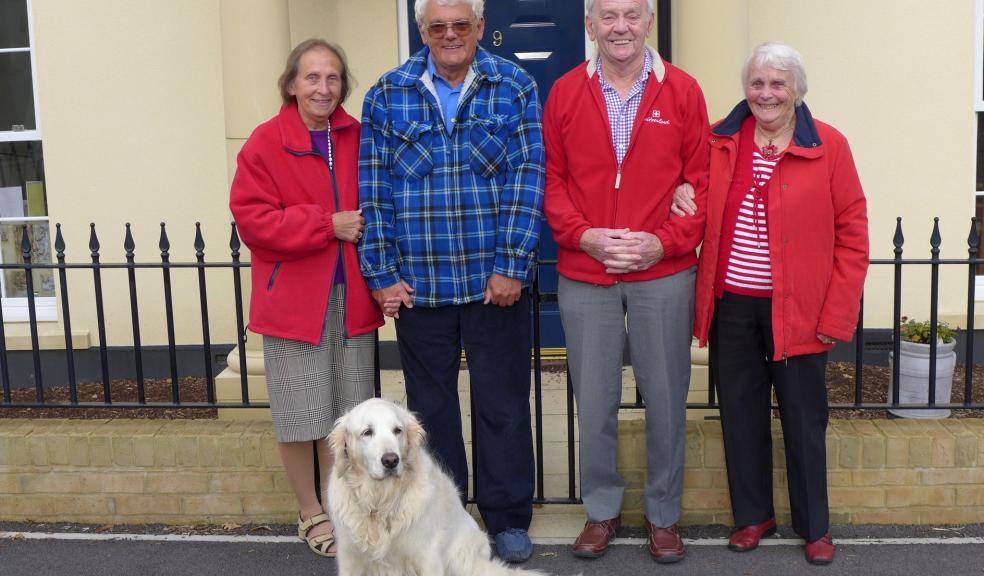 Brothers keep it in the family at new development
Two brothers are now seeing a lot more of each other following individual purchase of new homes at the award-winning development built by Dorchester-based C G Fry & Son Limited at Balidon Place in Yeovil.
David and Angela Randall bought their deluxe two-bed apartment in the re-constructed Balidon House, formerly Yeovil Maternity Hospital located in the desirable West Coker Road 12 months ago having lived locally in a bungalow for nearly 40 years. Following numerous visits from close family and friends, David's brother Roger and his wife Margaret were so impressed with the quality and design of the development that they have now purchased a five-bedroom detached house on the same site.
David Randall aged 78 says: "Angela and I loved living in the bungalow and the position but we are not getting any younger. We were very interested to see that
C G Fry & Son were developing just down the road. We watched with great excitement as they painstakingly restored the former maternity hospital to its former glory. C G Fry & Son has a great reputation for quality and when we saw the plans for the spacious apartments it made sense to downsize and we are delighted with this new style of living. We have old pictures of the hospital and they have done an amazing job to keep the essential character whilst adding modern standards of living and high quality design. Many visitors say that their children were born here so it gives it a sense of history and we really enjoy living here with lovely neighbours. We moved in on my wife's Birthday and she said it was the best Birthday present she had ever had. We are very happy here and wouldn't swap for anything."
Roger and his wife Margaret Randall relocated from Reading where they have lived for the last 30 years. Visiting his brother and sister-in-law at Balidon Place they were very impressed with the quality of the finish and fittings in the 'show house' and because of the exceptional value of the houses, were able to up-scale to a larger property than they originally owned in Reading. The couple have just moved into a traditionally designed five-bed detached house with double garage built with Georgian architecturally style design and a generous sized secluded garden.
Roger Randall comments: "We had no real intention of moving house, however when we visited David he was a great ambassador for C G Fry; the quality of their building work, attention to detail and quality of craftsmanship. As a family we took a stroll around the development and really liked the design of the square which is tastefully designed around trees which will shade the ample parking. The generous proportions of the houses as well as the professional and friendly help from the sales team, all really impressed us. On our drive home Margaret announced that she had 'fallen in love' with the show house, its superb kitchen and the spaciousness of the property. We revisited the site and chose this beautiful house as it had a very large and secluded garden overlooking woods which was an important factor for us. We decided to put our Reading home on the market and fortunately sold within six days so it was meant to be. It is lovely living in this part of the country where the people are much friendlier and always find time to stop and chat when we are out dog walking, something we didn't always find in Berkshire."