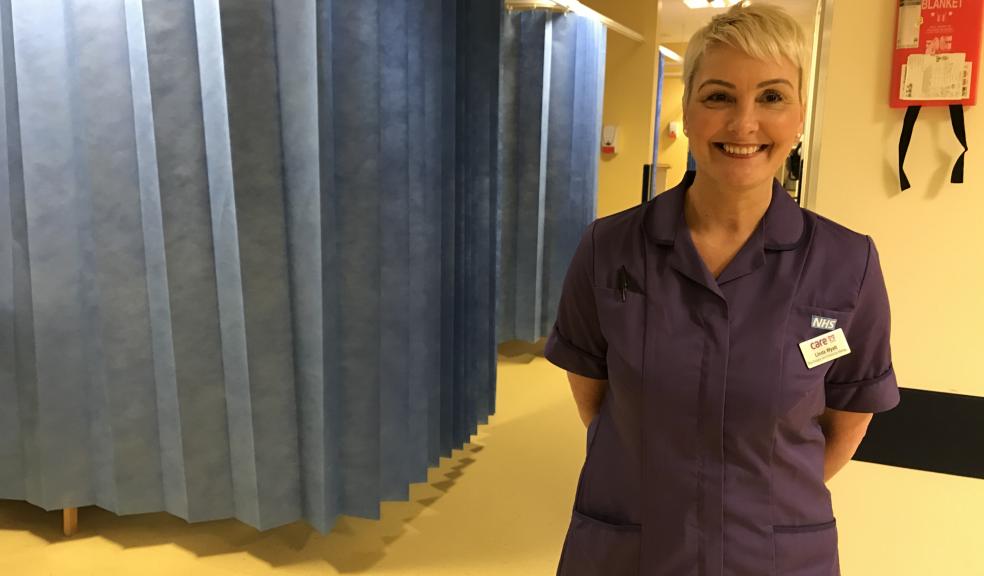 Senior nurse joins Peninsula NHS Treatment Centre
Senior nurse Linda Wyatt has joined popular hospital Peninsula NHS Treatment Centre as Day Surgery and Endoscopy Manager.
Linda began her nursing career as a healthcare assistant in Primrose Ward, Derriford Hospital, caring for patients who had undergone breast surgery.
She completed her nursing degree at the University of Plymouth in 2006 and re-joined Derriford Hospital as a registered nurse in its high dependency unit, and then its intensive care unit.
She worked as an agency registered nurse in the liver intensive care unit at King's College Hospital, London, and as an employed registered nurse in the intensive care unit at The Harley Street Clinic.
She then joined BUPA Earl's Court where she oversaw the running of its radiology department.
As Day Surgery and Endoscopy Manager at Peninsula NHS Treatment Centre she will manage a department which carries out minor surgical procedures which do not require an overnight stay, and endoscopy services which include:
·         Colonoscopy, used to examine your large and small bowel;
·         Sigmoidoscopy, the examination of the large intestine using a rigid endoscope;
·         Flexible sigmoidoscopy, where a flexible endoscope is used to look at the furthest part of the colon;
·         Gastroscopy, where an endoscope is passed through the mouth and throat to check the stomach;
·         Trans-nasal endoscopy, where a thinner endoscope is passed through the nose to investigate the stomach (Peninsula NHS Treatment Centre is the only hospital in the South West to offer this option).
Margaret Mahoney, Head of Nursing and Clinical Services at Peninsula NHS Treatment Centre, commented: "This year is the International Year of the Nurse and Midwife, and we are delighted to welcome Linda to our team as an experienced, knowledgeable and talented nurse. Our Day Ward and Endoscopy Department are busy areas of the hospital and increasingly popular for patients choosing where they have their treatment."
Peninsula NHS Treatment Centre is well known for the quality of its patient experience and was the first hospital of its kind to achieve a rating of 'Outstanding' from the Care Quality Commission. Procedures include major and minor orthopaedic surgery, general surgery (hernia repair and gall bladder removal), cataract surgery, endoscopy and diagnostic imaging. Patients can choose Peninsula NHS Treatment Centre for their care under the NHS, and they can also elect for a self-pay option (cheaper than local private health providers) or in some cases private medical insurance.
www.peninsulatreatmentcentre.nhs.uk
5 signs you may need an endoscopy
An endoscopy is when a tube with a camera is inserted into your body through your mouth, nose or anus to help identify and diagnose the cause of a variety of symptoms.
Why might you need an endoscopy? Here are five signs to look out for and to discuss with your GP:
Stomach pain – if you are experiencing pain in your abdomen which is unusual or which lasts for more than a few hours, it could be symptomatic of a worrying or serious condition. You should see your GP who may refer you for an endoscopy procedure to diagnose the cause of the problem
Blood in your stools – this may be the sign of an infection or bowel cancer, which if caught early can be treated. If you notice any blood in your stool or when you wipe yourself after going to the toilet you should see your GP who may suggest one of the endoscopy procedures described below
Difficulty swallowing – also called dysphagia, this can be caused by a number of conditions ranging from an infection to cancer of the oesophagus. If symptoms persist you should see your GP quickly and discuss with them if an endoscopy is required
Acid reflux/heartburn – we have all suffered heartburn at some point and antacids help, but if you are experiencing heartburn or acid reflux regularly or over a long period of time it may be caused by an underlying condition. Long term acid reflux can also lead to Barrett's oesophagus, where the abnormal growth of cells causes blockages. If your experience of acid reflux or heartburn is long term it should be discussed with your GP who may refer you for an endoscopy to investigate the cause of the problem
Irregular bowel movements, long term constipation or diarrhoea – sometimes these symptoms can be caused by a change in diet or lifestyle and may settle, but if you experience them for a long period of time they may be signs of something more serious such as IBD, colon cancer or an underactive thyroid. Speak to your GP who may think it is appropriate for you to have an endoscopic investigation.
Whatever your symptoms, always speak to your GP if you're worried.