RANKED: This is the EASIEST (and most difficult) places in the South West to pass your driving test FIRST TIME round!
With driving tests and lessons being put on pause over the last few months due to COVID-19, many learner drivers are eager to get on the road as soon as possible with tests resuming in July! A new report by GoCompare reveals where you should take your test, to ensure a first-time pass!
During the Coronavirus pandemic, thousands of driving tests across the UK have been cancelled. According to government guidelines, driving tests are planned to resume in early July (6th) as the industry gears up for an influx of learner drivers.
Because of this, GoCompare has conducted a new report using DVSA data, analysing the first-time pass rates from over 324 driving centres across the country to find out where in the UK is the easiest (and most difficult) area to take your test.
The UK Driving Test Report reveals that on average it costs £647 to pass your test, including on average 22 lessons and a theory test too - and that's just if you pass first-time round! While some learner drivers can take off the L-plates after their first attempt, some need more than five chances before passing. And this can quickly add up. So where is the best place to take your test near you to get a higher chance of passing the first time around?
The best places to take your driving test in the South West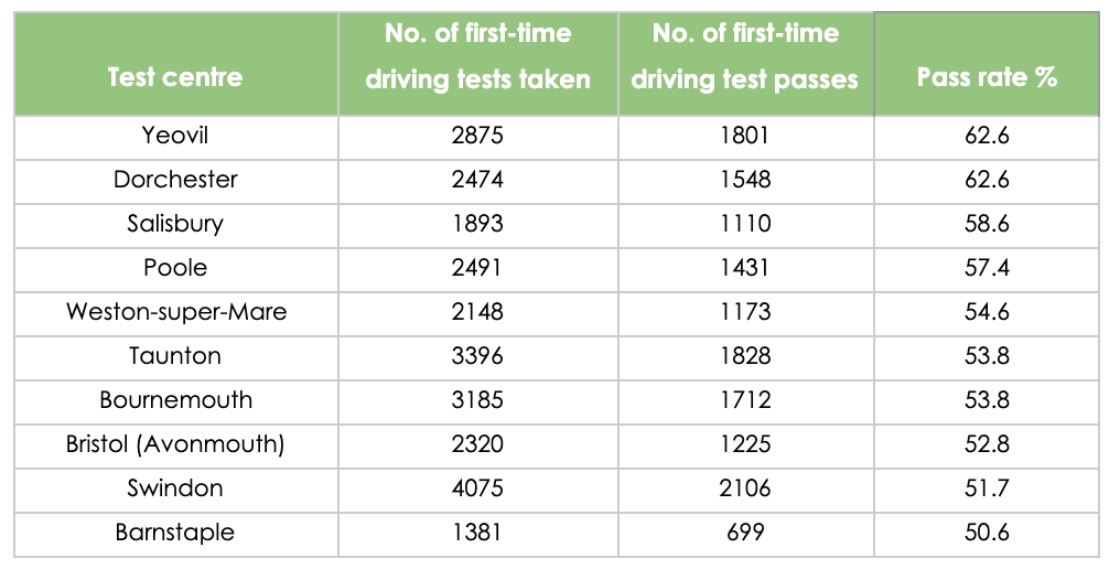 The driving test centres with the highest pass rate in the South West
In the South West, the best place to take your test is in Yeovil, most probably thanks to its quiet surroundings as the centre has a high pass rate of 62.6%. Dorchester and Salisbury are also among the best centres to take your test and pass first time in the region.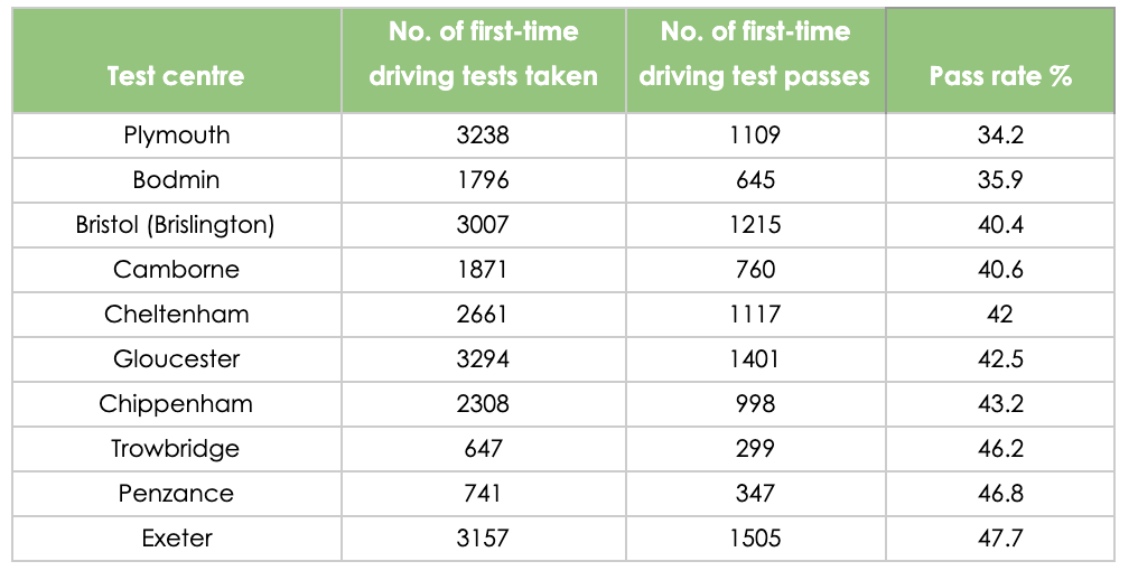 The driving test centres with the lowest pass rate in the South West
However, for the most difficult areas to get a first-time pass, Plymouth tops as the hardest centre to pass first time in the region with a pass rate of just 34.2%!
There is set to be a large backlog of learner drivers, so planning ahead and changing which driving centre you plan to take your test could help you secure a quicker pass, which is something for those booking their practical over the next few weeks to bear in mind.
AVOID this area if you're looking to pass 1st-time!
For other areas in the UK to avoid, big cities Birmingham, London and Manchester also have test centres with lower pass rates. The Pavillion in Birmingham is the hardest in the UK with just a 29.3% pass rate, as less than a third pass first time! South Yardley, a busier centre also based in Birmingham placed second as 1,850 learners failed their test.
The 10 driving centres with the LOWEST 1st-time pass rate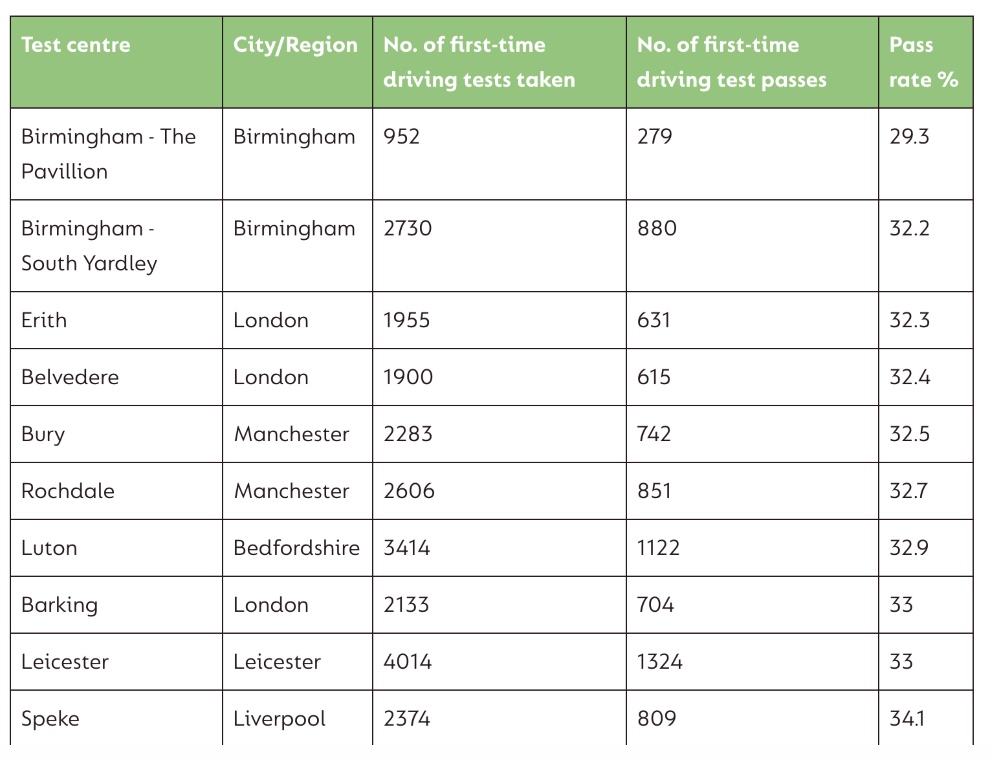 These metropolitan areas are full of hazards that can put off even a well-seasoned driver during rush hour, so they are best to avoid if you're looking for a quick win.
This UK town is the EASIEST area to pass your driving test 1st-time round!
The data shows that Llandrindod Wells in Powys, Wales is the test centre with the highest 1st-time pass rate of 76.3%, as 3 out of 4 people taking their test in the town received their licence straightaway. Crieff in Perthshire is a close second as 74.5% passed first time round.
For those in Yorkshire, the report reveals that Malton is the best place to take your test with a 66% first-time pass rate overall.
The 10 driving centres with the highest 1st-time pass rate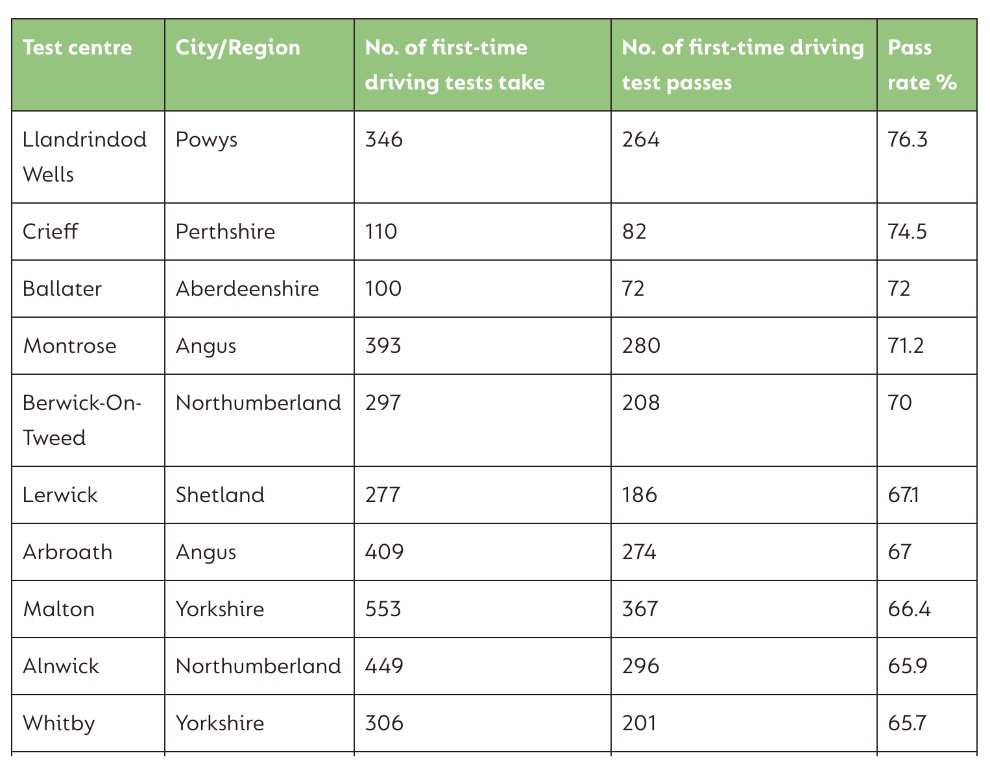 The places with the best chance of passing are based in Scotland, Wales, Northumberland and Yorkshire, so those looking to pass quickly should head to the country. Smaller towns have fewer roundabouts, congestion and less built-up areas, so there's a reduced risk of complicated junctions which means you're more likely to have a smoother driving test.

Finding the more rural test centre in your area is likely to help - the difference in pass rate is over double the UK's busiest cities!
The good news is pass rates, in general, are increasing. In December 2017, a number of changes were introduced to driving tests which corresponded with a 14% decrease in first-time pass rates from June 2017 to 2018. Within a year of these new measures being introduced, there was a 116% increase in first-rate passes.
The report also looks at where in the UK are the busiest and least busy test centres based on driving test booking numbers. Trying to get booked in when lockdown ends may be difficult - so the top 10 busiest and least busy test centres can be found here too.
Matt Oliver, Driving Expert from GoCompare said "Preparation is always the key when it comes to tackling any challenge. But there's no harm in looking at extra ways to boost your chances, and choosing a quieter route can keep your nerves at a minimum.
The most common reason for failure in driving tests is responding incorrectly at lights. At busy junctions, it's easy to lose your concentration when surrounded by different distractions - choosing a quieter location is a good way to limit this risk. To make sure you're prepared, try to practise in a variety of conditions. Once you've chosen your test centre, drive the routes as often as possible, so you can get used to the trickier roads."
For more tips on preparing for a driving test head here: https://www.gocompare.com/motoring/reports-statistics/driving-tests-uk/
Here is our list of the best driving apps to help you get on the road: https://www.gocompare.com/motoring/guides/top-10-driving-test-apps/