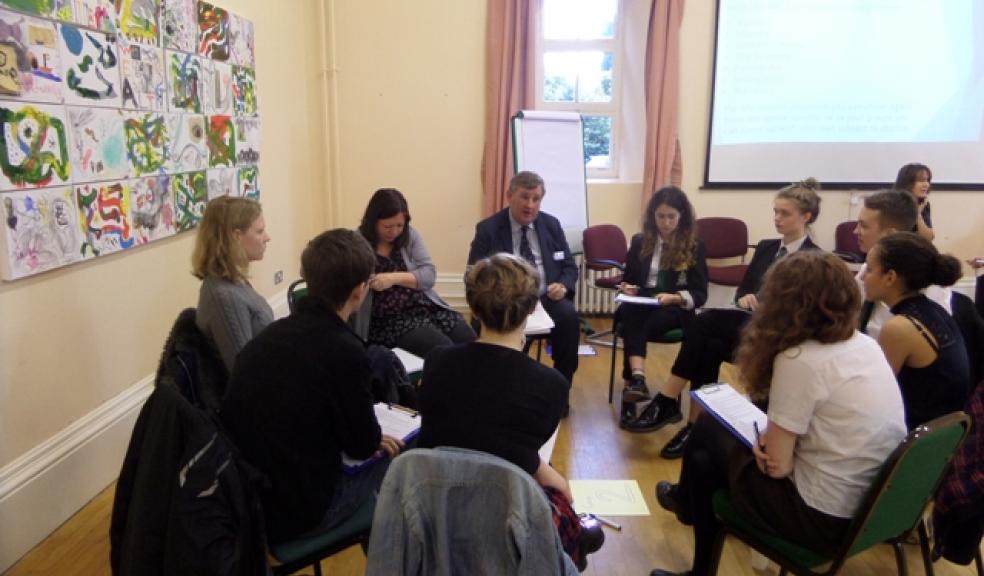 Plymouth MPs host Political Awareness Day
Students aged 16-plus from Plymouth's schools were invited to attend a Political Awareness Day hosted by City MP's Alison Seabeck MP, Oliver Colvile MP and Gary Streeter MP, in partnership with the Plymouth Excellence Cluster last week.
The three MPs, alongside the Excellence Cluster, have become concerned about increasing disillusionment amongst voters, particularly in relation to young people. In 2010 only 51% of young people turned out to vote, and in 2005 the turnout was as low as 38%. It was therefore decided between them that the best way to tackle this problem is to take political discussions, in a non-party political way, directly to the young people, rather than simply waiting and hoping for politics and government to become relevant to them. The aim of the event was to humanise the structure of Parliament and encourage the young people to engage with MPs and ask about their passion and belief in politics
The day included two sessions, each with 30 students attending. It gave the young people the time to sit down with a sitting MP and discuss current issues such as Europe, Climate Change and Immigration.
Issues that were also discussed included votes at 16, mental health and the NHS, and the future of the Dockyard.
They were able to directly question all three MPs on anything and everything they wanted to raise. It was an interactive day of discussion, enabling young people to strengthen or challenge existing political ideas and to distinguish between different political messages and how they are portrayed by the media.
Oliver Colvile said: "I really enjoyed the opportunity to sit down and speak with pupils on a very informal basis. The willingness of all of the participants to engage was fantastic and the vast majority of the arguments raised were eloquent and well-reasoned. Being below the voting age does not mean you are outside of the political process – so many policy areas are focussed on providing for children - so I think it's incredibly important to engage with young people on the issues that matter to them. I hope that this event helped pupils to think about politics in terms of how people can work to improve their communities, rather than just something they see on the news."
Alison Seabeck said: "Far too often in the media MPs are presented as being completely removed from the real world, when in reality each of the three of us have very different backgrounds and reasons for entering politics. It was important that we gave the students the opportunity to form an opinion for themselves, and have an unfettered discussion about things they care about."
Gary Streeter said: "It was a great day. I loved interacting with these enthusiastic young people. The future of our country is in very safe hands.  Hopefully we have quickened a little more interest in the forthcoming election and the political scene generally."
The feedback from the event was incredibly positive, with many of the students commenting on the need for more, similar events to help improve youth engagement in politics.