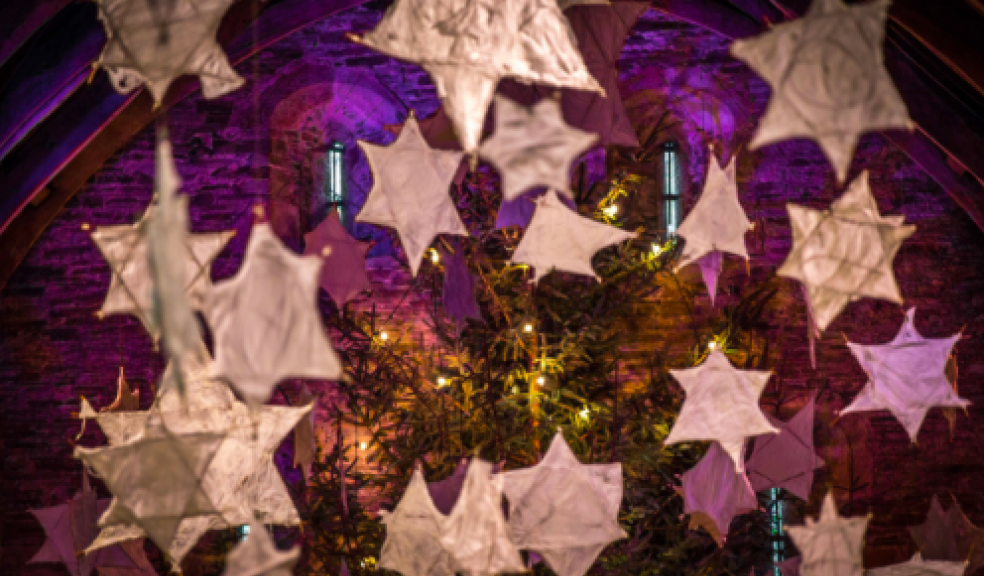 Hosts of angels descend on Buckland Abbey's Great Barn
The doors to Buckland Abbey's medieval Great Barn swing open this Christmas to unveil a unique interpretation of the traditional carol, The First Nowell.
Using natural materials, props and a lot of creatively, local groups from the National Association of Flower Arranging Societies have been busy creating impressive floral displays which will fill the Great Barn with colour, festive aromas and plenty of seasonal cheer.
James Breslin, Visitor Experience Manager at Buckland Abbey said: 'Over the last couple of months, local flower arranging groups have been hard at work behind closed doors to develop and install this wonderful floral celebration of Christmas, which visitors can view here at Buckland Abbey up until the 2 January.'
The display of angels with the shepherds, designed by the Creative Leisure Group, won best in show as judged by Ashley Beare, chairman of The Fortescue Garden Trust.
Visitors can also experience the Christmas magic by coming along to one of the late night openings. As well as looking around the Great Barn, visitors can pop into the shop to find the perfect gift or treat themselves to festive fare in the restaurant. On 14 and 19-23 December, the barn, shop and restaurant stay open late until 8pm.
The festivities continue inside the Abbey, as the ground floor is transformed into an Elizabethan home. Rich Burrow, Visitor Experience Officer, said: 'Imagine the pots and pans in the kitchen bubbling away with delicious winter feasts, enjoy a moment of peace in the chapel and immerse yourself in the magic of the season in the Great Hall.'
The Christmas celebrations are part of a series of events that take place all year to help tell the story of Buckland Abbey, all with the aim to move and inspire people about history. The Abbey is looked after by the National Trust whose charitable aim is to look after places like Buckland Abbey for people to experience and enjoy for ever.
Normal admission charges apply and Trust members go free. Buckland Abbey is open daily this Christmas until 2 January from 10.30am-4pm, closed 24-26 December. For more information visit www.nationaltrust.org.uk/buckland