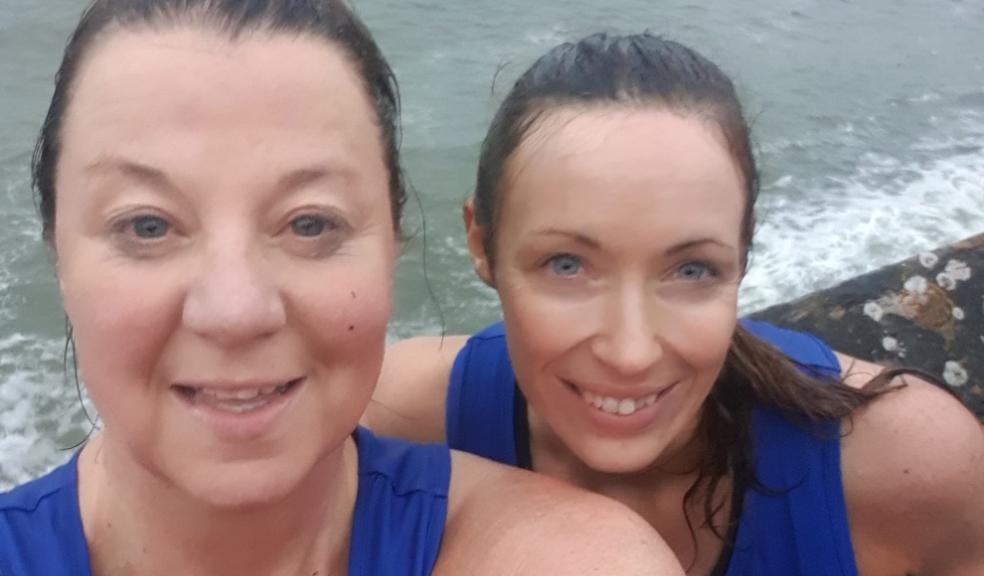 Fundraisers Beat Lockdown to Complete Charity Challenge 
Two Plymouth-based fitness instructors have beaten lockdown by completing a charity fundraiser for Help for Heroes a week early raising almost £2,000 so far. 
Ros Glendinning and Gilly Ellis, who already volunteer their time to run free Pilates classes for military veterans at Help for Heroes, wanted to take their generosity a step further. They had planned to complete a dawn to dusk fitness challenge on Remembrance Sunday (8 Nov), but as soon as the second lockdown was announced last Saturday evening they made an on-the-spot decision to bring the date forward to 1 Nov, losing out on a week's training in the process, rather than risk having to cancel the event.  
During the day, the duo completed a classic swim-bike-run triathlon alongside some less traditional activities and hosted their fitness classes online via Zoom. Ros and Gilly started at sunrise with a 1.7km sea swim at Devil's Point, followed by a 7km cycle. In the next few hours they instructed two hour-long CheeziFit dance fitness classes and a one-hour PACE.Pilates class. They did 100 burpees and 500 hula hoops, accompanied by supporters via Zoom. They finished the day off with a 7km run, passing by the war memorial on Plymouth Hoe and ending up where the day began at Devil's Point at sunset. 
Ros said: "We've been passionate about supporting the military veterans and Help for Heroes beneficiaries for years now. Both being part of military families and living in a military city we're wrapped in military history and we see first-hand as volunteers the importance of continuous support through the pandemic. 
"It's been incredibly important to raise funds through inventive means but also awareness for Help for Heroes which has taken a huge hit in 2020. If we can't be together physically then there's always ways to raise both funds and awareness for these outstanding military individuals. We wanted to show the military veterans and beneficiaries that we care, they are a priority and we steadfastly remember those that died for us, those that have served and we applaud our future military generations who may need to be supported one day."  
Gilly added: "We wanted to make the day grueling and a serious challenge so we would raise as much as we could. Our triathlon will never be as hard as the mental and physical battles we see first-hand for some of the veterans. It was a gesture or thanks, appreciation and respect." 
To date (5 Nov) over £1,800 has been donated to their fundraising page, with more online activities planned to take place on Remembrance Sunday to honour their original plan and allow the dozens of Help for Heroes supporters signed up to their classes the opportunity to take part and contribute. Plymouth's Slug and Lettuce staff raised £367 of that total with customers' support up to the last minute they could on 4th November. 
Physiotherapist Ros is the founder of dance fitness brand CheeziFit and pilates company PACE.Pilates which offer affordable classes to the people of Plymouth and now as far afield as the USA since taking the business online in April.  
This is not the first time the pair, alongside their team, have fundraised for Help for Heroes. They usually run an annual fundraiser for 200 fitness fans at this time of year but had to adapt plans for 2020. While offering free classes during April to help people through lockdown they encouraged participants to donate in place of a class cost to various charities including Help for Heroes. 
This year Help for Heroes has seen a 33% increase in those coming forward for mental health support and a 30% increase in referrals to veterans' clinical services. But it is predicting a 30% reduction in regular income in coming years due to economic recession and has had to undertake a restructure to keep the promise it made on behalf of the nation 13 years ago to be there for our wounded veterans for life.  
To donate to Ros and Gilly's fundraiser for Help for Heroes, visit paypal.me/pools/c/8t4wqK5hrY Donations will close at the end of Remembrance Sunday.  
Beth Miles, Director of Marketing, Communications and Public Affairs for Help for Heroes, said: "The last few months have been tough for everyone across the country, and as a charity we have seen a significant impact on our fundraising activities. We simply couldn't provide the support we do without the creativity and generosity of people like Ros and Gilly, and we are very grateful to them and everyone who contributes to our fundraising efforts."