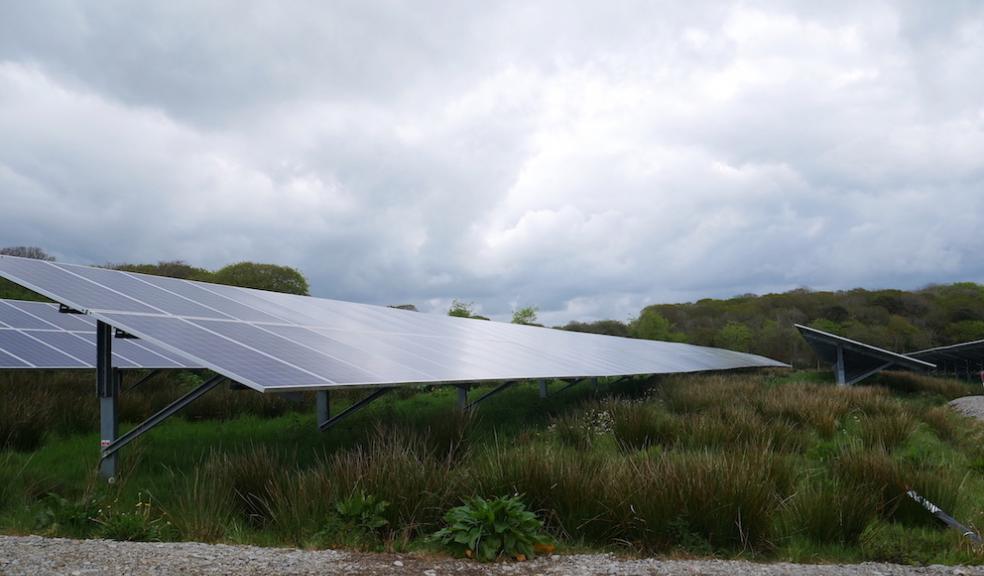 Councils powerless to stop solar panels made by enslaved workers from being installed in the county, says Devon CPRE
As councillors in Mid Devon prepare to decide whether to grant planning permission for a huge solar farm at Langford, the local branch of the countryside charity CPRE has revealed that local authorities are being forced to accept solar panels made using forced labour in China.  Several Devon councils have admitted to the charity that despite statements on their websites about human rights and modern slavery, they have "no powers" to control the sourcing of solar panels, many of which are now widely believed to be manufactured using imprisoned Uyghur Muslims in re-education camps. 
Devon CPRE has written to councils and MPs in Torridge, North Devon, East Devon and Mid Devon following reports of human rights abuses against Uyghur Muslims in China's Xinjiang province. The area produces almost half of the world's supply of polysilicon, a key component in the production of solar panels. 
Concern about the use of forced labour in solar panel manufacturing follows investigations by Sheffield Hallam University and Amnesty International. The report 'In Broad Daylight - Uyghur Forced Labour and Global Supply Chains' claims that Chinese authorities are committing human rights violations against minority ethnic groups in Xinjiang. There is evidence the world's four biggest manufacturers of solar panels use materials tainted by a massive system of coercion. 
Following the recent release of Devon CPRE's latest video with TV star John Nettles, who is spearheading the charity's 'Save our Fields from Solar Farms' campaign, the organisation contacted the four councils seeking written assurances that products made using forced labour would not be used at any solar farms granted permission. The charity also wrote to the MPs for each district, pointing out that the Government's strongly-worded anti-slavery statement calls on public bodies to be "more vigilant than ever before and ensure they are not inadvertently allowing forced labour in their supply chains". UK Government announces business measures over Xinjiang human rights abuses
Replies received from North Devon, East Devon and Mid Devon show local authorities are either unaware of the forced labour issue or believe they have no statutory powers to control what materials developers use. Torridge District Council has yet to reply. So far, only the MPs for Torridge and North Devon have responded. Torridge MP Sir Geoffrey Cox has raised the matter with the Secretary of State for Housing, Communities and Local Government, requesting clarification of government policy on human rights violations in the supply chain regarding the planning process. 
Devon CPRE Director Penny Mills says, "Three of the four councils we contacted either don't have a clue what we are talking about or say they don't have any powers to ensure solar panels are ethically sourced. The UK Government's pledge to exclude suppliers complicit in systematic human rights violations is meaningless. Is it 'green' and 'ethical' for developers here to cover our farmland in solar panels that may have been produced using forced labour? 
Penny adds, "Just because these abuses are happening on the other side of the world, do we turn a blind eye?  We have a duty to call out modern-day slavery and take every possible measure to ensure products made in this way aren't used in massive commercial installations on Devon soil."  
In April, North Devon's Planning Committee approved a 150-acre solar farm, the largest in Devon to date, at Litchardon Cross near Barnstaple. 100,000 solar panels will cover 23 fields. The Council's Chief Executive has stated that the authority has no power to control where the panels are sourced from. 
Devon CPRE energy spokesperson Dr Phil Bratby says, "North Devon Council admits it's given planning permission for a solar farm for which it will not be able to control the sourcing of the main components. Depending on the developer's chosen manufacturer, North Devon Council could be profiting, through business rates, from the forced labour of Uyghurs or other minorities in Xinjiang. How can anyone think that is acceptable?"
Devon CPRE is calling on the government to change the law and enable local authorities to ban products made by coerced workers from coming into Devon. It's also calling on councils to ensure decision-makers have all relevant facts at their disposal - including details of the supply chain - before they permit developments over which they have no subsequent control. Mid Devon will consider the Langford Solar Farm proposal on Wednesday 14th July.
Click here to watch JOHN NETTLES PRESENTS DEVON CPRE'S 'SAVE OUR FIELDS FROM SOLAR FARMS' CAMPAIGN