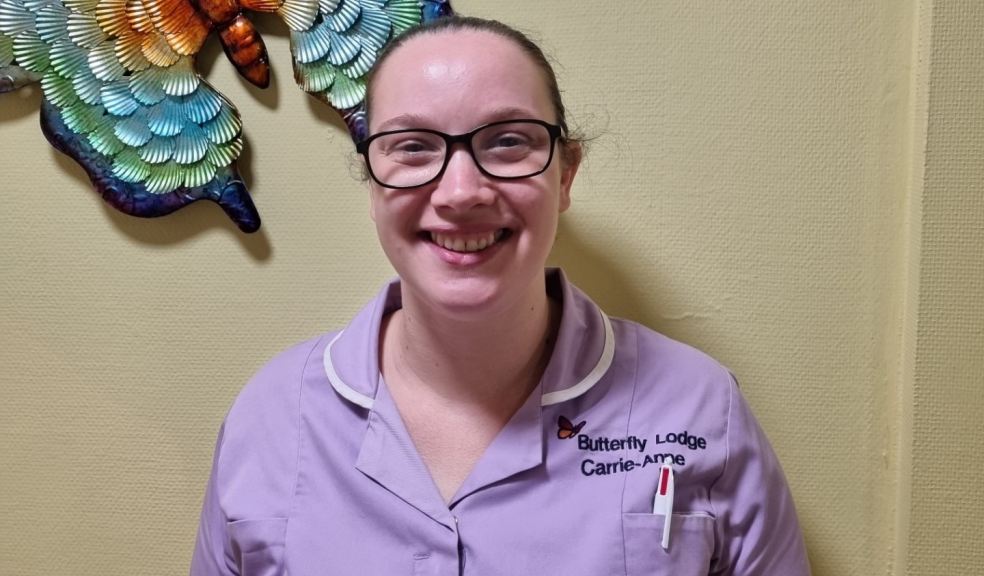 Carrie-Anne is shortlisted for Great British Care Awards
Staff and residents at a specialist dementia care home in Plymouth are celebrating the success of healthcare assistant Carrie-Anne Dalton, who has just been shortlisted for an award in the category of Care Newcomer in the Great British Care Awards. 
Sarah McCaffrey, deputy manager at Butterfly Lodge, who was responsible for writing the nomination, said: "Carrie-Anne only started working in care in May 2022. She says it appealed to her because family and being caring is important to her and this really shows in her interactions with others.  
"She's an exceptional member of staff with real care and empathy for the residents she supports and is clearly made for this role. Everyone here at Butterfly Lodge is so proud she's made the finals and we're grateful to have her as part of the team." 
Sarah McCaffrey continued: "Being new to the role, Carrie-Anne has thrown herself into being the best carer she can be, and the team, residents and visitors love her. 
"Caz is always happy to help at short notice and involves herself with fund-raising and other activities happening in the home when she is not on duty. She's eager to learn and take part in training, and she's so supportive to other new staff members, and an excellent role model." 
Carrie-Anne and other members of the Butterfly Lodge team will be attending the GBCA South West region awards evening at Ashton Gate in Bristol on Thursday 23 November, when they will learn if she is to go forward to the national finals. 
Her nomination shone a light on Carrie-Anne's proactive approach to her work, and the way she shares ideas and solutions with her colleagues to help them support residents in living their best lives. 
An example of this, and typical of her dedication to continuing service improvement, is Carrie-Anne's recent offer to become Butterfly Lodge's 'skin integrity champion.' She is passionate about wound prevention and care and is intending to undergo additional training, which she will then cascade, increasing confidence and knowledge among the team and benefitting residents all-round. 
Judges for Carrie-Anne's 'Care Newcomer' category will consider how nominees have been able to transfer existing skills to their new career, and be looking evidence of nominees' understanding of the word 'Care' and good practice in their chosen role, including awareness of the range of choice service users may have. 
They will also be looking for excellent people skills, empathy and responsiveness - especially in emotional situations – and a willingness and determination to take up opportunities to improve knowledge. 
The Great British Care Awards are a series of regional events throughout the UK, created in 2009 as a celebration of excellence across the care sector. The awards are all-inclusive, bringing together the statutory, independent and voluntary sectors, and their purpose is to pay tribute to those individuals who have demonstrated outstanding excellence within their field of work. 
Butterfly Lodge is run by award-winning specialist dementia care provider Camelot Care who also have residential homes in Bridgwater, Wellington and Yeovil www.camelotcare.co.uk