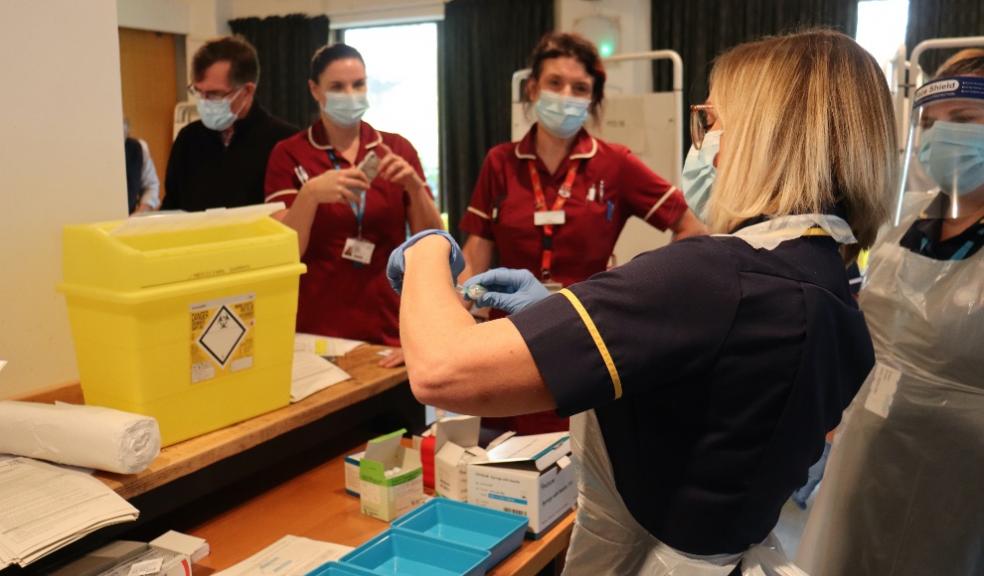 Derriford Vaccination Hub closing on Friday 16 July: "This will remain one of the greatest experiences of my career for the rest of my life"
The Covid-19 vaccination centre at the Derriford Centre for Health and Wellbeing (DCHW) will be closing its doors on Friday 16 July, 2021. The Hub has been phenomenally successful in delivering the national vaccination programme at a local level; vaccinating both hospital staff, other health and social care workers and the public.
The Hub opened in December and since then nearly 100,000 vaccinations have been administered. This achievement would not have been possible without the dedication of the vaccinators and volunteers and the behind the scenes support provided by a wide range of specialist teams from across University Hospitals Plymouth NHS Trust and Livewell Southwest.
Some of the staff working at DCHW have been reflecting on their experience: "Not one of us could deliver such a valuable service without the support of one another," said Nurse Associate Educator, Dan Fowell.
"I feel privileged to be in a position to offer my services to help protect the general public and colleagues that I have worked with. This will remain one of the greatest experiences of my career for the rest of my life."
Specialist Occupational Therapist, Judi Armstrong said: "Working at the Derriford Vaccination Hub in the global pandemic has been an honour. Every day I have worked at the hub I have observed empathy, respect and sensitivity to those that have come to us for their vaccines."
COVID-19 Vaccinator, Janet Benjafield said: "It has been an absolute privilege to work alongside all these amazing professionals and volunteers who hit the ground running to undertake this mammoth task.
"The public have been absolutely fantastic; I don't think I'll ever be thanked as much ever again as I have in any of my shifts here. Everyone has been so grateful for what we have been doing, showing basic human nature at its best, with adverse circumstances bringing out the best in people. It's been an absolute privilege."
All activity will now transfer to the Home Park Mass Vaccination site. There will be no reduction in the capability and capacity for the population of Plymouth and the surrounding area in terms of the vaccinations being offered; currently these will be Pfizer BionTech, Moderna and AstraZeneca. The vaccination calendars for opening hours will accommodate delivery of the three vaccines in line with the national programme and safe systems of working methods.  
Work has been undertaken to notify individuals whose appointments are currently booked from 17 July onward to advise that these have now been moved to the Home Park site. This may be a different day and time to the one booked in at the Derriford Hub. For the small number of individuals who may not have heard yet, please use the Manage My Appointment feature within the National Booking System to reschedule your appointment.