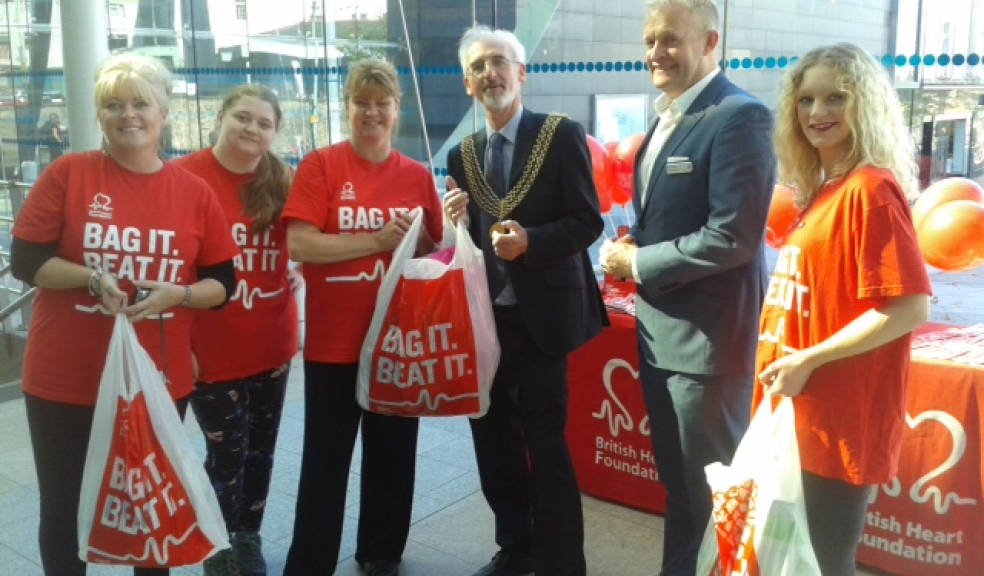 Plymouth shoppers help BHF to Bag It. Beat It.
Drake Circus Shopping Centre's customers help the British Heart Foundation to Bag It. Beat It.
Drake Circus Shopping Centre's 2015 Bag It. Beat It. stock appeal for The British Heart Foundation (BHF) launched on Wednesday 30th September when the Lord Mayor of Plymouth, Councillor John Mahony, donated the first bag of items.  The items will now go on to be sold in BHF shops and help fund life saving research, support those living with a heart disease and raise awareness of the effects that a sudden devastating diagnoses can have on a family.
Bags of good quality clothes, shoes, toys, books, CDs, DVDs and bric-a-brac, can now be taken to the nearest BHF shop.
Last year the BHF raised over £130 million from voluntary income alone, £115.5 million of which supported research*. This enabled them to fund scientists at more than 40 different locations in the UK. BHF also supports families affected by a sudden devastating diagnosis and creates communities who are able to share their advice and experiences with those who have been through similar experiences.
Greg Lumley, Centre Manager of Drake Circus Shopping Centre, said: "Thank you to the Lord Mayor of Plymouth, Councillor John Mahony, for helping us to launch our campaign. BHF is such an important charity which helps thousands of people around the UK every year who suffer from heart disease, so I want to encourage our shoppers to continue to donate their unwanted quality items and take them to our centre drop point or local BHF store."
For more information or to find your local BHF shop, please visit www.bagit.bhf.org.uk