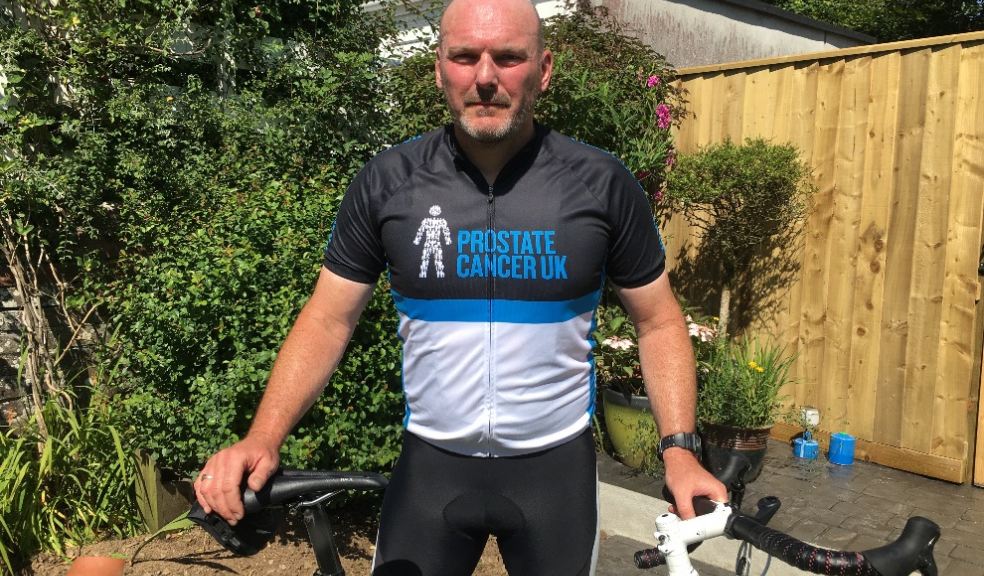 Plymouth man takes on 300 miles of cycling in Cycle the Month: Choose Your Challenge for Prostate Cancer UK
This August, a Plymouth man has decided to go the extra mile – or 300 - and take part Prostate Cancer UK's successful virtual cycling series, Cycle the Month: Choose Your Challenge, to raise money for the leading men's health charity and awareness of the disease.
Steve Hill, 52, hoped to raise £1,800 by saddling up and hitting 300 miles this summer to help beat prostate cancer, which effects on in eight men in the UK – but he has smashed that target, raising more than £2,300 so far.
In a first for the series, Cycle the Month: Choose Your Challenge invites riders to cycle either 100, 200 or 300 miles throughout August and help fund life-saving research to beat prostate cancer.
As well as funding research into treatments, the money raised by Steve will help to provide practical support to men and their families affected by the disease. He will also be joining an intrepid team of fundraisers who, since the Covid-19 pandemic began, have raised a remarkable £7 million through the charity's series of virtual challenges that include running, cycling and walking.
Steve was inspired to take part in Prostate Cancer UK's Cycle the Month: Choose Your Challenge after being diagnosed with prostate cancer earlier this year – and seeing his dad die from the disease in 2013.
He said: "My dad was diagnosed with prostate cancer when he was 57. It was a late diagnosis, so his cancer had spread.
"He became quite ill with both prostate cancer and Parkinson's Disease and he began to lose his brave battle. He died in 2013, aged 71. He fought both illnesses for 14 years without complaining – he was my hero!
"I got tested myself because I understood my heightened risk of prostate cancer and was diagnosed in April. Thankfully it was caught early, which has enabled me to take control of my treatment."
Steve, who has been cycling for many years, is taking his fundraising to the next level by tackling some difficult routes during August, including a ride across Dartmoor that features more than 2,000 metres of climbing and challenging a coast-to-coast route.
"I'm putting in some very difficult rides," Steve added. "Starting with a 66-mile ride across Dartmoor, equivalent to cycling up the iconic French mountain Alpe D'Huez twice! My challenge will then end with a 100-mile ride from Plymouth to Lands' End.
"The important thing for anyone taking part in Cycle the Month is to challenge yourself and prepare to be amazed at what the mind can make the body do, not to mention the money that can be raised for such a great charity."
Nicola Tallett, Head of Fundraising & Supporter Engagement at Prostate Cancer UK, said: "We're incredibly proud that Steve has joined our team of remarkable riders in taking on Cycle the Month: Choose Your Challenge and raising vital funds for Prostate Cancer UK.
"One man dies every 45 minutes from prostate cancer; it's now the most commonly diagnosed cancer in the UK, and the Covid-19 pandemic has made living with a diagnosis only harder.    
"The Cycle the Month: Choose Your Challenge riders, including Steve have well and truly shown how families, friends and communities can work together, locally and across the UK to help save lives – especially during a difficult time.
"We thank Steve and everyone who is taking part in Cycle the Month: Choose Your Challenge – and all of our fundraisers – for their support."
To sponsor Steve, please visithttps://cyclethemonthcyc.prostatecanceruk.org/fundraising/steve-hills-cycle-the-month-for-prostate-canc.
For more information about how to sign up, visithttps://cyclethemonthcyc.prostatecanceruk.org/.
Hard times show what people stand for. When the future is uncertain and the choices are tough, we stand for men with prostate cancer. Join us. Men, we are with you.