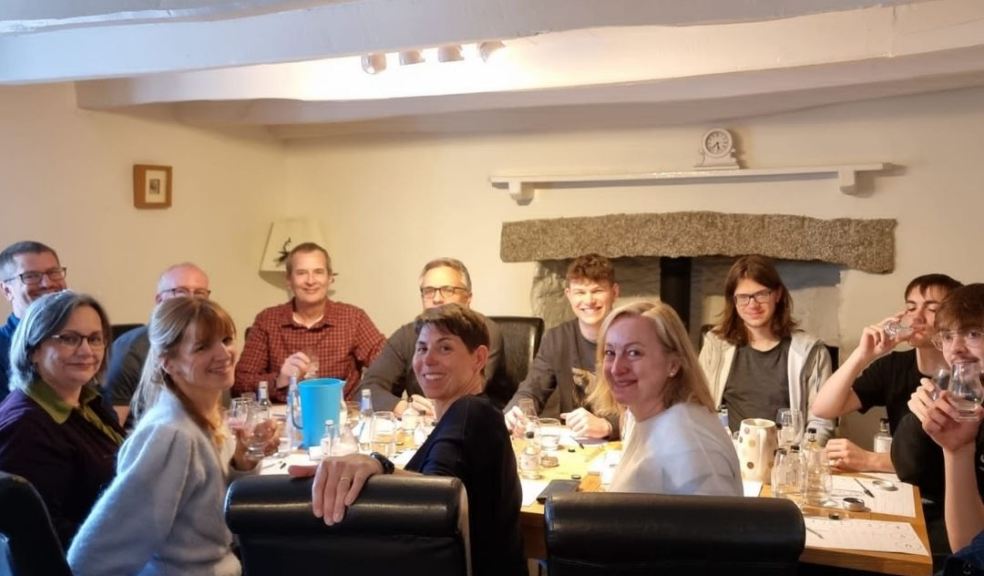 Local spirits company offers unique blind tasting experiences
Devon-based Azu Spirits have launched an exciting new gin and whisky tasting experience across the South West, just in time for summer.
Azu is partnering with venues and holiday homes across the South West to offer premium tasting experiences to private parties, businesses, and events. The blind tasting showcases six distinct Scottish single malt whiskies or British gins. Azu also collaborates with local businesses to provide food pairings alongside the tasting experience, offering a unique opportunity to explore the depths of flavour.
Azu Spirits was launched in January 2021 by 25-year-old founder and managing director Ellie Gibson, who lives on Dartmoor, whose background in hospitality and the Scottish whisky industry fuelled her passion for single malt whisky and craft spirits.
Ellie Gibson said: 'Azu Spirits has discovery, friendship and sustainability at its heart. The word 'Azu' is from Sumerian, one of the earliest-known written languages, and means 'the one that knows water.' It seemed to perfectly capture the idea of the voyage of discovery we want to take people on.'
The brand focuses on connecting people and businesses across Cornwall, Devon, Dorset and Somerset, encouraging people to discover the diversity in local craft spirits, as well as some of the most prestigious Scottish whiskies. The tastings include local craft gins from Wicked Wolf Distillery on Exmoor, Papillon Gin from Dartmoor, Conker Dorset Dry and Pothecary Gin from Dorset and Wrecking Coast and Atlantic Distillery from Cornwall.
The unique tasting experiences are tailored to each group or venue. From hosting smaller tastings for private groups of 10-15 to a room full of people, the tastings adapt depending on what people want to talk about or explore.
Ellie Gibson added: 'We have little notes on the side – 'Want to test your palate? Try to match the malts to the numbers!' We note down a little about each whisky included, their varying production processes and general flavour characteristics. Some people love this aspect of the tasting, challenging their palate. Everyone's different, we don't want to overload people with too much, but it's there if they are looking for it.'
'Blind tasting encourages us to analyse the flavours, aromas and feel of spirits according to our own palate,' Gibson explains, 'by removing any bias, we can focus solely on the core - the spirit.
 'These experiences are a great way to bring people together to discover something new. There are so many preconceptions when it comes to whisky and gin, this is the ideal way to find out what you really like. 
'It is also an opportunity to easily compare different drinks. We wouldn't normally invest in a full-size bottle of a premium drink unless we were sure we liked it, so this is a great way to experiment. To buy all the full bottles included in our premium Scotch whisky collection would set you back £700+! So it really is a unique opportunity to taste and share luxury and rare flavours.'
Azu offers private tasting experiences at £22 per person for six gins and £25 per person for whiskies, with a minimum of 6 people, this can be a great way to entertain family or friends during a South West holiday.
Ellie Gibson added: 'I really hope our tasting boxes and events encourage people to explore craft spirits. We want to spark interest in the amazing craft spirits that are produced in the UK, and create a taste journey that can be shared and enjoyed with friends. So many memories are made through food and drink and laughing together – these experiences are the perfect way to bring people back together after the isolating and challenging times during the pandemic.'
ENDS
Image captions:
_DSC8400 (1) 2: At-home whisky tasting boxes – great for six people. _DSC2440 4: Ellie Gibson presenting a tasting experience at Devon pub The Cridford Inn, PHOTO-2022-04-05-21-04-36 a tasting experience in the five-star Old Lanwarnick Cornish Holiday Cottages
Notes:
For more information, full product information, review samples or high-res images, please contact Isobel Shaw: enquiries@azuspirits.co.uk.
Founder and managing director Ellie Gibson launched Azu Spirits in January 2021. Headquartered in Devon, the online & events brand works with craft and premium spirits producers across the UK.
Tasting Events
Find more information about Azu Spirits' upcoming tasting events @ https://www.azuspirits.co.uk/tasting-events or book a private tasting experience by getting in touch. Email enquiries@azuspirits.co.uk or phone +44 (0) 7778032247
Whisky Tasting Boxes There are currently six whisky tasting boxes available, ranging from Group Introduction to Single Malt Scotch, priced £50, suitable for four people, to the Limited-Edition Premium Collection, £220, a sought-after collection of Scottish single malts for six people.
Gin Tasting Boxes There are currently four gin tasting boxes ranging from British Gins: 3 Renowned UK Gins, priced £50 for four people, to South West Specialist: Six Craft Gins, £85, the first in a range of regional boxes for six people.
Mixer supplier We source our mixers from the award-winning Luscombe Drinks, which was also the first drinks company to gain organic Soil Association accreditation. Options include: Devon Tonic Water, Devon Light Tonic Water, Hot Ginger Beer, Cucumber Tonic Water and Elderflower Tonic Water.
Personalised boxes All of the printed content that guides each tasting can be personalised.
Sustainable packaging Our custom-made boxes are fully recyclable from UK company BoxMart: we use UK packaging company Flexi-Hex for 100% recyclable sleeves to protect boxes and spirits during transit; the majority of our printed content is made locally at sustainable printing company Newton Print.
Azu Spirits: azuspirits.co.uk; email: enquiries@azuspirits.co.uk; Facebook: Azu Spirits; Instagram: @azuspirits; LinkedIn: Azu Spirits