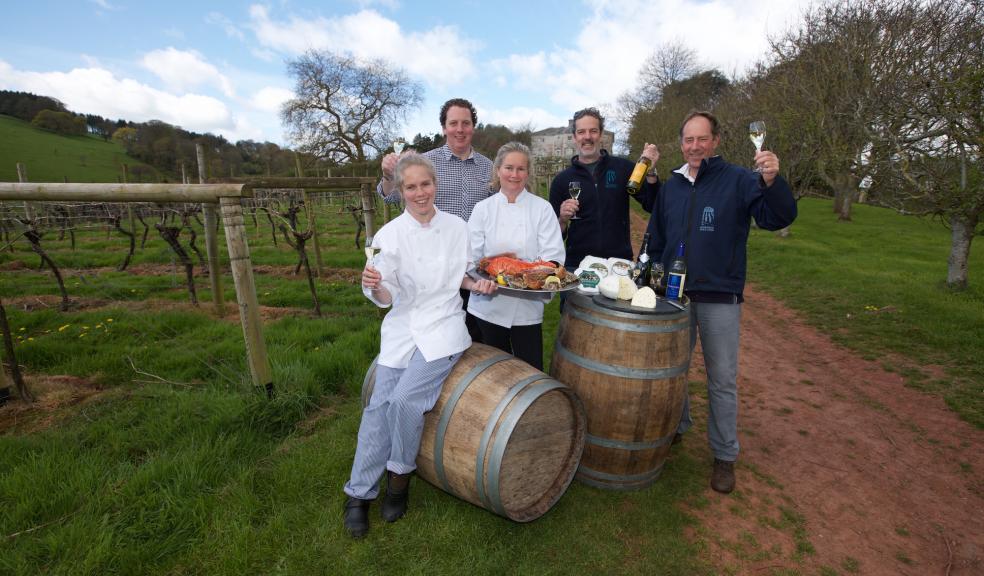 New gem to discover in the South Hams
Nestled amongst the green fields of the South Hams, overlooking the River Dart, lies the beautiful Sharpham Estate. Already renowned for its award-winning wines and cheeses, there's now another reason to visit. The new Anchorstone at Sharpham Vineyard café has just opened its doors, ready for the summer season ahead.
This new café will be run by the owners of the already well established and much loved Anchorstone in Dittisham. Clare Harvey and her daughter Jasmine, along with Will Froude, bring a bounty of knowledge and experience with them, built up from the last twelve years of running their highly successful first venture. The Anchorstone in Dittisham is just downstream from Sharpham Vineyard.
Will Froude from the Anchorstone Café says: "Launching our new café at Sharpham Vineyard is really exciting for us." Will continues: "We love all their products and are thrilled to be able to champion them on our menu, as we have done since the early days in Dittisham. We feel privileged to be able to put our brand alongside theirs."
Commenting on the new café, Mark Sharman, managing director of Sharpham Vineyard, says: "We take a great amount of care in producing our wine and cheese here at Sharpham, ensuring the end results of both are of the highest possible standard. Clare, Jasmine and Will share a similar philosophy with their cooking. The finest ingredients are used, sourced locally, to create a varied menu which will greatly appeal to our visitors here."
The menu at the Anchorstone at Sharpham Vineyard will be chalked up daily on a blackboard, as it will be influenced by the seasonal ingredients available and the catch of the day. As well as a delicious offering of freshly caught fish, for which they are well known at their Dittisham café, there will also be a great selection of meat and vegetarian dishes. The meats are also locally sourced, with the lamb coming from Will and Jasmine's smallholding. The incredible produce made in situ at Sharpham Vineyard will also be made the most of, with the café serving only Sharpham cheese and Sharpham wines.
The new café will lend itself perfectly to its surrounding and will enhance Sharpham Vineyard's range of tours, including self-directed tours of the vineyard combined with river side walks, which include a glass of wine and taster of cheese for £6.95, to their 'Vine to Wine' tour, which costs £19.95pp and is available on Saturdays and Sundays at 3.00pm throughout May to September. This tour gives visitors a chance to discover the vineyard, winery and explore the outstanding grounds of Sharpham House. The 'Vine to Wine' tour gives the history and principles behind English viticulture, and is followed by a tour of the winery, a great selection of wines (and some cheese) to taste.
Sharpham Vineyard is located on the Sharpham Estate, near Totnes in South Devon (TQ9 7UT). For directions visit http://www.sharpham.com/contact-us/.
Wines and cheeses from the Sharpham range are available online at www.sharpham.com and in delis and independent stores across the UK. Follow Sharpham on Twitter @SharphamWines and @SharphamCheese.
For further information on the Anchorstone café, both at Sharpham Vineyard and in Dittisham, please visit www.anchorstoneatsharphamvineyard.co.uk. To reserve a table at the Anchorstone at Sharpham Vineyard, call 01803 732 178 or email info@anchorstonecafe.co.uk.