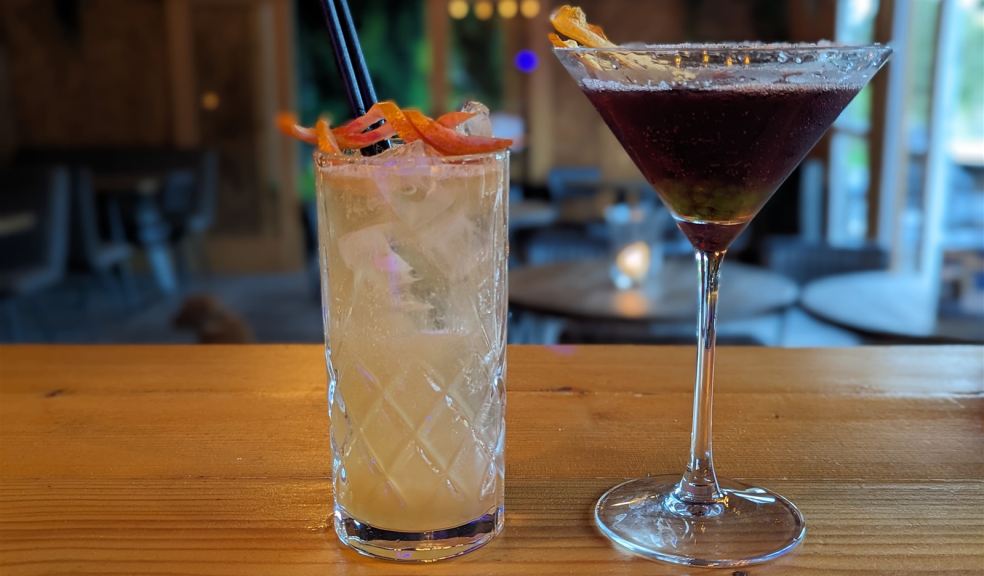 Indulge in marvellous mixology in the heart of Mid Devon
Cocktail fans looking for a great choice of flavour combinations should head to Aquarius Bar at Kitlake Farm near Stockleigh Pomeroy.
Bar owner Dominic Jones has just added 12 new cocktails to the bar menu – and he's taken a very personal approach to the new range. Because Dominic's quirky 'Family Favourites' recipes are based on members of his own family.
He explained: "I love devising new drinks, mixing classical techniques with innovative flourishes, so alongside classics like Mojitos and Margaritas we have special Cosmic Cocktails and Planetary Mocktails.
"This time, when I decided to create a new range for the autumn, my mind turned to my family!"
First on the list was Dominic's late grandfather James Bond. "He wasn't a spy – but with that name his cocktail just had to include 007's favourite tipple. He would always make a port cocktail to serve with the melon starter at Sunday lunchtime, so in his memory, I crafted a Port Martini called Jungle Juice."
Anyone who has visited Kitlake Farm is likely to have met Dominic's father, Howard, who is the main man behind the building development at the centre. Howard, whilst not a regular cocktail drinker, does enjoy an amaretto sour, a mojito or a good Devon cider.
With this in mind, Dominic designed two cocktails for him; Fond Memories with a twist on the classic amaretto sour with a decadent port float and the other, Insert Cricket Reference Here, a refreshingly light cider based mojito with a gold rum and lemon and lime gin twist.
Meanwhile, for mum Sandie, who is not only passionate about crystals and wellbeing but also enjoys a glass of fizz, Dominic decided on a combination of glitz, glam and bubbles. Using brandy, Triple Sec, peach Schnapps, white wine and prosecco, he created 'Sandie's Fizz'. And then there's the aptly named 'Pretty Woman' featuring Della Vite small batch Pink Prosecco with homemade Strawberry Caviar and Edible Gold - based on the famous champagne and strawberries scene from this Jones' family movie favourite.
Dominic learnt his trade at Jamie's in Exeter when it opened in 2015, followed by a stint as sommelier at the Salutation Inn where he trained staff in the art of cocktail making. He joined his parents to develop the business at Kitlake Farm, and Aquarius Bar launched in 2020. It now has three themed areas for cocktail enthusiasts to relax in, from a starry astrological setting to luxurious jungle greens and refreshing sea blues. On warmer days outdoor seating is available, with exceptional views across the Exe Valley.
As well as cocktails, the bar stocks a huge choice of West Country artisan spirits plus ciders and ales from the likes of Hanlon's and Sandford Orchards, and a tempting menu provides a wide variety of dishes showcasing local produce. Events include cocktail making classes plus wine and gin tasting experiences.
With the new 'family' range, Aquarius now offers 72 cocktails, meaning the bar has one of the largest cocktail menus in Devon. It's just one part of the ongoing development of Kitlake Farm, which is set in 24 acres and provides a variety of holistic therapies, outdoor spa with sauna and hot tub, plus one of the largest crystal retailers in the South West.
Dominic says "Wellbeing means different things to different people. I love the fact that people can come to Kitlake for a massage, relax in the sauna, meditation workshop or just to enjoy a fabulous cocktail.
"After all, sitting with friends, enjoying a drink and lots of laughter can be the best therapy there is!"