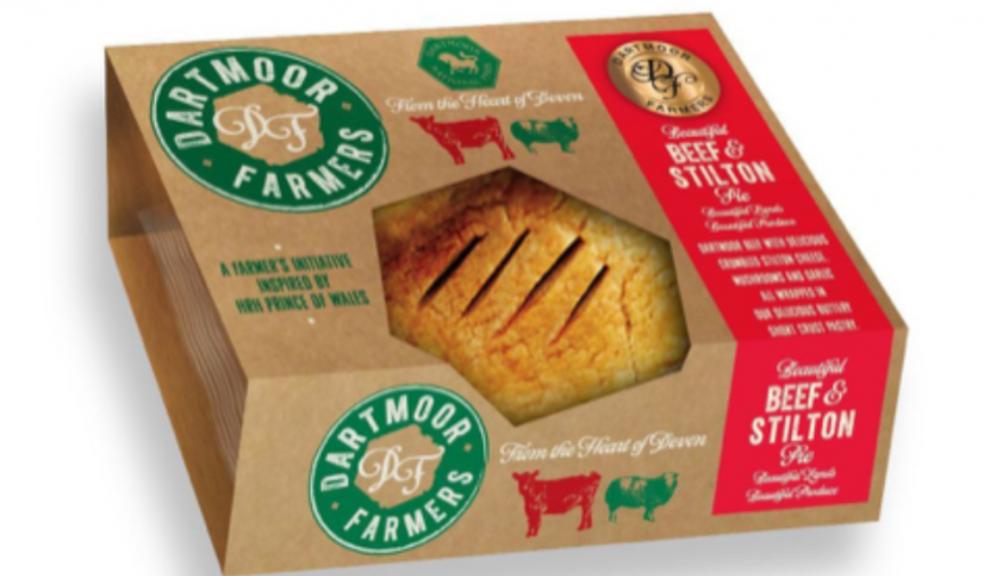 Dartmoor farmers launch new range of pies
A new pie range which showcases local ingredients has been launched by Dartmoor Farmers Association - and it comes just in time for those seeking an alternative Christmas dinner. 

His Royal Highness The Prince of Wales assisted with the establishment of Dartmoor Farmers Association (DFA) and together with the Duchy of Cornwall, continues to support the Association.

Dartmoor National Park Authority has also supported the new product line which is closely aligned with the area's special landscape.  

DFA has launched a 'beef and stilton' and, with Dartmoor Brewery, a 'beef and Jail Ale' pie.

The pies are sold across 19 Morrisons stores throughout the South West and are available in a growing number of local independent retailers across Devon and Dartmoor.

This includes several community outlets such as Ilsington as well as village stores at Mary Tavy, Princetown and Postbridge.

Anyone interested in ordering online can use Dart Fresh who deliver the full range of the Association's products to your doorstep.

A donation from every pie sold goes to Dartmoor National Park's 'Donate for Dartmoor' scheme which supports conservation work across a range of areas.  

DFA is a co-operative of over 100 farmers which was established in 2007. It already supplies lamb to Morrisons following an initial pilot inspired by His Royal Highness and has now expanded its range of beef products too. 

DFA Director and farmer Mat Cole said: "We are delighted that Morrisons and local independent retailers alike continue to support our members." 

"Like most businesses, 2020 has been a challenge for farmers but also an opportunity. It's great to be working with other local businesses such as Dartmoor Brewery and with the ongoing support of His Royal Highness, the Duchy of Cornwall, Dartmoor National Park Authority and the Dartmoor Hill Farm Project."

"Every time someone buys one of our products they are helping to support farmers and contribute to conserving Dartmoor for future generations too.

"What we do is support the local economy and the environment which makes Dartmoor such a special place. Working together we can achieve much more and we are always keen to welcome new members into the Association."

The Duchy of Cornwall's Tom Stratton said: "Both His Royal Highness and the Duchy of Cornwall are delighted that Dartmoor Farmers' Association continues to develop so successfully, with farmer membership having increased and opportunities developing, not only to add to the meat being derived from grazing the Dartmoor landscape, but also to build farm resilience and to share skills and learning."

DFA is keen to promote the role that members play as custodians of the National Park and to explain the benefits that livestock production delivers for the area's landscape and wildlife. 

Dartmoor National Park Authority Chief Executive Kevin Bishop said: "Making the link between food and the environment has never been more important. We are delighted to be associated with this initiative and to help support the farms which deliver the landscape of the National Park.

"Every time you eat a pie you will be helping to generate pounds for the Park. All of the donations received through the sale of the pies will go towards practical conservation projects."

Dartmoor Hill Farm Project was set up in 2003 to try to ensure a viable future for Dartmoor farmers. It supports farmers by running a wide range of projects to add value to their businesses and increase vocational skills.

The Project also helped the DFA in its early days and is funded by a range of partners including the Duchy of Cornwall, Dartmoor National Park Authority and contributors' contributions. 

Chairman of the Hill Farm Project's Steering Group Russell Ashford said: "Farming faces the most significant change for a generation and it's important that we develop a much closer relationship with our customers.

"The Association is a good example of a collaboration that makes the link between the farm and the National Park.

"Dartmoor is a pastoral landscape and the habitats and species associated with it have evolved through our extensive livestock systems."

George Clapham acts as the main contact between Morrison's and DFA and is an admirer of the work of the Association. He said: "DFA is a wonderful example of a farming co-operative supporting their local area and providing a great product for our customers.

"They have worked hard to develop a sustainable supply chain and to minimise their environmental impact from production and packaging to transport and waste."