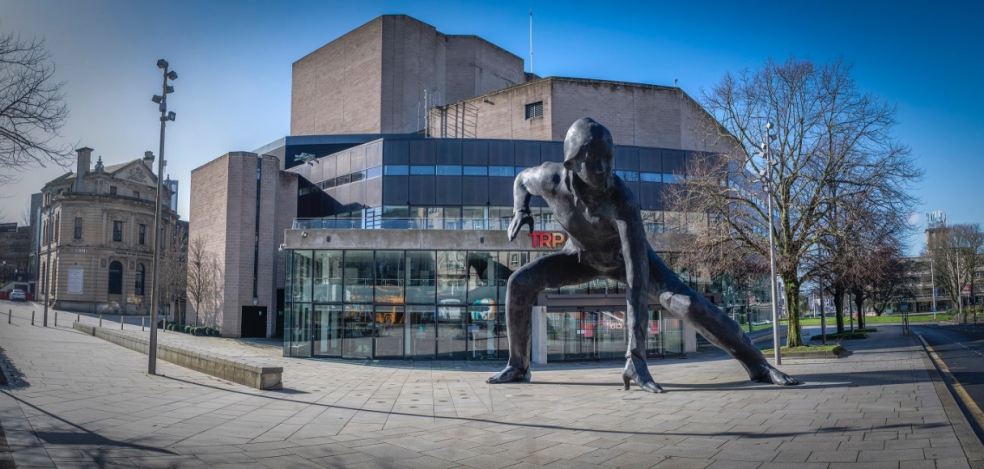 New Shows On Sale at Theatre Royal Plymouth
Nine new shows are now on sale to the general public at Theatre Royal Plymouth!
Tickets are available to be purchased on the TRP website now.
Black is the Color of My Voice, The Drum 22 Mar – 26 Mar 2022 (link)
Fringe First award winner Apphia Campbell's acclaimed production heads on an extensive national tour, after sell-out seasons in Shanghai, New York, Edinburgh, and in the West End of London.
Inspired by the life of Nina Simone, Black Is The Color Of My Voice follows a successful jazz singer and civil rights activist seeking redemption after the untimely death of her father. She reflects on the journey that took her from a young piano prodigy destined for a life in the service of the church, to a renowned jazz vocalist at the forefront of the Civil Rights Movement.
Written and directed by Apphia Campbell.
Kerbs, The Drum 30 Mar – 02 Apr 2022 (link)
Kerbs by Michael Southan
A Graeae Theatre Company and Belgrade Theatre Coventry co- production for Coventry City of Culture
"Look, we've just booked a holiday. For me and you. Can we not just enjoy the moment?"
Lucy and David are dating and desperate to find some time alone. The perfect spot? A caravan holiday park, of course.
But can this romantic weekend away go to plan? With everything stacked against them
including broken toilets, patronising staff and Lucy''s constantly interfering mum, not to mention broken pink wafers, this holiday could be make or break.
Kerbs is the debut play from Michael Southan exploring taboos around sex, romance and disability. Directed by Nickie Miles-Wildin (Cuttin' It, Crips without Constraints), Kerbs will feature Graeae's signature integrated creative captioning and audio description at every show.
Play Opera Live, The Lyric 10 Apr 2022 (link)
Welsh National Opera is delighted to present Play Opera Live, following the success of the online series in 2020.
Presented by Tom Redmond, these lively and accessible concerts explore opera and classical music in an entertaining and interactive style, with music you'll recognise from film, television and the stage. Tom will lead you through the programme with fun facts and singalongs, introduce you to WNO singers and members of WNO Orchestra and tell you a bit more about the pieces being performed.
Dance Like It Never Happened, The Drum 13 Apr–16 Apr 2022 (link)
Jonny & The Baptists: Dance Like It Never Happened
Oh wow, the last two years have been awful haven't they?
So, what do we do now? Just power through? Laugh and pretend it's definitely fine?
Or deal with the trauma of multiple lockdowns, emotional shutdowns and total breakdowns?
In "Dance Like It Never Happened" musical comedians Jonny & The Baptists are gonna try to do it all. Grieve, bounce back, have a cry and then do the macarena. It'll be the funniest, most joyful and uplifting show you will ever see about feeling totally bereaved.
Through their trademark blend of joyful songs, silly stand-up and riotous storytelling Jonny & The Baptists should help you find meaning, humour and beauty in the worst
years of the century (so far).
Nothing Happens (Twice), The Drum 26 Apr – 30 Apr 2022 (link)
After an exciting few years making and touring shows all over the world, Mercè and Patricia have somehow lost momentum and hit rock bottom. They always knew that making theatre would be difficult, but when they have to dress up as flamingos in a shopping centre to make ends meet, they seriously consider giving up.
Can their shared dream of staging Waiting for Godot get them back on track or will their long held ambition be strangled by red tape? A hilarious and sometimes moving exploration of companionship, co-dependency and what motivates us to keep going, even in the face of failure and bureaucratic brick walls.
Fireman Same Live!, The Lyric 14 May – 15 May 2022 (link)
When all of his friends go away, Norman Price decides to find adventure in Pontypandy and become the star of a visiting circus. But with a tiger on the loose and faulty lights, the adventure soon turns to danger. Can Fireman Sam come to the rescue and save the circus?
Join Sam, Penny, Elvis, Station Officer Steele and Norman in an all singing, dancing, action-packed show. You can become a fire-fighter cadet and then watch the magic of the circus.
So, come along to Pontypandy and watch the adventures unfold!
Bring It On: The Musical, The Lyric 17 May – 21 May 2022 (link)
Amber Davies and Louis Smith are ready to BRING IT ON as the smash hit Broadway Musical back flips into the UK. Inspired by the film of the same name, Bring It On The Musical takes you on a high-flying, energy fuelled journey which tackles friendship, jealousy, betrayal and forgiveness – wrapped up in explosive choreography and tricks.
Cheer-royalty and newly crowned Squad Captain, Campbell, should be embarking on her most cheertastic senior year at Truman High School. When she's forced to move to the neighbouring hard-knock Jackson High, Campbell fears her life is over. But an
unlikely friendship catapults Campbell back into contention with a powerhouse squad and the fire to achieve the impossible.
Girl From The North Country, The Lyric 01 Nov – 05 Nov 2022 (link)
THE DOUBLE OLIVIER AWARD-WINNING WEST END AND BROADWAY SMASH-HIT RETURNS TO THE UK AS PART OF A MAJOR INTERNATIONAL TOUR.
Celebrated playwright Conor McPherson (The Weir, The Seafarer) boldly reimagines the legendary songs of Bob Dylan, like you've never heard them before, in GIRL FROM THE NORTH COUNTRY. A heart-breaking and universal story about family and love, hailed by the Observer as the 'NO.1 THEATRE SHOW OF THE YEAR'.
It's 1934 in the heartland of America and we meet a group of wayward souls who cross paths in a time-weathered guesthouse. Standing at a turning point in their lives, they realize nothing is what it seems. But as they search for a future, and hide from the past, they find themselves facing unspoken truths about the present.
Now audiences at Theatre Royal Plymouth have the chance to experience this 'magnificent' (Standard), 'astonishing' (Guardian) and 'piercingly beautiful' (Independent) production brought vividly to life by an extraordinary company of actors and musicians.
SIX The Musical, The Lyric 17 Jan – 21 Jan 2023 (link)
The international smash hit musical SIX makes its royal return to Plymouth!
Multi award-winning, with a spectacularly successful sound-track storming charts across the globe, this sell-out Tudor take-off has 'an incredibly strong and powerful message. Boundary-pushing, genre-redefining' (The Australian) and is 'pure entertainment' (The New York Times).
From Tudor Queens to Pop Princesses, the six wives of Henry VIII take to the mic to tell their tales, remixing five hundred years of historical heartbreak into an 80-minute celebration of 21st century girl power. These Queens may have green sleeves but their lipstick is rebellious red.
Think you know the rhyme, think again…
Divorced. Beheaded. LIVE!