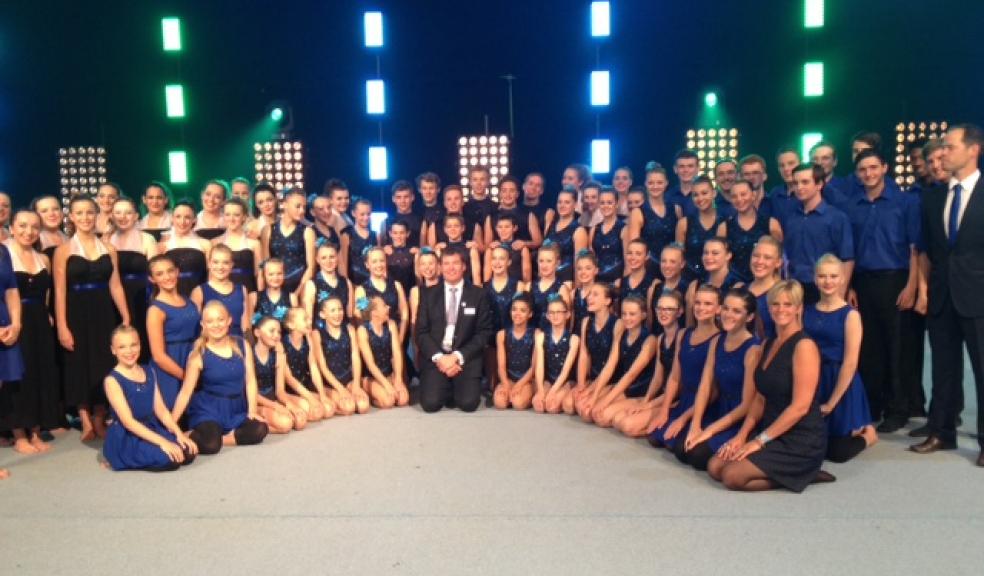 Ivybridge students open UK School Games to capacity crowd
76 GYMNASTS, DANCERS AND SINGERS WOW AUDIENCE AT MOTORPOINT ARENA
Students from Ivybridge Community College were centre stage last night at the opening of the UK School Games in Sheffield, as they presented 'Don't Stop Me Now' – a singing, dancing and gymnastic extravaganza – to a packed audience at the Motorpoint Arena in Sheffield.
Among those watching the spectacular performance were Paralympic gold medallist Hannah Cockcroft and 1,600 athletes that are taking part in the multi-sport event.
Set to the popular Queen song 'Don't Stop Me Now', the five-minute audio and visual spectacular included 76 talented students, aged 11-18, from Ivybridge Community College. Combining a mixture of sport and performing arts, the piece celebrated the enjoyment of being involved in sport, the power of working together as a team, and the satisfaction gained from achieving personal goals – regardless of the obstacles that others put in your way.
"It was an amazing feeling to be out there performing in front of so many people," said Chloe Sneap. "It's such a huge occasion, with people from all over the country watching – I can't believe our performance went so well."
Last night's performance took place at the Motorpoint Arena in Sheffield, which is also one of the venues for the School Games events. The Ivybridge act was a culmination of almost a year of preparation, which began with a national search by the Youth Sport Trust to find a dramatic act to open the Games.
"What an amazing experience this has been for all the students involved, and a great reward for all their hard work" said Helen Reddy, Head of Performing Arts at Ivybridge Community College. "What began as just a seed of an idea has grown into a huge spectacle, showcasing the very best of what Ivybridge performing arts students are capable of. It's a huge honour and an experience they will never forget."
After being told they had won the chance to perform at the opening ceremony, the real hard work began, with participants from various college groups coming together to practice the routine in extra-curricular sessions. The commitment included attending rehearsals throughout their summer holidays, after school, and at lunchtimes.
Among those participating in the piece was 13-year-old Molly Thompson. The year nine acrobatic gymnast, who balances on top of a three-man tower at the end of the performance, said: "I normally perform my gymnastics routine with just two partners and with music in the background, but it's much more fun to perform it when so many of your friends are all around you singing and dancing. It's a fantastic feeling to perform in front of such a huge crowd."
Maria Miller, Secretary of State for Culture, Media and Sport said: "The opening ceremony has showcased a variety of talented young singers and dancers and was the perfect way to get the 2013 School Games under way. A huge thanks to all those volunteers, coaches and support staff – without their tireless efforts and commitment this event would not happen."
Ivybridge students travelled together Sheffield on Wednesday, rehearsed for a day, and then performed as the final act in the opening ceremony following the traditional athlete's parade.
For those interested in seeing the performance, the school has plans in place to ensure that students, parents and members of the public do not miss out. They've already billed it as at as the headline act in 'Fantasy' – the school's four-day performing arts celebration that will take place the end of the year.