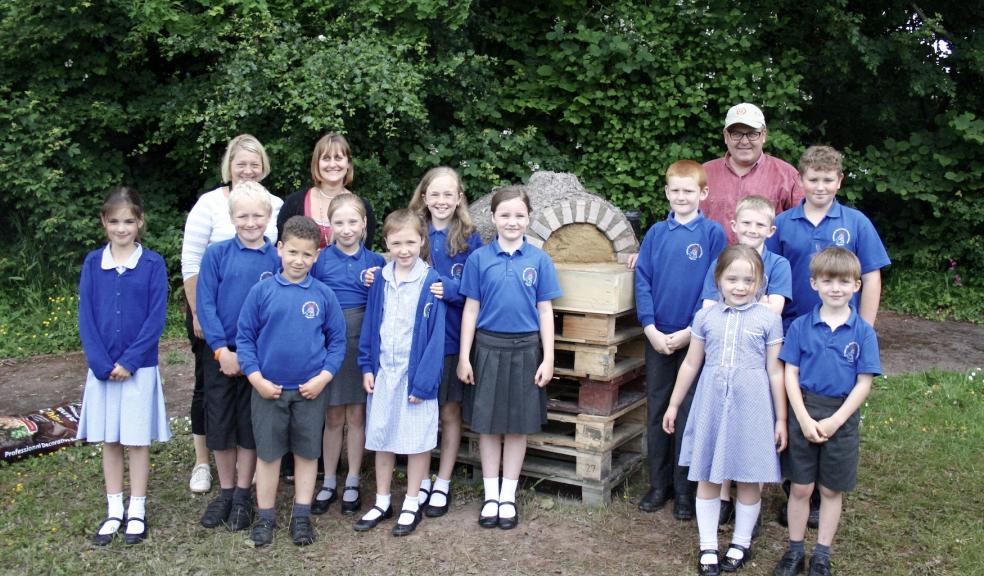 Collaton St Mary Primary School get their hands dirty with Manna from Devon Cooking School
After two days of muddy hands, stomping feet and plenty of smiling faces, David Jones of Manna from Devon Cooking School, along with the pupils of Collaton St Mary Primary School have created the school's first wood fired oven, ready for outdoor learning, Forest School activities and food education classes, PTFA fundraising and social events.
David has volunteered his time for the two days to create the structure, alongside teachers from Collaton St Mary, surrounding schools and keen parents. Using a traditional method, David got his hands dirty and taught all how to create a cob wood fired oven from scratch. With every pupil from the school involved, the children were tasked with pummelling the clay with their bare feet, scattering and mixing the clay with the wood chip, squashing the mixture into bricks and forming the mould of the oven.
To raise funds for the project, David and Holly Jones hosted a pop up pizza evening at Manna from Devon Cooking School, which gave the pupils and parents of Collaton St Mary the chance to learn how to create the perfect wood fired pizza, and enjoy them at the same time.
Sam Ward, kitchen manager of Collaton St Mary, ensures everything served to pupils is cooked from scratch on site as well as championing local produce. Commenting on the build of the wood fired oven, Sam says: "At Collaton St Mary Primary we are so passionate about our creative curriculum. Our pupils learn so much through food education, growing, art and outdoor learning. We wanted to take this to the next level by having an outdoor kitchen next to the yurt, our outdoor classroom. Through enterprise the children will be selling healthy school made pizza at our 'Collaton Friday Take away afternoons." Sam continues: "The whole school really engaged in this well structured and well planned project. It was such a positive learning experience for our pupils covering many aspects of the curriculum. We look forward to working with David again to run further wood fired oven cookery workshops."
Sam met David at the Taste of the West awards where she proudly won the prestigious Taste of The West Gold award and 'Best local food in schools 2014 and 2015'. Like minded chat over lunch about the importance of using local, seasonal and quality produce led to discussions about their vision for the school's next project.
Collaton St Mary is known for sourcing the best quality produce they can for their school meals, using local and seasonal foods. Also known for their forward thinking, economical and educational initiatives including their in situ classroom yurt and their Kitchen Garden project, encouraging their pupils to grow produce to understand the source of food as well as learning valuable cooking skills. Collaton St Mary embraces the importance of food education and acknowledges the essential role diet plays in their pupil's wellbeing.
Established in 2006, Manna from Devon Cooking School is run by Holly and David Jones who teach cooking skills to small groups in the relaxed environment of their Victorian home, positioned in an area of outstanding natural beauty in Kingswear, South Devon. The stylishly decorated, homely kitchen and the outdoors' decking overlook simply stunning views across the Dart estuary to Dartmouth. In addition to the main kitchen, there is a second kitchen that is in the style of a bakery. As always, Manna from Devon only use locally sourced ingredients, cooking recipes and dishes the owners have discovered during travels around Europe and Asia.
To book one of their wood fired courses please visit www.mannafromdevon.com, or call 01803 752943. To hear their latest news follow Manna from Devon on Twitter (@mannafromdevon) or link up with them on Facebook http://www.facebook.com/mannafromdevon.