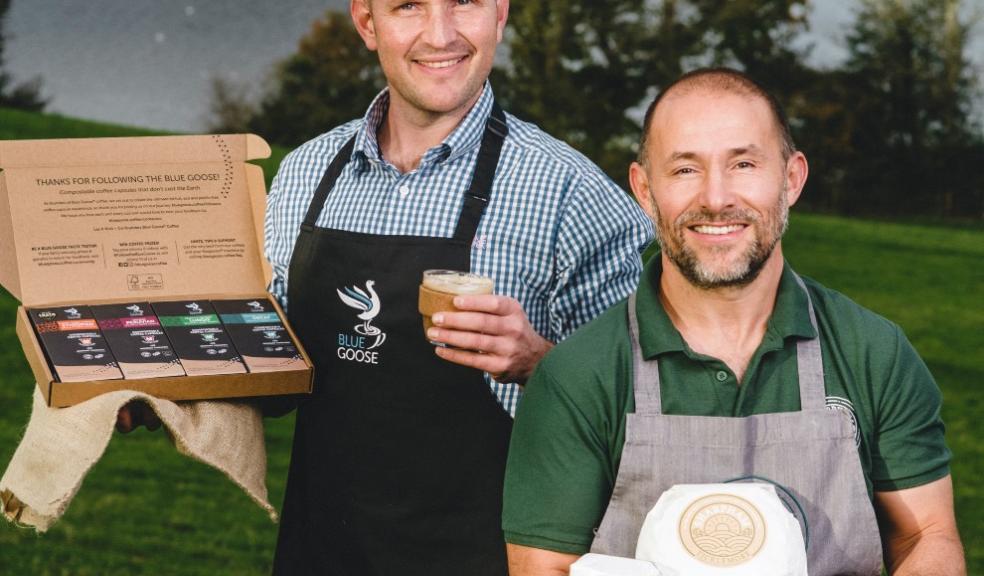 Coffee and cheese are the perfect pairing say two award winning Devon companies
Coffee and cheese are proving the perfect match for two Devon companies that have combined to bring a whole world of alternate pairings to the table following their two star accolades at the Great Taste Awards.
Blue Goose Coffee and South West Dairy Sharpham Cheese have teamed up with their award winning products to show that a cup of coffee and a well-curated cheese board are as delicious as the more traditional wine and cheese combination.
This year Blue Goose Coffee and Sharpham Cheese have both been awarded two star accolades by the Great Taste Awards. And with the companies based in Devon, it was a natural marriage to showcase their speciality products.
It was Blue Goose Coffee's Ethiopian Yirgacheffe Compostable Coffee Capsules that won the two star Great Taste award, while Sharpham Elmhirst and Sharpham Ticklemore Goat both received the coveted two stars.
Now Blue Goose Coffee is available at The Shop at the Winery, Sharpham allowing walkers enjoying the River Dart to grab a cup of award winning coffee during their visits to the Devon estate or linger longer and sample wine and cheese.
Blue Goose Coffee sources the finest speciality grade coffee that is grown sustainably with growers paid a premium well beyond Fairtrade Minimum Price.
Compatible with original line Nespresso® machines, their compostable coffee pods are free from aluminium and plastic and can be placed in council food waste collections where they will turn into compost or liquid fertilizer within 12 weeks, depending on local processing facilities. 
Sharpham Cheese is handcrafted with milk from their herd of Jersey cows, along with goats' and ewes' milk from their West Country neighbours. Their range includes Sharpham Brie, Rustic and Ticklemore cheeses as well as The Global Cheese Awards' UK Supreme Champion, Sharpham Washbourne, and Great British Food Awards' British Product of the Year, Sharpham Cremet. Situated on the banks of the River Dart in South Devon, the Sharpham Estate has been producing wines and cheeses for 39 years and has gained global recognition for its products.
Blue Goose Coffee's Lex Thornely said: "We're super excited to team up with one of Devon's leading speciality cheese makers and for visitors to the The Shop at The WinerySharpham to enjoy this wonderful combination of flavours before experiencing the beautiful Sharpham Estate.
"Here in the UK, this combination might seem a little strange but across the continent and Atlantic, cheese and coffee are a regular morning ritual for millions. 
"So to team up with Sharpham Dairy and their amazing cheeses is a natural and exciting opportunity creating a whole new tasting experience for cheese and coffee loving Brits! Importantly, we both use and source sustainably produced ingredients then use artisan techniques to bring these ingredients alive."
Greg Parsons, Managing Director at Sharpham Dairy, said: "The flavour of cheese falls somewhere between sweet and bitter, and some cheeses have a strong flavour while others are more sweet and milky while coffee is a strong, robust drink and the flavour is rich, strong and deep. 
"Pairing coffee with cheese is similar to cream and sugar in coffee and a good pairing will create a new flavour experience while accentuating the initial flavours.
"Our Sharpham Elmhirst Cheese goes really well with Blue Goose's Ethiopian Yirgacheffe coffee, for example. It's a cheese with a rich decadent flavour and handmade with triple cream cheese and unpasteurised milk. These flavours pair perfectly with the sweetness and aromatics of the coffee.
"The Sharpham Ticklemore Goat is another great pairing because of its sweetness and creaminess which contrasts nicely with coffee. We'd recommend trying other cheeses too, besides Elmhirst and Ticklemore Goat and having some fun with the flavours with a cup of Blue Goose Coffee."
Both Blue Goose Coffee and Sharpham Cheese are available to buy online and when visiting Sharpham Estate.