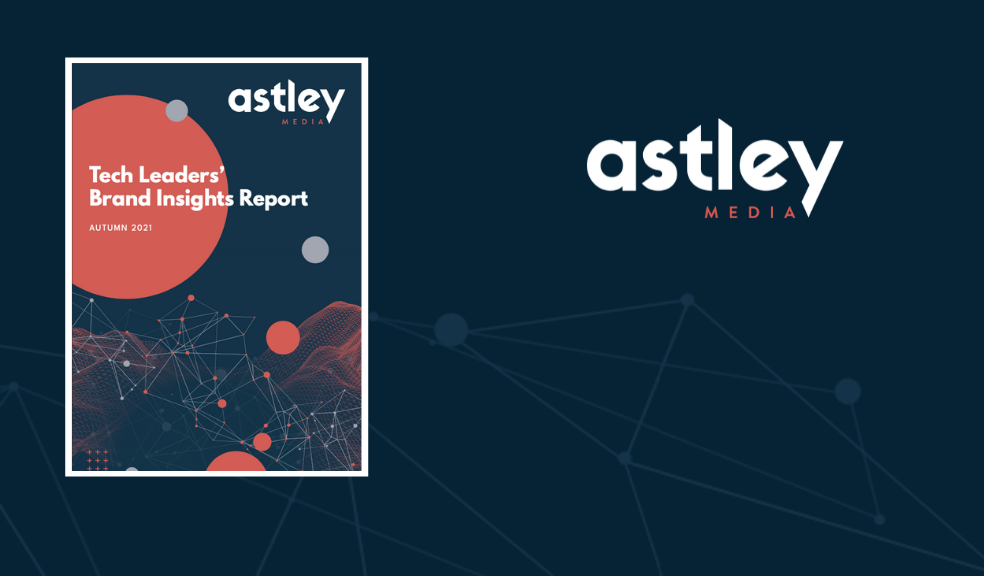 New report gives insights into South West tech and how brands can tackle challenges facing the sector
Leaders of tech brands across the South West are facing key challenges as they strive to achieve sustained growth, according to a new regional report.
Specialist tech and infrastructure marketing agency Astley Media has released its Tech Leaders' Brand Insights report for 2021 which reveals what the region's tech leaders are doing to evolve their brands and marketing.
In-depth interviews with 30 tech founders and CEOs reveal that nearly half recognise that their marketing could be improved and that many face a range of key challenges, including availability of talent, lack of a clear strategy for their marketing, and keeping up with new marketing and technology trends and opportunities.
But there is a strong level of optimism about the ability of the region's tech brands to have a major impact.
Caroline Orr, Marketing Director at Astley Media, said: "The South West's tech sector is being driven by forward-focused leaders. They recognise the challenges, but have their sights firmly set on developing ground-breaking products that really matter. Breaking into markets and achieving scale is tough but it's exciting to see our leading tech brands striving and evolving as we continue, as a region, on a journey to become a world-leading hub for tech brands.
"Despite the challenges, there is huge optimism from tech leaders about the ability of their organisations to achieve a true positive impact on society and the environment."
The report, available at www.astleymedia.co.uk/insights-report-signup, found three key brand archetypes dominate the region's tech sector - 'Magician, Creator, and Caregiver' - highlighting the most common types of tech brands in the South West and their approach to business, with healthtech, tech for good, and creative and innovative new technologies at the fore.
Tech leaders that have contributed to the report include Adam Poulter, of Sponge, Amy King at People Matter Technology, Anders Hakfelt at Ultraleap, Andy Doyle at Filmily, Dan Yates at Greener, David Davies at Navos, Ed Jones at DeGould, Frazer Lloyd-Davies at Acronyms, Harry Cobbold at Made by Unfold, Harry Singer at Singer Instruments, Jake Rigby at BMT, John Terry at Neuronostics, and Jordan Westcott at Timewade.
The report looks at some of the barriers and challenges facing tech companies in the South West, as well as providing recommendations for brands and their marketing, as technologies evolve and the use of digital comes to dominate every sector. 
As well as revealing key findings and stats behind many of the region's tech brands, the report also gives tech leaders the opportunity to reflect on their own marketing capabilities and approach.
The report also highlights the importance of companies working together to support the successes of the sector overall.
Other contributors include Hannah and Paul Rowe at Rowe IT, Lewis Boyles-White at CoreBlue, Margaret Davidson at iO Academy, Mark Miles at Render Media, Melissa Thorpe at Spaceport Cornwall, Neciah Dorh at FlouretiQ, Paul Bird at Elixel, Richard Godfrey at Rocketmakers, Steve Butterworth at Neighbourly, Steve Garrood, at Jurassic Fibre, Stuart Broklehurst at Applegate Marketplace, Tim Edwards at Codices, and Toby Parkins at Headforwards.
Reflecting on the sector, the report features key tech hubs and organisations including Marty Reid of Engine Shed, Nick Sturge of Omnigenix, Sally Basker of Exeter Science Park, and Stuart Harrison of FinTech West.
Dan Pritchard, Managing Director at Astley Media and Co-Founder of Tech South West, said: "It's clear that our tech leaders are ambitious and driven not simply by profit, but by purpose. But it's equally clear that there is a way to go, to stay focused on a strategic approach, find the right mix of in-house capability and external expertise, and to make best use of the array of tactics, content and channels now available to brands."
To download the full report for free go to www.astleymedia.co.uk/insights-report-signup
Astley Media runs Tech South West and leads on brand, marketing and PR for a host of forward-thinking organisations operating in the tech space. To find out more about Astley Media, go to www.astleymedia.co.uk 
To find out more about Tech South West and join the region's largest tech community, go to www.techsouthwest.co.uk