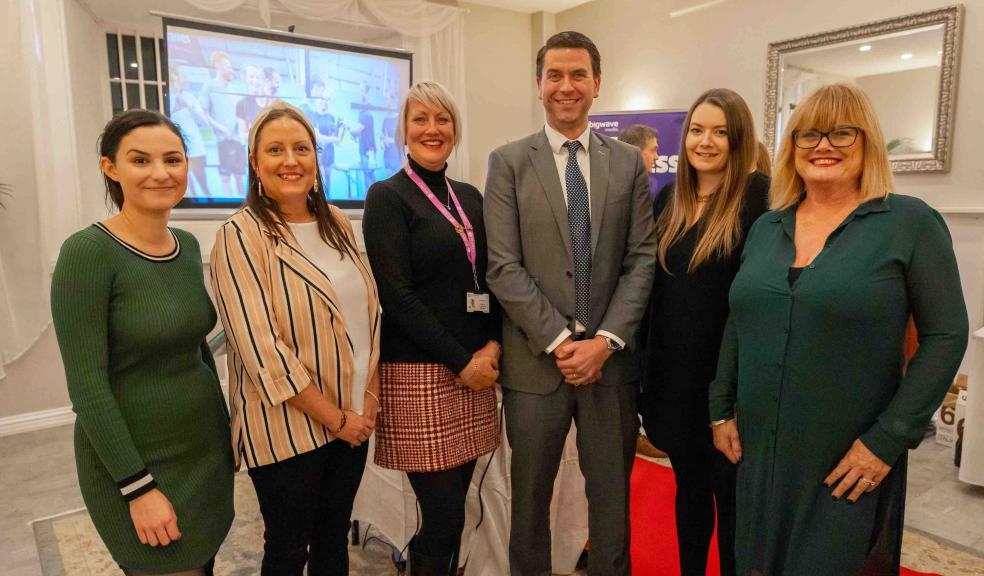 Inaugural 2019 Bigwave Business Games (Plymouth) hailed as a major success!
The 'Bigwave Business Games' 2019 launched in Plymouth has been hailed a major success with 12 teams signing up and sponsored by Womble Bond Dickinson. The diverse range of businesses and sectors battled it out in a variety of exciting, team-driven activities comprising a mixture of mental, social and physical challenges over a six-week period at venues across the Ocean City, as well as helping to raise £4,000 St. Luke's Hospice (Plymouth)!
The inaugural Plymouth games organised by Bigwave media, one of the largest creative growth agencies in the South West with offices in Plymouth, Exeter and Torquay, followed on from the success of similar events they have organised across the county. The Plymouth games kick-started with a launch event at The Treasury Bar followed by teams competing head-to-head in a series of events including a treasure hunt, Clip n Climb, golf, short tennis, mini Olympics and a pub quiz and culminating in an awards ceremony at the prestigious Kitley House.
Sarah Brown, Client Partnership Manager who heads up Bigwave's Plymouth Office said: "We're delighted with the success of our first ever Bigwave Business Games in Plymouth kindly sponsored by Womble Bond Dickinson and supporting worthy local charity, St. Luke's Hospice (Plymouth). Our thanks to all the teams who really got into the team spirit and the many venues who worked tirelessly to make this a resounding success. It's a great opportunity to bring Plymouth businesses together in a competitive and social environment and suitable for all ages and abilities with the emphasis on having fun and supporting a healthy life/work balance. She adds: "Many congratulations to our worthy winners Stride Treglown and all the companies who helped to raise much needed monies for the charity - it proved to be a fantastic community event where everyone was a winner!"
Based in The Millfields with nine offices across the UK, Stride Treglown Architecture walked away with the winning trophy at an award-ceremony kindly hosted at prestigious Kitley House. James Dewdney, Architect – Stride Treglown said: "The Bigwave Business Games (Plymouth) were a great way for us as an office to come together and take part in a range of challenges that all abilities could enjoy. We enjoyed the games massively and cannot wait for next year where we will try and retain the title."
Headline sponsor Womble Bond Dickinson (WBD) has been in the city since the late Victorian period and their business has played a big part in the local civic society for nearly 150 years, as well as advising a significant number of organisations in the region and beyond. Craig Moore, Partner – WBD comments: "We think this is a brilliant city and a great place to do business and had for some time tried to work out a corporate activity that would raise funds for our chosen charity, St. Luke's, be really good fun and also help to put Plymouth on the map in a corporate sense - the opportunity with Bigwave Media came along which was a no-brainer for us. The Plymouth games has brought a number of organisations together in a fun way to get to know each other and forge lasting links and network, as well as raise vital funds for a brilliant cause." He adds: "I have no doubt at all that following the enormous success of this year's event, the Bigwave media Business Games (Plymouth) will be even bigger and better."
St. Luke's Hospice Plymouth is an independent charity providing specialist care and support to people with progressive life-limiting illnesses, across the South West. Nicola Keen, Corporate Partnerships Fundraiser at St Luke's, concludes: "The end of life care St Luke's provides is given free of charge to patients, but it doesn't come cheap, so the support we get from big-hearted local businesses is critical to sustaining our service. We're delighted to be the charity partner of the Bigwave Business Games (Plymouth) and it's fantastic that £4,230 has been raised to help us reach more families across the community who desperately need us. A huge thank you to all the companies who took part. We're already looking forward to seeing businesses competing again next year and really appreciate their continued support."
To find out more about the Bigwave media Business Games 2020 please
Visit: www.bigwavebusinessgames.co.uk