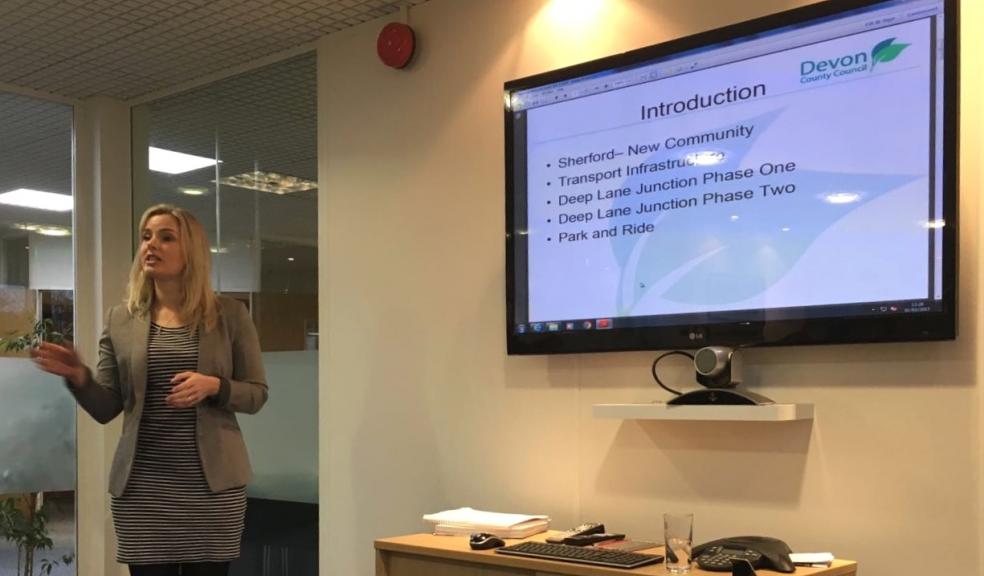 Public Bodies and Businesses Talk the Same Langage
Plymouth City Council and Devon County Council strategic transport experts met last week with a group of businesses based at Langage, Plympton to update them on the ongoing and future road and infrastructure schemes around Deep Lane and Sherford and the wider Plymouth area.
The Langage Business Group, led by Matthew Bryant of Kitsons Solicitors, met at the offices of Brewin Dolphin Wealth Managers on the Langage Business Park.
Gina Small, Principal Transport Planning Officer at Devon County Council presented to the group and then fielded various questions on the transport vision for the Sherford new town, the phasing and the timescales involved with specific focus on the ongoing works at the A38 Deep Lane junction, which is nearing the end of Phase 1 and which have had a significant impact on businesses based in the area.
Sally Farley, Strategic Transport Manager at Plymouth City Council, then gave an overall view of the various road and infrastructure schemes currently underway and those planned for Plymouth in the coming years, including the proposed Forder Valley link road, and improvements in the northern and eastern corridors of the City, as well as the funding arrangements.
Matthew Bryant, Kitsons Partner said: "roads and infrastructure planning and delivery clearly has many complex factors to take in to account and today's expert talks have highlighted that any short term pain that businesses and employees have suffered sitting at traffic lights in recent months will be overshadowed by the long term gain of the benefits for the Langage area and the city of Plymouth as a whole."
James Holt and Chris Janes from meeting hosts Brewin Dolphin also gave the group an informative talk on the ever changing topic of "Trump, Brexit… and stuff" to help shed some light on the effects that the recent political events are having, on the UK the U.S and the world economies.
Matthew Bryant added: "all of the presentations were informative and expertly delivered and although the meeting overran a little we could all go back to our offices and legitimately blame the road works and Donald Trump for our lateness"
Langage Business Group is a newly formed group which is open to all businesses on the Langage Estate. It meets every two months on the estate over an informal lunch with the aim of providing a forum for Langage based companies and focussing on mutual support and information sharing. The group membership is fast growing and would welcome and new potential member companies.
To join or for more information please contact Matthew Bryant at Kitsons Solicitors on 01752 236711 or email matthew.bryant@kitsons-solicitors.co.uk