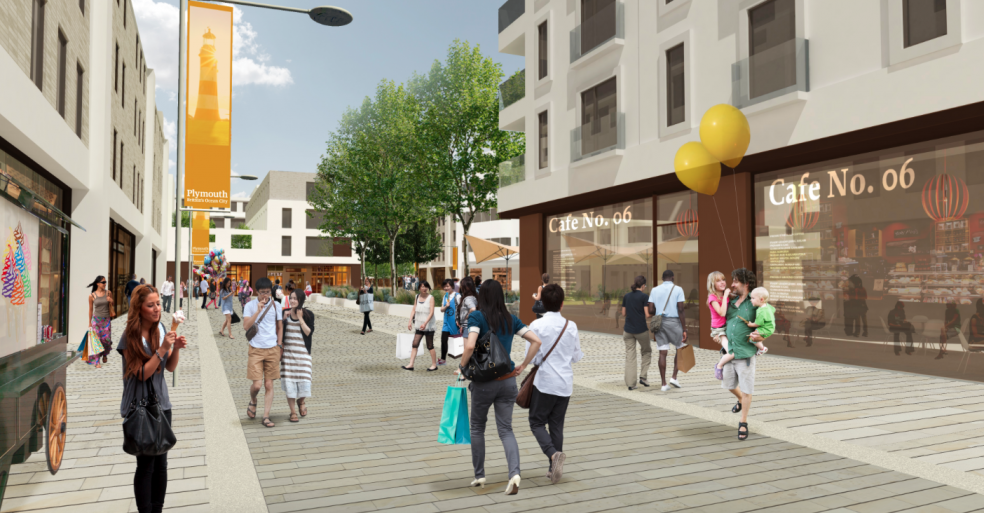 Ideas to bring more life into city centre unveiled
Urban living could return to Plymouth city centre as part of a move to inject people and a fresh feel into the heart of the city.
More families, couples, as well as singletons could live in new apartments and affordable houses with easy access to cafes, bars and shops through exciting redevelopment schemes designed to bring more life to the city centre.
Ideas have been put forward as part of a City Centre Masterplan by urban designers LDA who have been commissioned by the Council to carry out more detailed work as part of the Plymouth Plan.
Councillor Patrick Nicholson, Deputy Leader of the Council and Cabinet Member for Strategic Housing, Transport and Planning said: "The city centre is in one of three key growth areas in the Plymouth Plan and this masterplan looks at a number of key opportunities which could change the feel of the city centre and make it more vibrant, especially at night.
He added: "City centres change constantly. We've got a new coach station being built, a new library open and work on a £42 million leisure development at Bretonside starts this year.
"Shopping habits also change. We need a mixture of uses to ensure our city centre continues to be a great destination and a great place – both for residents, visitors, existing and new businesses."
The masterplan looks at opportunities around the corner as well as those on the horizon, he said. Some projects are underway, but publishing the document enables people to see the direction of the city centre could take.
He added: "There are some great ideas in here and there are some that will not get off the ground.
"I'm keen to make sure that student accommodation is in the right place and numbers restricted so that the city centre of the future has a better mix of housing for people of all ages. We will be interested to see people's thoughts on it through the Plymouth Plan consultation."
The ideas have been put together following discussion between LDA, the Council as a key landlord as well as other stakeholders in the city centre, including the City Centre Company and retailers. Opportunities include:
Colin Campbell Court 
A mixed-use development is currently proposed and includes new homes, retail and business units. New car parking would be provided as well as attractive new landscaped public open space.
Plymouth Railway Station
Transform the welcome by rail to the city with a significant redesign and better pedestrian links to Armada Way. The multi-storey car park would be knocked down to pave the way for a new public space, framed by shops and office space. Escalators will take pedestrians from station level to the top of Armada Way and a new multi-storey car park built to modern standards, with better access as well as improved taxi facilities.
Armada Way
Restoring the original vision of this spectacular example of post war public space planning by decluttering it to recapture the scale and views from the railway station to the waterfront.
Retail Scheme
Identify locations for new development to meet modern retail needs, including Cornwall Street East and South, New George Street West and the Royal Parade East and West.
Office Scheme
Create an office cluster just north of main shopping area close to the railway station and the university. It would make an ideal spot for graduate start-ups and other small-scale ventures as well as larger offices for bigger enterprise and public organisations.
Other measures outlined in the masterplan include shop front improvements, reusing vacant buildings and more public art.
LDA Design is supported by retail and property specialists Bilfinger GVA and transport and engineering specialists WSP Parsons Brickerhoff.
To have a more detailed look and to make comments visit www.plymouth.gov.uk/plymouthplan