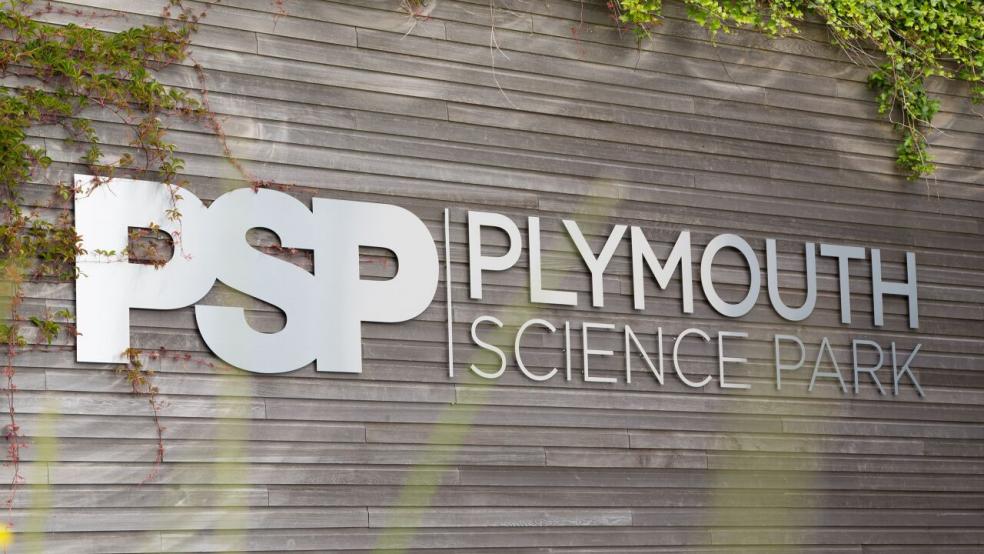 PSP companies shortlisted or prestigious business awards
Top business accolades potentially await four prestigious Plymouth Science Park based companies which have been shortlisted for the annual Plymouth Business Awards, being held at the Plymouth Pavilions on Friday, 17 May.
Scores of companies were nominated for the accolades which are eagerly awaited by the corporate world as they cover more than 15 categories.
Moortec and Sponge are two of the PSP businesses which have been shortlisted for the Best Tech Business category. Moortec provides cutting edge technology by producing miniscule monitoring systems which fit within tiny electrical circuits.
'Moortec is a hi-tech business based on the Plymouth Science Park and it licenses technologies designed to monitor the physical conditions of silicon chips used within today's electronics products,' explains Ramsay Allen, VP of Marketing.
'Moortec is a great example of a local company that has grown into a global market leader in its field, providing its in-chip monitoring solutions to some of the biggest companies in the world within a range of technology areas, such as smart phones, digital TVs, cars and high performance computing for data centres.'
Sponge has become a market leader in producing digital training solutions for companies around the world, including a virtual reality scenario designed for postal workers to show them how best to react when confronted by an aggressive dog.
'With 2019 marking our 15th year in business, we're delighted to have been shortlisted for Medium Business of the Year and Best Tech Company in the Herald Business Awards,' says Louise Pasterfield, Founder and Managing Director of digital learning provider, Sponge.
'We've also just found out that we're up for International Company of the Year (£1m to £10m turnover) in the Insider South West Global Growth Awards.'
'Over the past decade and a half, we're incredibly proud to have won a total of 18 regional and international awards for business and industry excellence. We're hopeful that 2019 will prove to be just as successful.'
'We believe the key to Sponge's success has been our commitment to Plymouth and the recruitment of local talent – more than a third of our staff are University of Plymouth alumni – coupled with our ambitious plans for overseas growth which, in turn, benefits the regional economy.'
'It's our ability to be a local business operating on a global scale that really sets us apart. We're also pleased to be part of the movement that is helping put Plymouth on the map as a digital hub.'
Ultracardiac provides detailed heart scans (echocardiograms) for patients and their success has seen them recently expand into new premises at Plymouth Science Park.
The team spent three years planning the venture which has now successfully tripled in the size of its facilities following a doubling in staff numbers within two years.
'It takes a lot of hard work, planning and determination to successfully create any business venture and, as such, we are absolutely delighted to have been shortlisted for the category of "Best Start Up Business,"' explains Ultracardiac's Sarah Grundy.
'Our expectations have been completely surpassed as we have now provided 10,000 heart screenings for people across the south west, which, in turn, will have helped in relieving pressure on hospital resources by assisting with outpatient appointments.'
Satisfied clients have been a key factor for all businesses at Plymouth Science Park with a number of companies leading the way in providing outstanding service.
One of them, Tamar Telecommunications, is shortlisted for the 'Excellence in Customer Services' category.
'We always strive to provide excellent customer service. We want customers to feel that after their phone call with us, it was not a case of an uphill struggle, like it can be with many call centres, but to come off the phone and think, "Wow, that was so easy, and they are really nice people!"' says Jamie Christoforou, Director, Tamar Telecommunications:
'We are so proud to have been shortlisted for the Plymouth Herald's 'Excellence in Customer Service' award. The whole team feel that all the hard work is truly worthwhile to be recognised in this way.'
More than 1000 people work in the 85 companies based on the Plymouth Science Park campus, these businesses have been attracted by the world-class on-site office, laboratory and research facilities.
Commenting on the success of PSP firms being short listed for the prestigious Plymouth Business Awards, Ian McFadzen, CEO, said, 'We are delighted to see so many of our talented tenant companies being recognised across such a range of categories.'