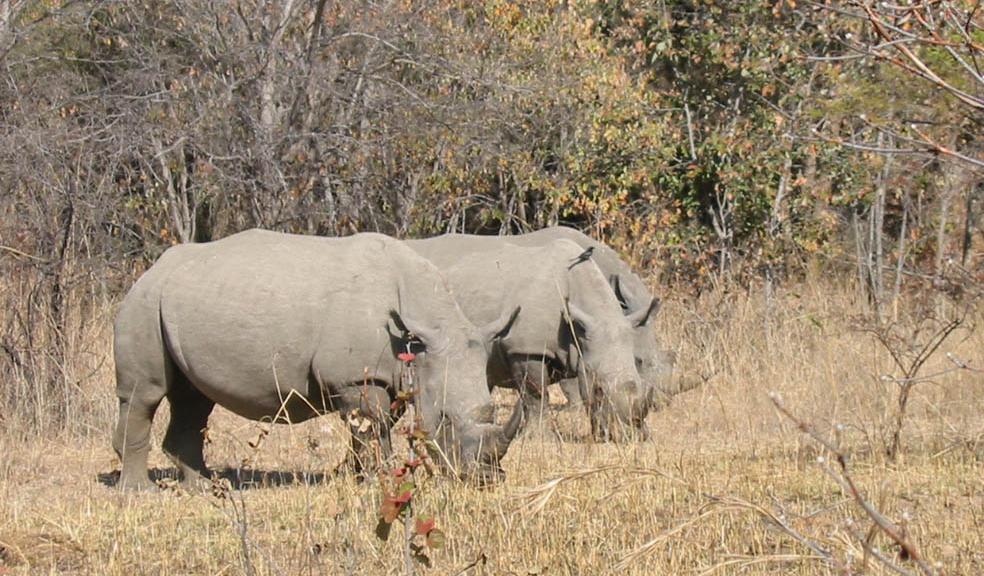 Watching over the chubby unicorns of Zimbabwe
Money spent by guests having a great day out in South Devon is directly helping to protect some of Southern Africa's most iconic animals.
Wild Planet Trust is the charity that runs Paignton Zoo, Living Coasts in Torquay and Newquay Zoo in Cornwall. It helps fund conservation on the ground in one of the hardest countries in the world to work in - Zimbabwe.
The Matobo Hills area, in South West Zimbabwe, is a unique landscape, recognised as a UNESCO World Heritage Site since 2003 and incorporating Zimbabwe's oldest National Park. The Matobo Hills are known for balancing rock formations created by the erosion of a granite plateau, for Stone Age remains in hillside caves. And for rhinos. The Matobo National Park has significant populations of both black rhinos and white rhinos.
Wild Planet Trust has been working to conserve the unique environment of Zimbabwe's Matobo Hills since 1997, through support for the Dambari Wildlife Trust, based near Bulawayo. Trust Executive Director Simon Tonge is a trustee of the Dambari Wildlife Trust:
"Our work with Dambari uses an approach we call Conservation Across Boundaries. This reflects our belief that the success of conservation relies on a holistic approach that recognises the need for humans and nature to coexist. CAB aims to ensure that the conservation and sustainable use of the area's incredible landscape and wildlife can continue long into the future, working with local people to raise awareness and secure cooperative and collaborative relationships that can endure and grow over time."
The need to work together is great. On March 19th, 2018, the last male northern white rhino on Earth died, rendering the subspecies functionally extinct. Although two female northern white rhinos survive, the lack of a male means that this unique lineage of life is, to all intents and purposes, extinct. It was by no means the only animal to disappear in 2018, but it was perhaps the most symbolic.
Simon: "For many people, the rhinoceros is an instantly recognisable icon; a symbol of rarity and a flagship for conservation. The loss of the northern white rhino highlights that extinction is not just something that happened in the past. It's happening now, on our watch. Wild Planet Trust exists for a reason – to achieve our vision of a world rich in wild life and wild places. We aim to stem the flow of species heading into the abyss and work to ensure that the remaining species of rhinoceros in Africa are kept away from the edge."
The Matobo National Park is one of the few remaining areas that contains populations of both black and Southern white rhinoceros. As part of the Trust's support of the Dambari Wildlife Trust, it helps to research and monitor these magnificent animals and ensure that they remain an integral part of this unique environment for generations to come. The work provides valuable information about how the rhinos use the park and this informs how the park is managed.
Working in Zimbabwe is not easy. Simon: "The value of our donations has crashed because of economic and political instability in the country. Staff there have trouble getting fuel and getting the vehicles serviced. Equipment such as cameras is often stolen."
If there's one thing Simon has learned about rhinos in Matobo, it's that if you leave them alone they will be fine. "The white rhinos, in particular, are naturally very tame and will allow close approach on foot, by tourist groups, and also are happy to feed near roads and villages, which can make them vulnerable to poaching. They are very particular about the types of grass that they feed on and will wander widely to find it."
Conservation is about people as well as wildlife – so what sort of relationship does the Trust have with local people in the Matobo area? Simon: "Mostly OK, but they do allow their cattle to graze in the park, illegally, and the Parks Department struggles to control that for logistical and social reasons. There has been a poaching incident this year, a black rhino was killed - the first for three years. Let's hope this isn't a sign of things to come.