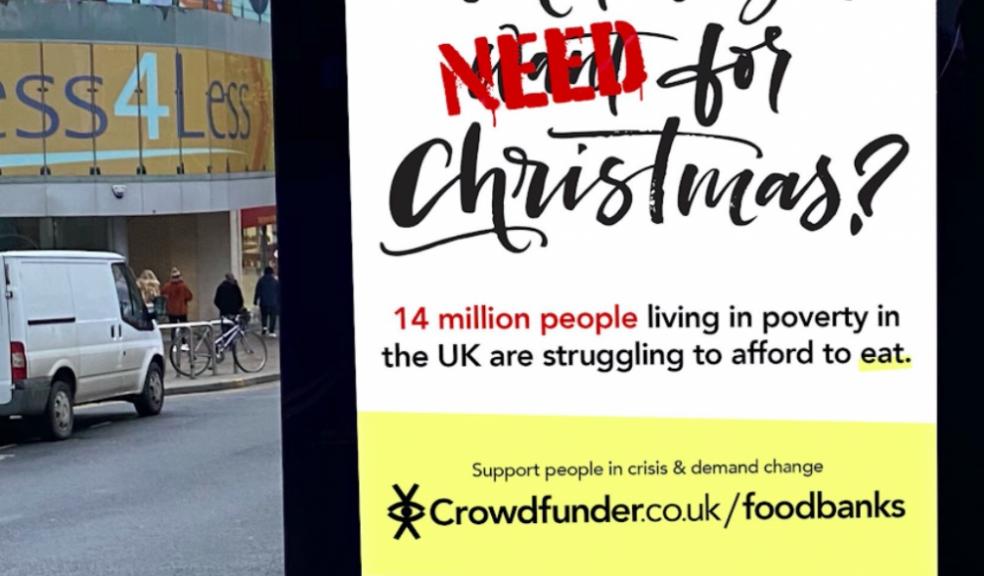 Crowdfunder supports FareShare, the Trussell Trust and Oasis with Launch of Anti-Hunger Crowdfunder Campaign
Crowdfunder.co.uk has launched a national anti-hunger campaign to support over 50 food bank projects and charities, to help feed the #14millionPeople in the UK who are struggling to afford to eat this winter. Cornerstone national charities include FareShare, the Trussell Trust and Oasis, who are united by the common goal of working to alleviate hunger and build a future where everyone in the UK has enough money for the basics. 
It's not right that anyone goes hungry at any time of year, let alone Christmas. This year has seen incredible compassion and generosity from people across the country as they pull together to care for each other during the pandemic. This can be illustrated by the combined total of over £500k which has already been raised by the national Crowdfunder campaign, from over 5,000 supporters, to help people struggling to afford food this winter.
Duncan Parker, Charity and Philanthropy Director, Crowdfunder UK, commented:
"It is deeply concerning that 14 million people in the UK are struggling to afford to eat, we want to do all we can to help raise funds for the food banks and charities that are doing incredible work to help feed people. That's why we decided to launch a campaign bringing together these charities into one place to highlight the issues and help to drive donations so that we can help as many people as possible this Christmas." 
Linda Boswell, Chief Executive, FareShare said; "This year, FareShare has faced the unprecedented challenges of coronavirus head on, the likes of which our network of charities have never experienced before. The Covid-19 crisis has increased hardship for millions of people – including many who had never before been considered vulnerable. Demand for our service skyrocketed overnight and our dedicated army of frontline staff and volunteers have worked tirelessly throughout the crisis, to more than double the amount of food we distribute – now over 2 million meals a week. We need your help more than ever to help those most vulnerable communities this winter." 
Emma Revie, Chief Executive of the Trussell Trust said, "This winter, food banks could give out a parcel to someone unable to afford food every nine seconds. This is not right. But we know if we come together to push for change, we can build a hunger free future. Right now there's a real opportunity to end the need for food banks – and there's a part for all of us to play. By showing your support, you'll be helping us to support food banks to provide vital emergency help, and to work in the long-term towards a future where everyone has enough money for essentials. Thank you."
Dave Parr, CEO, Oasis, said: "Need for food provision across Oasis has grown hugely during the pandemic and this Christmas, our community hubs around the country are expecting to provide more food support than ever before. Ultimately, we don't think it's right that any of us are forced to turn to charity for food but while our help continues to be needed, we're dedicated to ensuring that people are able to access food provision, especially over Christmas. Your support will ensure that no-one in our communities goes hungry this Christmas"
Food banks are facing heightened pressure. As the impact of the Coronavirus pandemic continues to unfold, there has been a significant increase in need for food banks across the country, building on what was already a record level of need last year, and this coming winter food banks could need to give out a parcel every nine seconds. 
Anti-food poverty projects from all corners of the United Kingdom are part of the national Crowdfunder campaign; from projects in the Outer Hebrides in Scotland, Londonderry in Northern Ireland, Pembrokeshire in Wales, down to Bridgwater in Somerset and Hastings in the east of England. There are also multiple projects in London that the public can choose to support.
Charities across the UK are doing amazing work to help get emergency food to people in communities across the UK, but they can't do it without you. Please find and support food charities in your area here. 
Alternatively, if you are running a food bank, work for a charity that helps to feed the hungry in the UK or are running a project with a shared goal, please create a project page and join the Crowdfunder campaign to help feed the #14millionPeople in need in the UK this Winter.