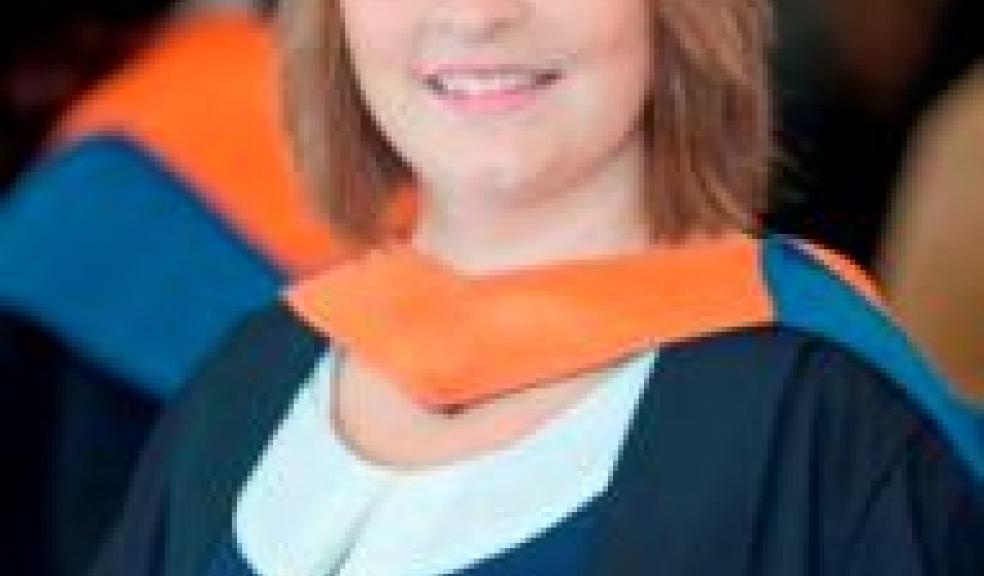 Graduate who beat brain cancer sets up hardship fund
A brave graduate who overcame a brain tumour while studying for her degree has set up a hardship fund for use in emergency situations where a student suddenly falls ill.
April Watkins, 22, graduated from Plymouth University last week with a 2:1 in Sociology after she was forced to miss most of her first year as she battled the life-threatening condition.
April needed an emergency seven-and-a-half-hour operation and 17 months of chemotherapy, but battled back to full health with the support of her family and friends.
She has gone on to launch her own charity, 'What Just Happened', raising money to help parents, family members and close friends cover the immediate costs of being at the the bedside of their child or friend. April has now handed over £7,000 to the University, who will manage the fund for her.
April said: "The idea of the charity is that a student's close circle of family and friends can access emergency funds immediately if they suddenly find they need to support their child or friend hundreds of miles away. We were lucky in my case, as my father was able to stay with family in Cornwall, but others may be forced to deal with large hotel bills, expensive travel costs, or food and drink expense.
"Some charities provide reimbursed expenses, but I wanted to set up something that would provide immediate support – and the University is perfectly placed to take that fund forward."
April was diagnosed with a brain tumour in 2009 at Derriford Hospital after suffering a series of severe headaches. After the operation, she was forced to miss the last two terms of her first year, and had to start again the following September. It was then that she began to raise funds through a variety of means, including organising masked balls, pub quizzes, cake sales, and through the Varsity event.
In total, April raised £10,000 - £7,000 of which she has handed to the University's Development and Alumni team to create a hardship fund, and the rest she is using as capital to launch her charity.
Reflecting upon her graduation, April said: "It was an emotional occasion to have my family there when I graduated – especially as I lost my mum to cancer about the time I was battling with it. It is my hope that leaving behind this money will mean that someone else in my position – in hospital, hundreds of miles from home – can have the support of their loved-ones by their bedside."