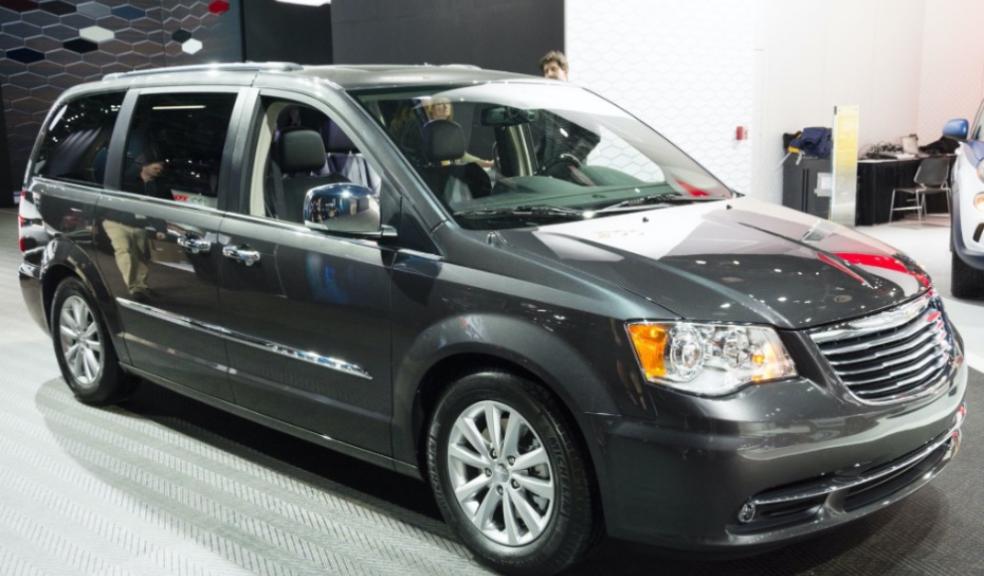 Powertrain technology advancements in Chrysler's Town & Country Minivan since 1990 to date
From its modest beginnings in 1941 as the steel-roofed "woody wagon" family later became Chrysler's very first minivan, Town & Country has redefined how American families have traveled for decades. The Chrysler's Town & Country Minivan saw a series of technical improvements over the last three decades.
In a span of five generations, industry experts in the Chrysler line of automotive production have made incredible progress in improving the powertrain technology in this award-winning model.Over the last three decades, Chrysler Town & Country minivan has seen a series of mechanical improvements in its engine's power transmission. These powertrain advancements defining incredible progress in the automotive industry have been a result of highly-skilled professionals. This outstanding progress is attributed to the strong foundation laid within a span of five generations. This was championed by a group of inventive, multi-disciplined, and knowledgeable professionals skilled in the development, analysis, design, and procurement of machinery engines.
The first generation (1989 – 1990)
These minivans were invented alongside the earliest Plymouth Grand Voyager and the Dodge Grand Caravan. The vehicles initially used a four-speed 41TE transmission with the 3.0L Mitsubishi 6G72 V6 engines, which were later improved to Chrysler's own 150 hp 3.3 L EGA V6. The 6G72 was manufactured in three different forms that facilitated the second-generation models. These included the Single Overhead Camshaft with 12 valves used to provide 235 N⋅m (173 lb⋅ft) and 09 kW (148 PS; 146 hp) and the 24 valves Single Overhead Camshaft used to deliver 255 N⋅m (188 lb⋅ft) and 133 kW (181 PS; 178 hp). The other one was the Double Overhead Camshaft (DOHC) with 24 valves used by Mitsubishi Debonair to produce 205 lb⋅ft (278 N⋅m) and 222 hp (166 kW; 225 PS). These minivans were produced and marketed by the Chrysler Corporation for both passenger and cargo configurations.
The second-generation (1991 – 1995)
The Generation II Town & Country minivans were first manufactured with 3.3 L EGA V6, 150 hp (110 kW), 180 lb⋅ft (240 N⋅m) engines between 1991 and 1993. They were later improved to 3.8 L EGH V6, 162 hp (121 kW), 213 lb⋅ft (289 N⋅m), and used between 1994 and 1995. During this period, the 3.3-liter engines were advanced to 162 hp (121 kW). This was due to the availability of an air intake system that allowed the flow of fluids produced by the variance between internal and external pressure. The air intake structure also helped in increasing the power of 3.8-liter engines to 180 hp (134 kW) and 240 lb⋅ft (325 N⋅m.
The short length of V6 engines made them useful in the larger engine options for vehicles manufactured with inline-four locomotives, as seen in crosswise engine vans. Currently, the V6 engines between 2.5 to 3.5 L have been improved to 1.8 L with 110 cu. In the second generation m Town and Country, some remarkable developments were the integration of child safety seats to protect children during vehicle collisions. Also, the fixing of the driver's airbags ensured that they remain safe during vehicle collisions.
The third generation (1996 – 2000)
Some commonly used engines, especially in the United States, were the 3.3 L flexible fuels that used 85 percent ethanol blend and 15 percent gasoline to enhance engine performance. Another one was a 3.3 L gasoline-powered engine with a vehicle identification code to recognize specific motor vehicles and a 3.8 L engine. In Canada, the Town and Country models used 3.8 V6 engines.The vehicles were arranged with two long-wheelbase models and a short-wheelbase LX model. They also had discrete grab handles on the interior door panels integrated into the front door armrests. The plastic intake manifold cover on the 3.8 L engine was removed while the engine remained standard on the LXi.
By 1998, a new front replaced the waterfall grille, which highlighted a larger and stronger bumper with new headlights that offered better illumination and round fog lights. The 3.8 L V6 engine was improved to 180 hp representing 134 kW. The automatic-dimming rear-view mirror was also modernized to comprise a sensor for programmed front lights.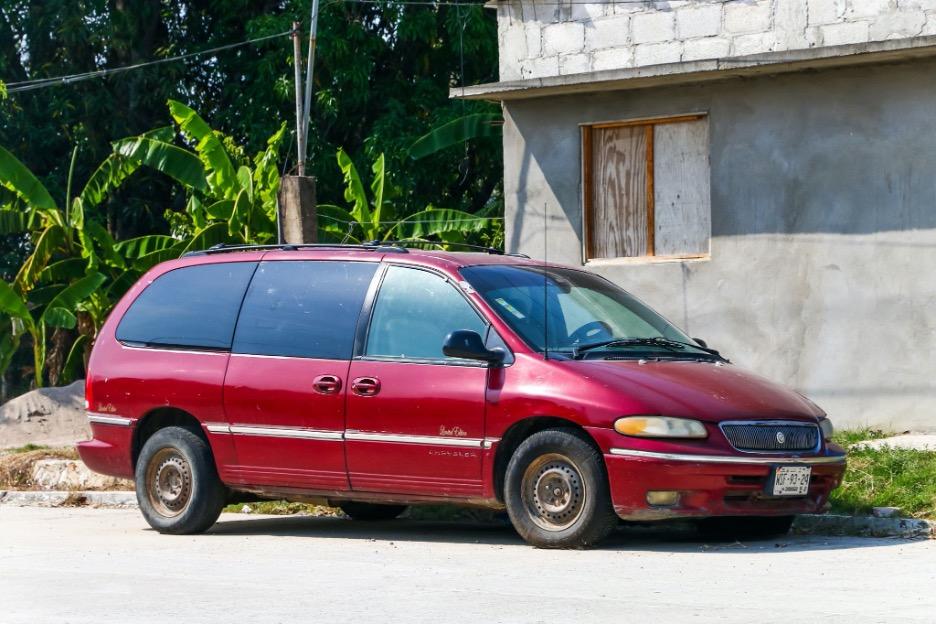 The fourth-generation (2001 – 2007)
The Town and Country minivans at this stage used the 3.3 L (3301 cc, 201.5 cu in) EGA V6 and the 3.8 L (3778 cc, 230.5 cu in) EGH V6 powered to 180 hp (130 kW) at 5000 rpm and 215 hp (160 kW) at 5200 rpm respectively. The models included LX, mid-level LXi, and the range-topping Limited. By 2002, eL, a new version of LX, and eX, a new version of LXi models, were invented. Most minivans in this phase were manufactured in the short and long-wheelbase LX, Touring, and Limited models.
The Touring and Limited models were only sold to retail consumers, especially in Canada. Advancements in these minivan models included side curtain airbags for all the rows and an overhead rail storage system with three removable and movable compartments. Others were the driver's side knee airbag and the compatible phone Bluetooth connection. 
The fifth-generation (2008 – 2016)
In 2008, the short-wheel minivans were dropped and replaced with the Limited model. This minivan was completely different with new chassis and MacPherson struts up front and twist bars in the back. The new models used a multi-speed automatic transmission to configure a new 4.0 L V6 engine. Trim level enhancements continued, and by 2015, the minivans used 3.6 L "Pentastar" VVT V6 engines. They were also fixed with seventeen-inch compound wheels and a 6-speed automatic transmission. The leather-trimmed seating surfaces and a touch-screen sound system with DVD entertainment systems made the Limited Model the most preferred Town & Country trim level between 2008 and 2014.
The Limited remained the top model due to its upgraded interior trim, a 9-speaker premium 506-watt surround-sound system with an external amplifier, and the special alloy wheels. However, the 4.0 L and 3.8 L engines were matched with Chrysler's newly rebuilt 62TE automatic transmission with flexible line pressure (VLP) technology that became compatible with the 3.6 L V6 engine.
Production of the Town and Country Minivans
The first three generations of the minivans were manufactured and assembled by the St. Louis South Assembly Plant in Fenton, Mo.The fourth-generation was also manufactured by China Motor Corporation in Taiwan, while the fifth generation was also produced by Chrysler's Windsor Assembly Plant plant in Ontario, Canada.
Get in touch with us for your locomotive solution today!
Are you having problems with your car engine or transmission and need anything replaced? Or maybe you just want an upgraded engine to make your vehicle more powerful and economical. There is no need to stress yourself anymore as we can help. We are your automotive experts and can supply you with the engine or transmission that perfectly fits your needs and car model. Call us today, and we'll help you make that important decision that improves your driving experience!