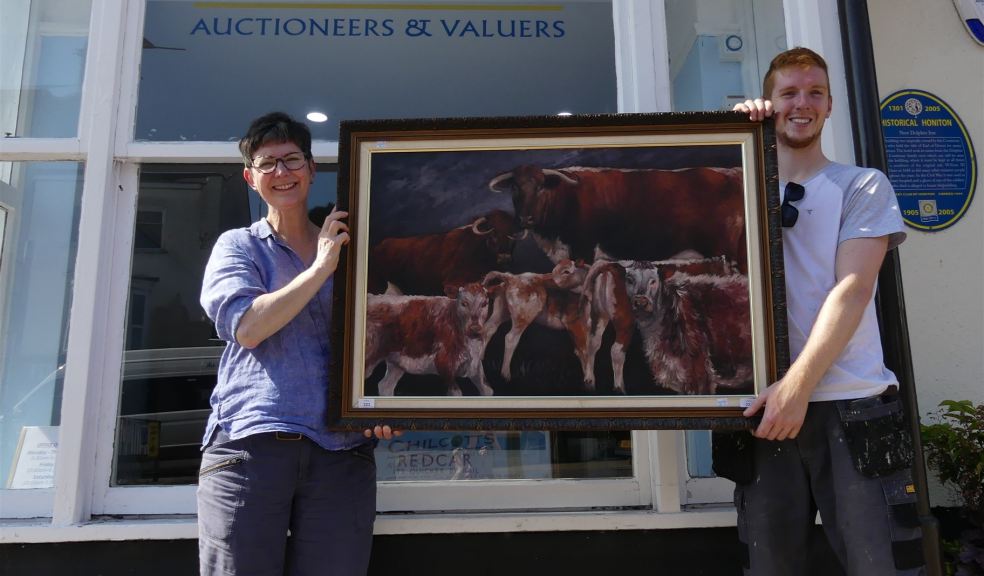 Chilcotts' most recent auction culminated in the reuniting of a painting of rare breed cows with the farmer who had owned them.
The artist, Denise Manning, was commissioned in the late 1980s by The Rare Breeds Survival Trust to capture all the rare farm breeds of the UK on canvas. In collaboration with the Trust, the resulting collection was exhibited on a tour which included the RAMM in Exeter.
One of the paintings was Longhorns at Tregony.  Denise painted it at a farm in Tregony, Cornwall, and farmer John Warne spent the day helping her. John has a sterling reputation in the world of agriculture; he is one of only a few people to have judged the livestock five times at The Royal Agricultural Show at Stoneleigh and was also President of the Royal Show. He really liked Denise's finished work and was keen to buy it - but it was sold to someone else by mistake.  He was bitterly disappointed to miss out.
But 30 years later, the cows came home!
Interested in the history of the area where the family have lived for many generations, one of John's sons set up a search alert with the-saleroom.com to receive notifications when anything to do with Tregony is sold. Liz Chilcott explains what happened next:
"The son received an alert about the painting of the longhorns being included in our auction and the family decided to bid on it.
"Happily they were successful. We were thrilled when we heard the back story and met Kalen, one of Mr Warne's grandsons  who came to collect the painting. Mr Warne is now 85 and is delighted to have his cows back!"
Liz says it was fascinating to find out about the cows in the painting. "In particular we learned from the family that the cow at the top right of the picture was a prize winner for her breed at the Royal Show in 1991. After the show, John sold her to another breeder for the princely sum of 3,000 guineas."
The painting sold for £300 at auction plus Buyers Premium of 21%, making a total £363.