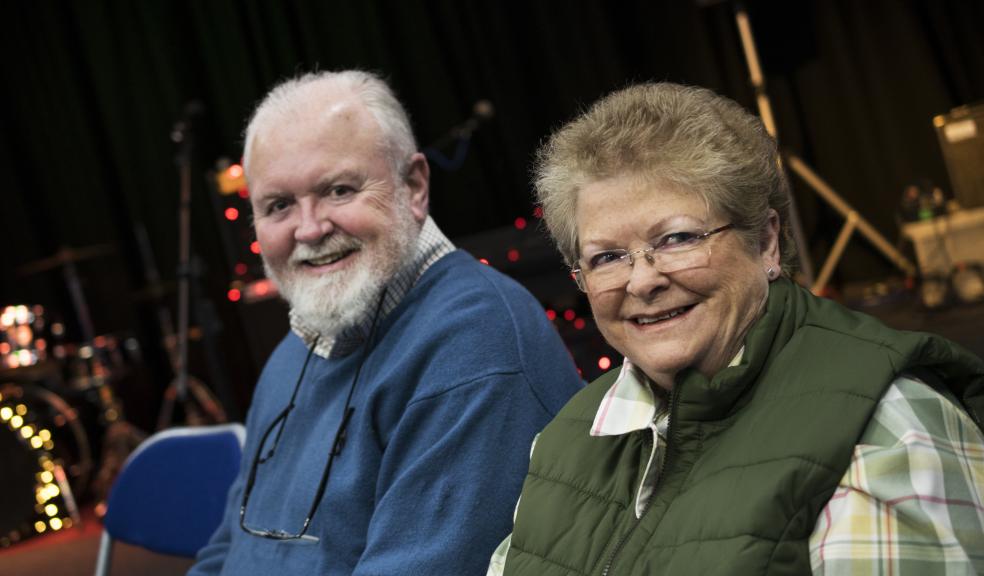 Plymouth stroke choir add their voice to Lost for Words campaign
A group of 24 stroke survivors and carers from the Stroke Association's Sing Out choir in Plymouth are adding their voice to charity's latest campaign: Lost for Words.
The Stroke Association's Lost for Words campaign aims to raise awareness of the challenges stroke survivors with communication difficulties can face, and help and support available.
In 2011 Charlie Martin, 65, from Plymouth, had a stroke which left him paralysed on the right hand side of his body. He was also left with the communication difficulty, aphasia.
Charlie and his wife Margaret have been attending the Sing Out group for the past two years. Margaret said: "After Charlie had his stroke we were devastated; everything suddenly changed and he could only say a handful of words.
"When I heard him in the kitchen one morning singing along to the radio, I couldn't believe what I was hearing. Whilst Charlie's speech was really affected, his ability to sing was perfect.
"A couple of months later, I found out about the Stroke Association's singing group at the Plymouth Music Zone. I used to drop Charlie off each week, and when I picked him up he would have a big beaming smile on his face. The singing group lifted his spirits, made him feel part of something, and most importantly it proved that he wasn't alone.
"It didn't take long until I was persuaded to join the group too. Being part of the choir has been so special; it's given us a real sense of achievement and made a huge difference to our confidence. Hearing the choir singing at our Christmas performance this year was wonderful, we are so proud to perform with them."
Caroline Shepherd, Communication Support coordinator at the Stroke Association in Plymouth, said: "After a stroke, around one in three people like Charlie have difficulty communicating, which can be both terrifying and isolating. Charlie is a huge inspiration and it's been fantastic to see his confidence grow as he performs.
"Singing is an important part of a stroke survivor's recovery; it is often easier for people to communicate through song than speech because a different part of the brain is used. As well as singing, we want to build the confidence of our members too.
"We're really proud of all the members in the Sing Out group and look forward to working on new songs in the New Year."
More than 350,000 people in the UK have aphasia, a communication disability which can be caused by stroke. The Stroke Association is urging people to show their support for stroke survivors who are lost for words and make a donation. For more information, visit www.stroke.org.uk/lostforwords.  
The Stroke Association the Sing Out group works in partnership with Plymouth Music Zone. For more information about the group, please contact Caroline Shepherd on 01752 674 580 or email caroline.shepherd@stroke.org.uk