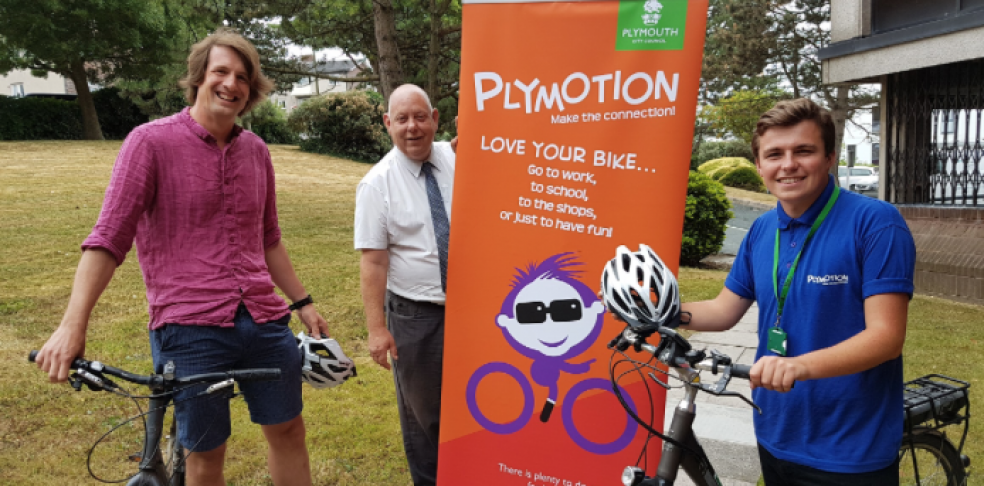 New bike scheme to help people into education and work
A new programme to help people access a bike to enable them to travel to work or college has been launched in Plymouth.
Bike Links Wheels to Work, is part of Plymouth City Council's Plymotion project and aims to support residents who are struggling to access employment, education and training opportunities. It's been funded by the council's successful bid to the Department for Transport's Access Fund for Sustainable Travel.
The scheme was officially launched by Councillor Jeremy Goslin, the newly appointed Cycling Champion for Plymouth and Councillor Mark Coker, Cabinet Member for Strategic Planning and Infrastructure for Plymouth City Council.
Councillor Jeremy Goslin said: "I want to encourage more people to cycle, and the Bike Links programme is a great way of both getting people more active, and helping people to get where they need to be – the core objective for the Plymotion programme. I'd encourage partner agencies to get in the touch with the Council so we can work together to maximise this opportunity."
Councillor Mark Coker said: "If you or someone you know is struggling to get a new job, can't get to school or college, or may be at risk of social exclusion as a result of being unable to access transport, you may be able to get a bike along with the necessary safety equipment and appropriate training."
Applicants can apply for the scheme through organisations such as Job Centre Plus, Careers South West, Looked After Children and any organisation that works with people at risk of social exclusion.
Bike Links Wheels To Work was initially piloted in 2017, and Nathan Hall who took part, has subsequently been able to start work as a Deliveroo cyclist. He said: "The Bike Links scheme allowed me to get back into employment with Deliveroo. I would recommend anyone struggling to access employment or education to get in touch with Plymotion."
If you think you may be eligible for the scheme, please contact Plymotion@plymouth.gov.uk for more information.