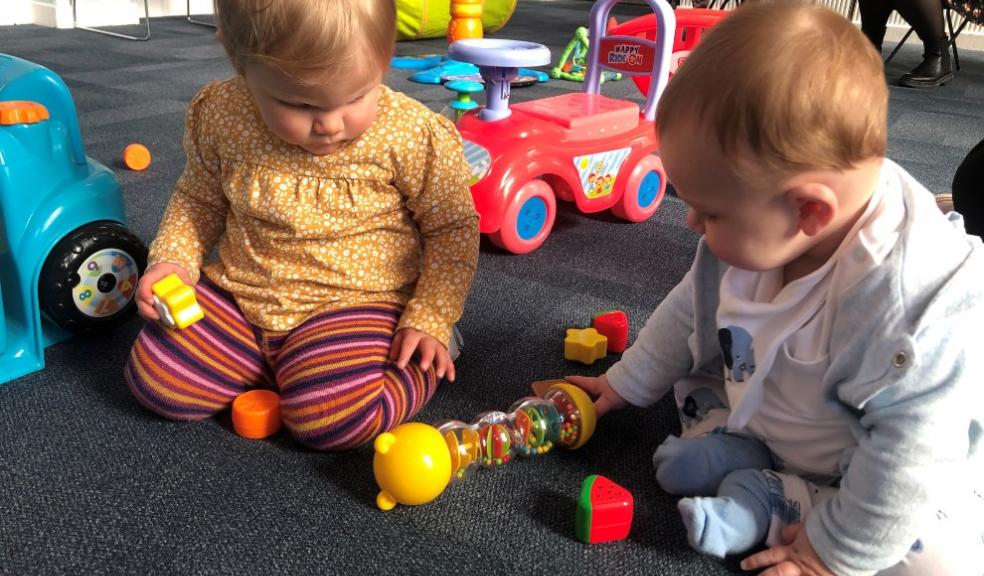 Grant for Covid-safe toys helps toddler group relaunch
A grant to pay for Covid-safe toys for children has been secured to allow a toddler group in Plymouth to restart.
Tamar View Community Centre in Barne Barton applied to leading housing association LiveWest for the funds to help them to reopen in a safe way.
The £500 grant has paid for toys that can be easily wiped down and sterilised to guard against the potential spread of coronavirus.
With play centres across the region opening their doors, the new measures are a welcome boost for families used to using local community centres or children's play areas.
Lorraine Cox, Manager at Tamar View Community Centre, said: "The grant from LiveWest was warmly welcomed and has helped us to buy a range of Covid safe toys for the children to use.
"The welfare of the residents in Barne Barton is our number one priority and this will add to the Covid measures we are taking to keep everyone safe.
"Play areas are a vital part of a child's development as they help them to develop vital motor skills and social skills and give parents and carers that well-deserved rest to have a coffee and a catch-up with other adults while also seeing the joy of their children's energies and imaginations run wild.
"Being unable to have the experiences they are used to – or mix with other children – started affecting not only kids' social and motor skill development but their emotional wellbeing. So, thank goodness we are able to once again provide a service.
"LiveWest has supported us before with grants and we are incredibly grateful for their help. It will mean a great deal welcoming people back through our doors."
In the past, LiveWest has supported the community centre with two grants of £1,000 and £500 to support its Food Hub service and also helps to pay for training in food hygiene and first aid.
Justine Cheffers, Community Connector for LiveWest, also provides support and training for the centre's Community Ambassadors Project (CAP), a youth programme designed to help young people make positive change in their community.
As well as introducing Covid-safe toys, the group has reduced numbers to 15 to ensure social distancing can take place.
Justine said: "We have working with the community at Barne Barton for quite some time, helping to support the young people into making a difference in their community.
"When Covid-19 hit and we were all confined to our homes, parents and children were hit hard by massive changes in routine.
"It has been challenging for everyone in society, but now there is a renewed sense of hope and optimism.
"The toddler group is important to parents and their children during these socially isolating times, many of who have been largely cut off during the past year, especially if they don't have any technology to support virtual get-togethers.
"The previous toys used by the group cannot be used as they cannot be wiped down to ensure they are Covid safe.
"This grant has enabled the group to restart with lots of new equipment for them to enjoy."