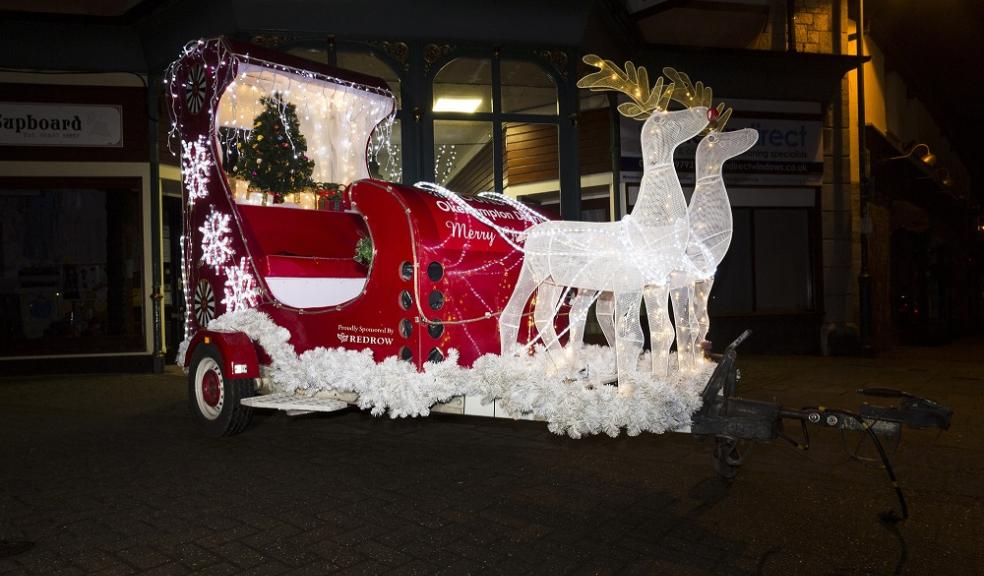 Redrow Homes supports Okehampton Christmas Sleigh for the second year in a row
National housebuilder Redrow Homes has sponsored Okehampton Roundtable's drive-by Christmas Sleigh for the second year running.
The annual and much-loved Christmas Sleigh drive-by will take place throughout December, 7pm-7:30pm weekdays and 4pm-7:30pm at weekends, in Okehampton and the local area.
The Okehampton Roundtable has supported the Okehampton community throughout the pandemic, Throughout the summer Roundtable members were out visiting Sticklepath, North Tawton, Hatherleigh and Okehampton to collect food donations for Okehampton Foodbank.
In July, the Roundtable hosted a drive-in movie event, in-line with Covid-19 safety measures, to help raise funds and lift the community spirit.  In recognition of the Roundtable's hard work it has received praise from Paul Jarret at Okehampton Foodbank, Okehampton Mayor Julie Yellend and the region's local MP thanking the roundtable for the efforts and support during a tough time.
Redrow's sponsorship comes at a time when the Roundtable was preparing for a tough December because of new Covid-19 restrictions and collection opportunities minimised. The housebuilder's sponsorship money will go to towards the Christmas Sleigh event and enable the Roundtable members to carry on its good work in the local community throughout December.
James Mallen, chairman at the Okehampton Roundtable said: "The Christmas Sleigh is a big part of Okehampton's festive celebrations, it is fantastic that Redrow got involved and supported our collection this year. The Okehampton Roundtable has been putting on events that adhere to social distancing rules throughout the pandemic to lift the spirits of the local community, we cannot wait to continue this in December with our Christmas Sleigh. 
Kevin Bradford, area sales manager at Redrow Homes South West commented: "There was no hesitation to sponsor the Okehampton Roundtable's Christmas Sleigh initiative for the second year in a row. We are committed to supporting local communities, events and groups close to our developments.
"The amazing work and fundraising activities that the Roundtable has done during the pandemic is fantastic. We are honoured to be a contributing factor to their efforts as we progress into 2021."
The Romansfield development has a range of charming two, three and four–bedroom homes all from Redrow's Heritage Collection which takes inspiration from the Arts and Crafts movement in the 1930's.
Located just a mile from the town centre with easy access to a range of local amenities, and within easy reach of the beautiful Dartmoor National park, the development offers a perfect combination of country living and town amenities.
In-line with specific Government guidance for the housing industry, Redrow's sales centres in England are remaining open for visits throughout the second national lockdown. The Government has also confirmed that people are still able to move during this period. 
December 2020 Christmas Sleigh schedule, 7pm-7:30pm weekdays and 4pm-7:30pm at weekends:
Tuesday 8th - Kellands Lane (upper Section – Industrial estate side).
Wednesday 9th - Monkey Puzzle Drive, Moorcroft, Baldwin Drive, and Balmoral Crescent.
Thursday 10th - Giblands, Broadpark, and Turpins plot.
Friday 11th – Limehayes Road, Leaholes Avenue, Borton Road, Wonnacotts Road, and De Brionne Heights.
Saturday 12th –, Credition Road, Fern Meadow Sterling Way, Hunters Gate, Northfeild Road, Kellands Lane.
Sun 13th – Hatherleigh.
Tuesday 15th – Mill Road, Park Row, St James Street, and North Road.
Wednesday 16th – Station Road and Castle Road.
Thursday 17th – High Street and Moyses Meadow.
Friday 18th – Upcott Valley.
Saturday 19th – North Tawton.
Sunday 20th – South Zeal and Sticklepath