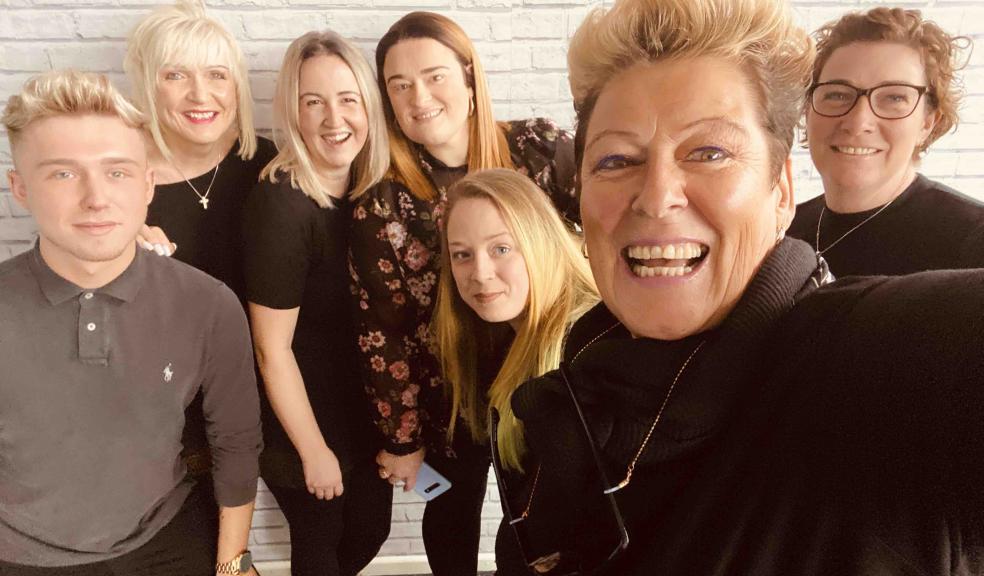 Construction professionals offer their services free to help unique community project continue giving vulnerable young people a head start
Hair@theAcademy, a unique hairdressing training salon  located in Exeter and only one of its kind in the UK, announces the move to larger premises to continue their uplifting good works.  The charity administered by the Incorporation of Weavers, Fullers and Shearmen of Tuckers Hall in Fore Street,  Exeter, has generously funded the new salon space located in the heart of the City. 'Cornerstone' a freehold property has been purchased by the charity and will be rented to Hair@theAcademy. 
Mary Pugsley MBE, a senior state registered hairdresser (SSRH), set up Hair@theAcademy in 2004 and it had always been Mary's dream to support young adults with complex needs, including learners who are vulnerably housed, in the care system and from all kinds of backgrounds or circumstances into learning a new trade. Mary has been desperately seeking bigger space in the centre of Exeter to continue her training in hairdressing, barbering and customer service qualifications, helping get these vulnerable people, many of whom have nowhere else to go, re-train.  Hair@theAcademy achieves an impressive 90% success record of getting them into paid work and many former students are now tutors, wanting to give back to the Academy by training others to achieve their goals.
Devon-based construction professionals have embraced the community spirit by generously offering their specialist advice and services free of charge to help the academy keep refurbishment costs down to a minimum.
Architects Design Group (ADG) located in Millbay Road, has been creating buildings, places, and spaces for more than 30 years and as a result grown to be one of the leading architectural practices in the South West.  ADG is known for its support of local causes and the practice's core values include using their in-house expertise to 'aid society' where they feel they can make a difference. 
Dale Beeson a director of ADG, joined the practice 20 years ago having gained a background in both architecture and engineering. Dale's interests are in environmental design and earth-sheltered construction and his favourite projects reuse and breathe new life into under-loved existing buildings. 
Dale said: "When Mary approached us with regards her move to larger premises, we were keen to help as this project very much fits with our CSR philosophy. Mary provided an outline brief and we were able to use our extensive experience to consider how she could best meet the needs of the students and space. This included the provision of initial plan layouts, general notes of any technical issues to be considered and the likely input required, plus liaison with Hoare Lea, consulting engineers, to devise an outline servicing strategy. This initial overview proved helpful in kick-starting the project, generating further discussion as well as highlighting any challenges that would require resolution prior to contractors starting on site."  He adds: "We'll continue to offer ongoing support for this worthy local cause and very much look forward to seeing the building used in providing essential training to Exeter's vulnerable young people."
Award-winning Hoare Lea with offices across the UK and beyond, is an engineering consultancy with a creative team of engineers, designers and technical specialists providing mechanical, electrical, and public health (MEP), environmental and sustainability services. They look to bring buildings to life, ensuring they perform in operation as well as how they look. 
Surveying the premises, Karl Friedrich, partner Hoare Lea Plymouth office located in Royal William Yard, offered professional consultancy advice in terms of giving a realistic appraisal of the building's mechanical and electrical services. Producing a detailed report, as well as highlighting some of the works to be considered to make the building suitable for purpose, has proved to be invaluable for the contractors to work efficiently before works commenced. Karl said:  "We are engineers of human experience and problem solvers who care how a space makes you feel when you step inside. We overcome every challenge with ingenuity, determination, and pride, taking personal responsibility to achieve a shared vision, combining strong relationships with technical excellence." 
He adds: "It's important to us to try and help those less fortunate and we didn't hesitate in giving our service to the Hair@theAcademy. It can be a tough ask however, because there is always much more to do than the lay person may appreciate, but at the same time the importance of this project, which fits in line with our ethos, was obvious, and Mary is such a powerful mentor – we simply couldn't say 'No' to her!"
Independent South West  company CAP Ceilings & Partitions Ltd, based in Exeter is one of the fastest growing interiors contractors in the UK, providing industry leading interior architectural products and techniques to provide bespoke high-end solutions for clients in healthcare, commercial, industrial, and residential settings. 
Co-owner, Gary Rice has been hands-on in supporting Hair@theAcademy, personally attending several site visits offering professional advice, as well as products and labour free of charge. CAP has also generously agreed to supply and install high-spec Knauf Airless Spray Plaster, a highly efficient spray applied plaster for finishing all the walls at Cornerstone. In addition, Gary recommended the installation of an Armstrong DL 100 suspended ceiling system which not only meets fire regulations but will also offer an acoustic performance that will assist in creating an exceptional learning environment for the students of Hair@theAcademy.
Mary Pugsley  MBE – Founder of Hair@theacademy said: "I simply couldn't have done this without the generous help of so many local professionals offering their services and expertise for free. I am so humble and grateful to Karl, Dale and Gary for their kindness and personal investment in this project, which will make a huge difference to the lives of the students who desperately need our help. I simply couldn't have afforded the cost of this incredible outcome without them – thank you all from the bottom of my heart."
The Incorporation of Weavers Fullers and Shearmen is based at Tuckers Hall, a unique medieval Guild Hall built and owned by the Guild of Weavers since 1471, but the earliest record of a Guild of Clothworkers in Exeter is 1459. 'Incorporation' is the term used since the Royal Charter of 1620 to describe the organisation of Exeter woollen cloth trades that had before been organised as Guilds.  
Ian Gardner, current Master of the Incorporation of Weavers, Fullers and Shearmen said: "Our charity provides support for disadvantaged young people aged between 16 and 25 to receive training and assistance to enable them into employment; the training programme provided by Hair@theAcademy fits this brief perfectly.  We support many local charities including YMCA Exeter; however, this is the first time we have purchased a property specifically for a community project. It's a very exciting new era for us, not least because we are celebrating the Weavers, Fullers and Shearmen's 400th anniversary of the granting of their Royal Charter in 2020."  
Mary comments further: "Our ethos is 'Education to Employment' working with the most vulnerable young people in our community by supporting them towards completion of work-ready qualifications delivering hairdressing, barbering, customer service, Math's & English.  We have  had to turn away up to three students a week because of lack of space, so it was crucial we found a new larger salon to continue to promote inclusion, reduce exclusion, eliminate barriers to learning and participation for all those hard to reach students as well as the homeless."  She adds: "It's been a challenging journey and no words can describe how grateful we are to Weavers Fullers & Shearmen for their immense generosity of purchasing Cornerstone for us and their ongoing support – it's a dream come true and will be a life changing difference to so many in need."