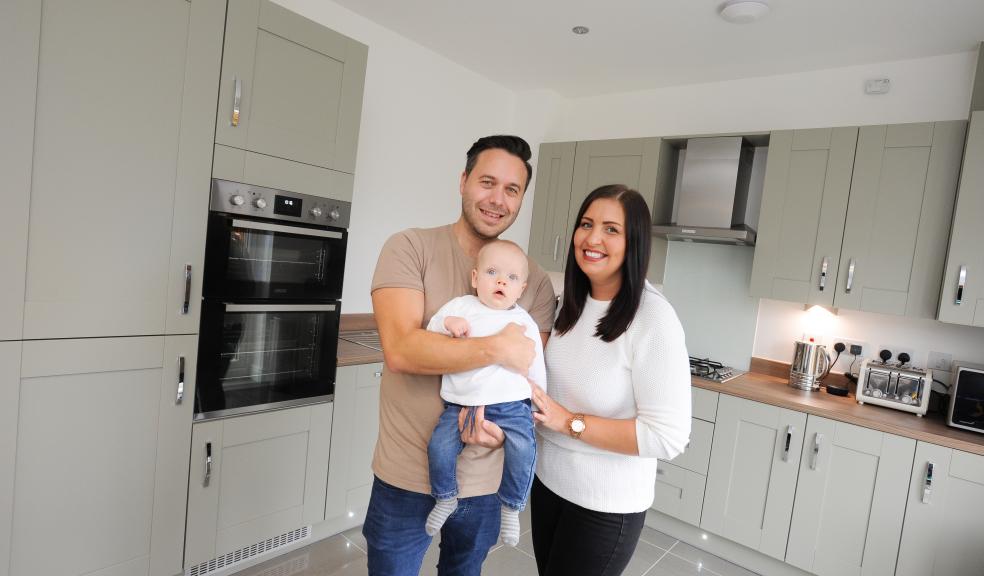 Plymouth family have an easy move with Taylor Wimpey
A Plymouth couple loved their Taylor Wimpey apartment so much that they decided to upsize their living space and move to a bigger Taylor Wimpey home to make room for their growing family. 
Jodie Smith, 30, and her fiance Rob Keymer, 34, initially bought a two-bedroom apartment at the Cherry Tree Gardens development in Plymouth. They used the Government-backed Help to Buy scheme, meaning the couple could call the apartment theirs with only a 5% deposit, and settled into their new home. But when their son, Isaac came into the world earlier this year, the couple knew the time was right to find a bigger space. 
Jodie and Rob settled on a three-bedroom Sycamore at Taylor Wimpey's Sherford development, a new town on the edge of Plymouth. Their move from the apartment was made even simpler by using Taylor Wimpey's easymover scheme, which meant they could make their move to the Sycamore without worrying about managing the purchase process or paying estate agent fees. 
With easymover, the Taylor Wimpey sales team helps to guide purchasers through buying and selling, keeping in close contact with the estate agent to value the property and use their marketing and negotiating skills to sell the house quickly. Once a purchaser comes forward, the team keeps in touch with all buyers to  progress through to completion day. 
Jodie and Rob said: "The fact that this is the second Taylor Wimpey property we've purchased together is testament to how much we love the quality of the homes. Our apartment at Cherry Tree Gardens was perfect for Rob and I; the amount of space on offer was incredibly generous for a two-bed and the development was close to both of our places of work. 
"We knew that when Isaac came along, we wanted to relocate to another new build home. We both liked that we had a blank canvas to put our own stamp on with the apartment and were able to decorate it how we liked. Using easymover meant that relocating was an absolute breeze, and with lots of space for Isaac to grow up in, we've definitely made the right choice."
Melissa Langton, Sales and Marketing Director for Taylor Wimpey, said: "It's always great to hear of our happy customers. Jodie and Rob's story is particularly lovely as they've decided to stay with us after expanding their family and being given the opportunity to move to a bigger home. 
"Easymover is a great choice for those that are already on the property ladder and looking to make their next big move, but are unsure about how to go about the sales process. For anyone in this position, we would suggest contacting one of our expert sales teams to find out more."
For more information on the incentives Taylor Wimpey offer, please visit www.taylorwimpey.co.uk