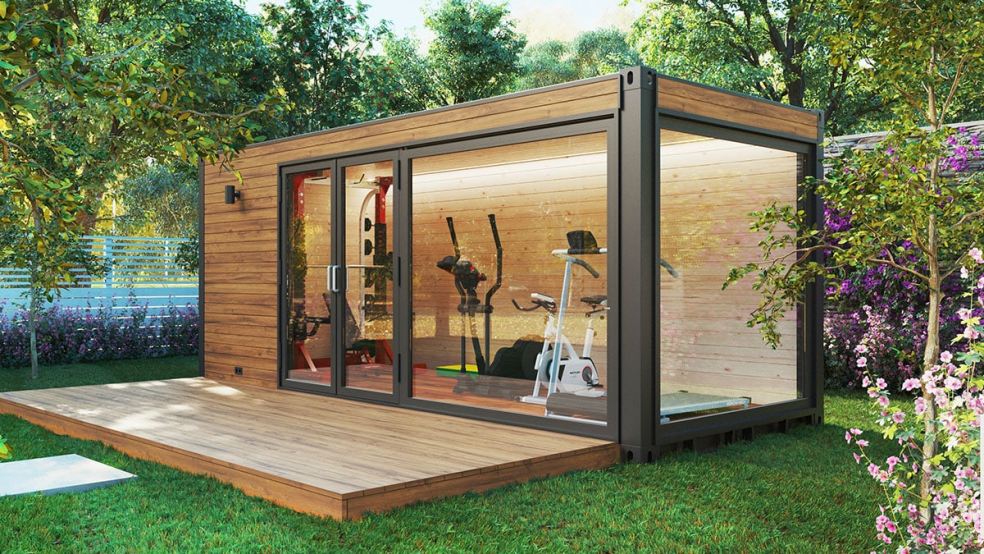 3 best ways to use garden pods
Garden pods are considered the latest trend in real estate/home improvement and for a very good reason. These modern structures are affordable, versatile, eco-friendly, and come in many different shapes and sizes. With attractive designs, their popularity shouldn't come as a surprise as many specialists like to refer to them as a modern solution to modern problems.
Whether you're in need of extra storage space, an extra bedroom, a home office, or a guest room, a garden pod is worth considering. The diverse functions that garden pods can make them excellent investments because they can make a property much more attractive to potential buyers. So, even if you plan on selling your property in future, you should still consider having a garden pod installed in your backyard. Not sure what you can do with a garden pod? Keep reading as we've prepared a list of 3 creative uses for garden pods.
Garden Office
If you're working from home, you already know that although this working arrangement can be fun and exciting at first, it can also come with many challenges and problems. Focusing on your tasks can be almost impossible if you don't have privacy and if you're forced to work from the kitchen table or in a corner of the living room. The real issue here is the fact that you are trying to work surrounded by distractions and this struggle can become stressful and can have a negative impact on your productivity.
The situation described above can easily be avoided if you invest in a garden pod. Having a dedicated space where you can focus on your work without being interrupted or distracted by pets, chores, or guests will feel like a breath of fresh air. Once you start working from your garden office, you'll finally be able to enjoy all the perks of working from home – more creativity, more freedom, less stress, and a healthier life-work balance.
If you're not working from home at the moment, but are thinking about doing it in the future, assess your outdoor area and check whether you have enough space to get a garden pod. If you have enough space available, you're in luck. The next step is choosing a garden pod that fits your budget and having it installed. Once your garden office is ready, you can make the switch easily and without difficulties.
Man Cave
We all need some space to relax and to forget about work, chores, and the humdrum of everyday life. Having a man cave in your own backyard is a great investment and it can be the perfect place to retreat from the pressures of everyday life. Having a place that is just yours is a very comforting experience and it doesn't have to be a solitary one. A man cave can be a perfect place to have fun with friends, to watch a movie with your loved ones, or to watch a football game with your kids. The key thing about having a man cave is playing by your own rules and having a place where you can be alone when you need to. Also, you can finally start working on your personal projects without distractions, you can practice the drums without disturbing anyone, or you can read a book without being disturbed.
Having a man cave garden pod comes with other benefits as well. For instance, you can also save money by not going to the pub to watch the game. If you equip your man cave with a large TV, a mini-fridge, and comfortable seating, you won't need to go to the pub because your friends will surely prefer to come over. In addition to being a place where you can relax, a man cave can also be the ideal storage space for your memorabilia, your fishing equipment, your bike, and all your hobby-related stuff that need to be stored in a safe place, but that don't really belong in the living room.
Home Gym
Going to the gym is always on our to-do list, but more often than not, life gets in the way and we don't have enough time to follow through with our plan. Unfortunately, 90% of people stop going to the gym after just 3 months, and most of them do so because their schedules are too busy. But going to the gym isn't the main goal, staying fit is. And the good news is that a home gym can make it easier.
Having your own private fitness room comes with many advantages. First and foremost, you will save time and money. Going to the gym isn't cheap, not to mention the fact that you can't go there wearing anything, you need to have nice-looking gym clothes and matching shoes. By having a home gym you can stop worrying about membership, equipment, and shoes.
We also mentioned the fact that you save a lot of time. Just take a few moments to think about what your schedule would look like if you went to the gym after work. You'd leave work, drive or walk to the nearest gym (approximately 30 minutes), change into your gym clothes (5 minutes), work out (1 hour), change clothes and shower (10 minutes), go home (30 minutes). According to this scenario, working out for 1 hour would actually take more than 2 hours, so you'd probably be home after 8 p.m. tired, and with enough time only to have some dinner and go to bed. But, if you had a gym in your backyard, you could work out as soon as you arrive from work, and enjoy the rest of the evening. Some people prefer to wake up a bit earlier in the morning, work out for 30 minutes, and go to work. This schedule is extremely convenient as you'll start your day energized and in better shape.
In Conclusion
As you can see, garden pods are versatile structures that can be used in many different ways. We've only presented our top 3 uses for garden pods, but you can use them in any way you want. Their versatility is their biggest advantage. So, if having a garden office, a man cave, or a home gym doesn't fit your lifestyle, maybe you should consider using your garden pod as a hobby room, extra bedroom, for storage, etc. With so many garden pod designs available on the market, the possibilities are endless.